Be a Physician at Baptist Health Louisville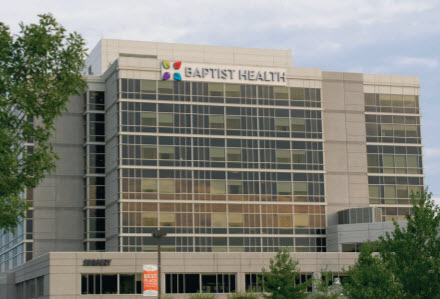 Baptist Health Louisville is a 519-bed tertiary-care hospital located in the heart of St. Matthews in Louisville. The all-private room hospital provides virtually all inpatient services with the exception of transplantation and burn care.
The hospital's emergency services include special teams for heart attack and stroke care. Cancer services include two freestanding radiation centers and the Charles and Mimi Osborn Cancer Center, which also offers a cancer resource center and a multidisciplinary lung care clinic.
Special services include women's health, labor and delivery, digital mammography, ultrasound and bone-density scanning for osteoporosis. Other areas of expertise include orthopedics, neurosurgery, cardiovascular services, wound care, behavioral health, occupational health, acute rehabilitation, and in-home care provided by Baptist Health Home Care.
Baptist Health has a network of healthcare providers for patients in the Louisville Metro area – from Baptist Health Medical Group physician offices, to Baptist Health Urgent Care, Baptist Health Occupational Medicine, and Baptist Health Employer Solutions.
Baptist Health Louisville has twice achieved Magnet designation for excellence in nursing services by the American Nurses Credentialing Center's (ANCC) Magnet Recognition Program®.