Community Health And Outreach
How is Baptist Health involved in our community?
Baptist Health is very involved with the community in many counties throughout Kentucky and southern Indiana through various educational programs, screenings, events, support groups and coalitions that align with our mission, vision and values.


Our mission
To demonstrate the love of Christ by providing and coordinating care and improving health in our communities.
Our vision
To lead in clinical excellence, compassionate care, and growth to meet the needs of our patients.
Our faith-based values
Baptist Health will live out its Christ-centered mission and achieve its vision guided by Integrity, Respect, Excellence, Collaboration, Compassion and Joy.
Community Health Needs Assessment
Every three years data is gathered and reported in an assessment of the health needs of our individual communities across Kentucky and Southern Indiana. This allows Baptist Health to tailor our community programs toward the needs of those most closely located to each of our hospital locations.
To reference these reports please see our Community Needs Assessment page.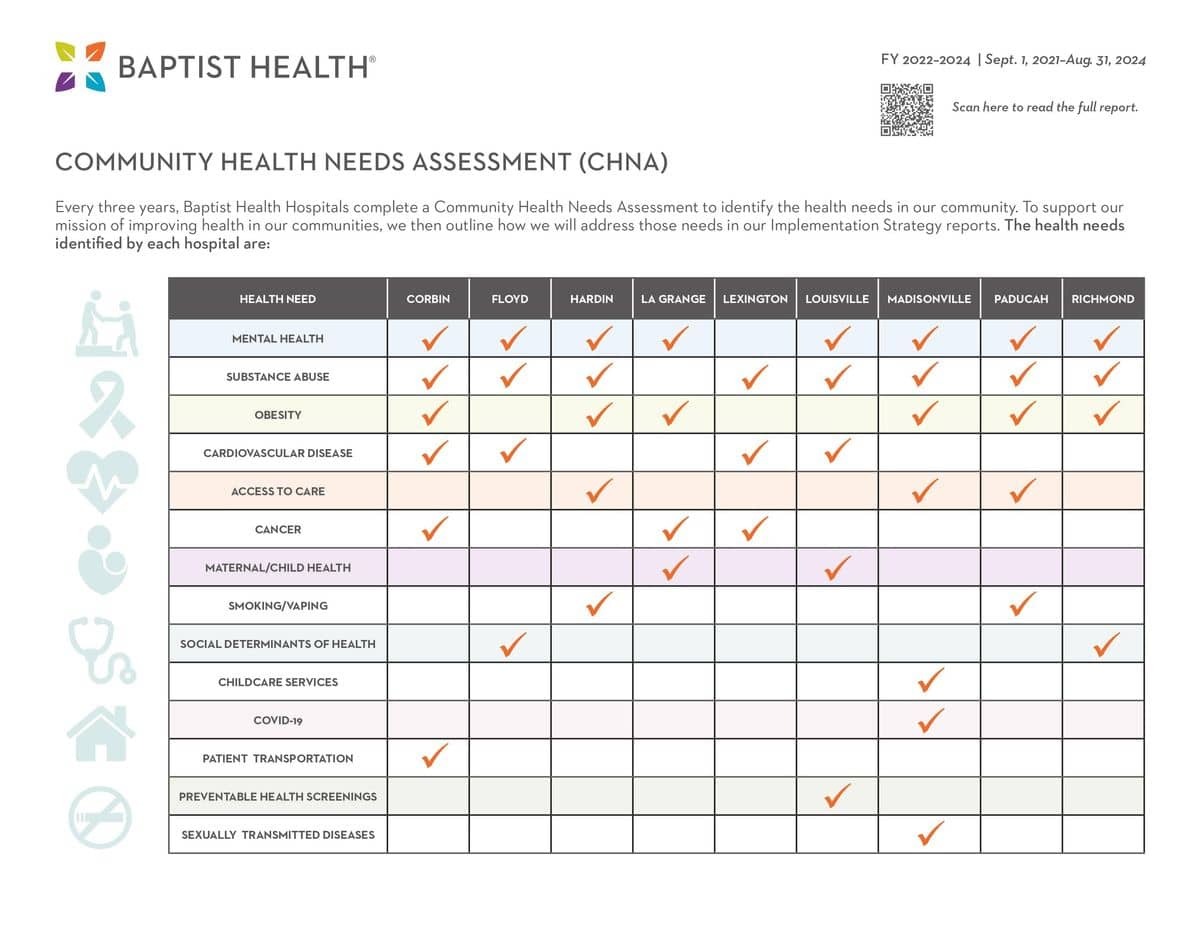 For an overview of all needs identified for each hospital, please see our System CHNA Infographic.
Community Health Programs
Some of our largest health program initiatives across Kentucky and Southern Indiana include:
Project Fit America
Education classes on prenatal/maternity, diabetes, bariatric surgery and tobacco cessation
Support groups for cancer, diabetes, celiac disease, multiple sclerosis, joint replacement
Support of public schools in more than 10 counties
Many 5K's and wellness walk/runs
Health fairs and screenings
Charities Supported by Baptist Health
Fund for the Arts
American Heart Association
Metro United Way (United Way of the Coalfield)
Angel Tree
Hope Health Clinic
March of Dimes
American Cancer Society
Crusade for Children
Baptist Health Foundation
The Salvation Army
Habitat for Humanity