Be a Physician at Baptist Health Richmond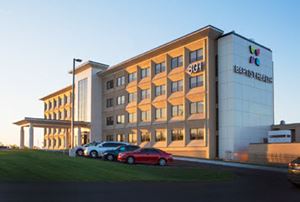 Founded in 1892, Baptist Health Richmond, formerly known as Pattie A. Clay Regional Medical Center, is a 105-bed, acute care hospital primarily serving Madison, Estill, Garrard, Jackson and Lee counties.
The hospital offers 19 points of care across a full continuum, from inpatient care and diagnostic testing, to rehab services and home care. Services include cardiac surgery, orthopedics, spine care, a sleep disorders center, a full range of women's services (including obstetrics), cancer care, diabetic treatment and a retail pharmacy. Baptist Health has a network of healthcare providers for patients in the Richmond area, including primary and specialty care, urgent care, occupational medicine and physical therapy.
The hospital has earned Pathway to Excellence designation for excellence in nursing services by the American Nursing Credentialing Center. Baptist Health Richmond's laboratory and hospital are accredited through the Healthcare Facilities Accreditation Program (HFAP), which is authorized by the Centers for Medicare and Medicaid Services to survey hospitals for compliance with the Medicare Conditions of Participation and Coverage.