Be a Physician at Baptist Health Hardin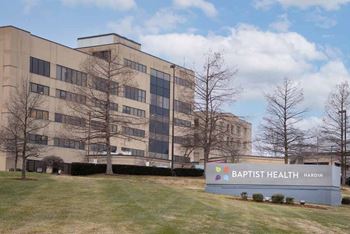 Baptist Health Hardin, formerly Hardin Memorial Hospital (HMH), is an integrated system of providers and facilities serving approximately 400,000 resident in 10 Central Kentucky counties (Hardin, LaRue, Meade, Breckinridge, Grayson, Nelson, Hart, Bullitt, Green and Taylor).
The 300-bed hospital in Elizabethtown, Kentucky includes 270 acute care, 15 psychiatric and 15 skilled nursing beds. Additionally, Baptist Health Hardin includes 50+ outpatient facilities across the service area including a Cancer Care Center and Outpatient Surgical Center. There are over 445 physicians and advanced practice clinicians in over 40 specialties and primary care including Hospitalists available 24/7, Emergency and Urgent Care; Cancer, Cardiac Rehab and Therapy Services; Medical and Surgical Services; Pulmonary Care, Diagnostic Imaging, Ear, Nose and Throat, Plastic and Reconstructive Surgery, Obstetrics including a Level II Neonatal Intensive Care Unit (NICU) and Pediatrics.
With 2,700 employees and an active volunteer corps of 140, Baptist Health Hardin is the third largest employer in Hardin County.
Baptist Health Hardin
913 N. Dixie Ave.
Elizabethtown KY 42701
270.737.1212
BaptistHealth.com/Hardin