Paducah | Our City
Paducah: A vibrant patchwork of art, history and culture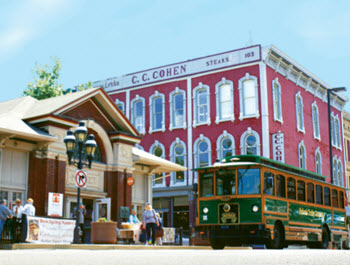 Paducah is the medical, business and cultural center of western Kentucky, southern Illinois and northwest Tennessee. Located along I-24 and I-69, it is within a two-to three-hour drive of Nashville, Louisville, St. Louis and Memphis, and Barkley Regional Airport – with no security lines – offers two direct flights daily to Chicago.

Paducah attracts thousands of international visitors each April to the American Quilter's Society Quilt Show and Contest. Tourists enjoy the historic riverfront downtown year-round, including the Dogwood Trail, Dragon Boat Festival and Barbecue on the River festival.
The arts
Separate from the interstate area of malls, theaters, chain hotels and restaurants, downtown Paducah offers cultural opportunities ranging from history and art museums, especially in the Paducah Artist Relocation Program in Lower Town, to performances by the Paducah Symphony Orchestra, Market House Theatre, and a variety of national entertainers at the Carson Center. Boutique hotels and local fine restaurants make this area a favorite for residents and visitors.
The outdoors
Outdoorsmen delight in the region's three state parks, two lakes and the 170,000-acre Land Between the Lakes recreation area — the cornerstone of a $600 million tourism industry. Excellent boating, fishing, hunting and hiking abound, as do golf courses, tennis and swimming. Paducah's 4.6 mile Greenway Trail, connecting parks to the riverfront downtown, is a favorite for walkers, runners and cyclists.
Quality of life
Our physicians treasure the quality of life found in Paducah. While some factors may not be measurable, many are. Paducah's cost of living is at 87 percent of the national average, while housing costs are at 75 percent. Children can attend their choice of McCracken or Paducah public schools, or private Community Christian or St. Mary schools, with award-winning academics, athletics and arts. Besides the traditional community college offerings, West Kentucky Community and Technical College offers the Challenger Learning Center for grades 3- 8, a four-year engineering degree, and the Paducah School of Art and Design. Murray State University has a regional campus in Paducah and home campus 45 minutes away.