Nondiscrimination & Accessibility Policy (Nepali)
Nondiscrimination & Accessibility Policy - (Nepali)
तपाईं नेपाली बोलननुहनुन्छ भने तपाईंका लागि भाषा सहायता सेवाहरू ननःशनुलक रूपमा उपलब्ध ्छन्। 844.448.4622 मा फोन िननुनुहोस्
Baptist Healthcare System and all of its programs and activities are available regardless of race, color, age, national origin, religion, sex, disability, gender identity, sex stereotypes or any other status protected by federal, state or local law. Services are accessible to and useable by disabled persons, including persons who are deaf, hard of hearing, blind, or with other sensory impairments. A full range of assistive and communication aids are available to persons who are deaf, hard of hearing, blind, experience other sensory impairments, or persons with limited English proficiency. There is no additional charge for such aids. Some of these aids may include:
Qualified sign language interpreters for persons who are deaf or hard of hearing.

A twenty-four hour (24) telecommunication device (TTY/TDD) which can connect the caller to all extensions within the facility and/or portable (TTY/TDD) units, for use by persons who are deaf, hard of hearing, or speech impaired.

Readers or taped material for the blind and large print materials for the visually impaired.

Flash cards, alphabet boards, and other communication boards.

Assistive devices for persons with impaired manual skills.

Language assistance to persons who have difficulty reading, writing or speaking English.
If you require any of the aids listed above, or any other accessibility or communication aids, please tell the receptionist, your nurse, or your care provider.
Disability Access Symbols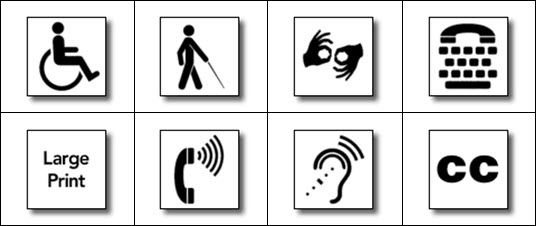 If you believe that Baptist Health has failed to provide these services or discriminated in another way on the basis of race, color, national origin, age, disability, or sex, you may file a grievance with this entity's Section 1557 Coordinator by calling the Baptist Health Compliance Hotline at 833.204.8787 or by mail to:
Baptist Health Corporate Compliance Department
2701 Eastpoint Parkway
Louisville, KY 40223.
If you need help filing a grievance, you may call the Baptist Health Compliance Department at 502.896.5021. You may also file a civil rights complaint with the U.S. Department of Health and Human Services, Office for Civil Rights electronically through the Office for Civil Rights Complaint Portal, available at https://ocrportal.hhs.gov/ocr/portal; by mail at U.S. Department of Health and Human Services, 200 Independence Avenue SW, Room 509F, HHH Building, Washington, DC 20201; by phone at telephone number 800.368.1019, 800.537.7697 (TDD). Complaint forms are available at http://www.hhs.gov/civil-rights/filing-a-complaint/complaint-process/.