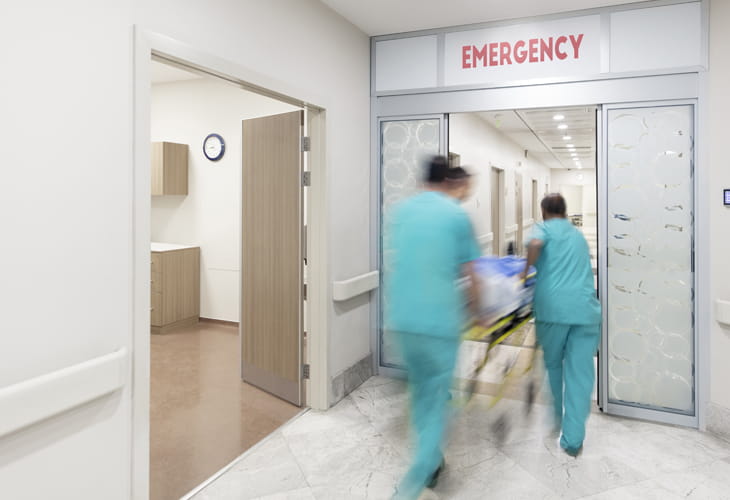 Here for you When you Need us Most
Emergency Care
At Baptist Hospital, we seek to be your trusted hospital for emergency care. We understand you never need care more than when facing an emergency. Our 24-hour emergency rooms and staff are trained to diagnose and treat a full range of life-threatening conditions for patients of any age.
For each patient, we seek to:
Quickly and accurately assess the nature and severity of your illness or injury;
Stabilize and curtail any immediate threats to life or limb; and
Arrange for appropriate follow-up care.
When to Visit and What to Bring to Baptist Health Emergency Care
You should visit Baptist Health Emergency Care if you believe you are experiencing a medical emergency. A medical emergency is any injury or illness that, if left untreated, poses an immediate threat to life or limb. If you are unsure if you are experiencing a medical emergency, it is far better to be safe than sorry and visit an emergency room.
To expedite your care, we suggest you bring with you your primary care physician's name and office address (if you have one), the name and dosage of any medications you are taking, an insurance card, and a photo ID. If you are admitted to the hospital from the emergency room, a friend or family member can provide you with any additional items you need.
Wait Times and Test Results at Baptist Health Emergency Care
Emergency room wait times can vary based on a number of factors. Primarily, our emergency rooms see patients in order of medical priority. Lab work and imaging results may take one to two hours from the time they are performed.
Be Prepared for a Medical Emergency
In any medical crisis, it's best to be prepared. Make sure you program all emergency numbers into your cell phone or keep a list by your telephone at home. If you believe you are experiencing a medical emergency, dial 9-1-1.