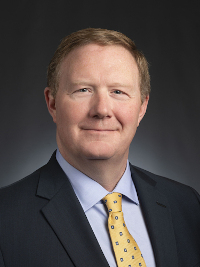 Jody Prather, MD
Chief Strategy and Marketing Officer
Jody Prather, MD, is chief Strategy and Marketing officer for Baptist Health. In this role, he collaborates with other members of the executive team to develop the system's strategic initiatives for business development, growth, strategic partnerships and innovation. In addition, he oversees the system's marketing and communications strategies, including digital engagement, advertising, public relations and internal communications.
Born and raised in Hardin County, Dr. Prather began his career in private practice in family medicine in Elizabethtown. In 2010, he joined Hardin Memorial Health as vice president and chief medical officer.
Following that position, Dr. Prather was named vice president and chief medical officer for Baptist Health, serving as the system's first chief medical officer. In that position, he was part of the team involved in the addition of the Trover Clinic and Regional Medical Center, now Baptist Health Deaconess Madisonville, and Pattie A. Clay Regional Medical Center, now Baptist Health Richmond.
Dr. Prather rejoined Hardin Memorial as vice president for population health and CMO for Hardin Memorial Health Medical Group in 2013, assuming additional responsibilities as chief strategy officer in 2017.
During his time at Hardin, Dr. Prather oversaw multiple initiatives that resulted in an average annual revenue increase of 9 percent. He also helped Hardin Memorial expand within and beyond Hardin County into the neighboring counties of LaRue, Meade and Nelson and expanded the Medical Group to more than 220 providers and its service area to more than 50 sites.
A graduate of North Hardin High School, Dr. Prather earned an undergraduate degree at Centre College. He earned a medical degree from the University of Louisville, completing a residency in family medicine at the Trover Clinic/Regional Medical Center Family Medicine Program in Madisonville, Kentucky.
Dr. Prather has received multiple awards, including being named as one of Hardin County Schools' Distinguished Alumni, one of Louisville Business First's "40 Under 40," and a Partners in Health Care "Person to Watch." He has served on the boards of the University of Louisville, Hardin County Health Department, Central Kentucky Community Foundation, and the Elizabethtown/Hardin County Industrial Foundation.
Dr. Prather, and his wife Missy have three children.