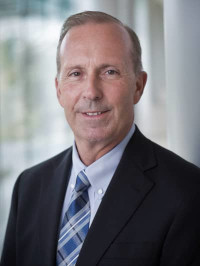 Rick Carrico
Chief Financial Officer
Rick Carrico is chief financial officer for Baptist Health, overseeing finance, financial strategy and integration, revenue cycle management, information technology, analytics, and business intelligence for the Louisville, Kentucky-based system. The Baptist Health family includes nine hospitals in Kentucky and southern Indiana, the Baptist Health Medical Group physician network, and more than 400 points of care.
Carrico has nearly 40 years of healthcare-related experience. He most recently served as executive vice president and CFO for WakeMed Health and Hospitals in Raleigh, North Carolina, where he was responsible for finance, including planning, analytics, information systems technology, revenue cycle, managed care contracting, and strategic business planning.
WakeMed's 941-bed health system includes three full-service hospitals, seven emergency departments, a dedicated Children's Hospital and Rehabilitation Hospital, more than 80 physician offices, and 715 employed physicians and advanced practitioners.
Prior to joining WakeMed, Carrico was vice president and CFO of Greater Hudson Valley Health System in Middletown, New York. He previously was executive vice president and CFO of Springstone LLC, in Louisville, a developer and operator of a national network of behavioral health hospitals, and was associate CFO at Norton Healthcare. He joined Norton after 15 years of increasing responsibility at Kindred Healthcare, where he rose to vice president of internal audit.
He began his healthcare career in the internal audit department at Humana, followed by a stint in Florida with Basic American Medical at its flagship hospital in Fort Myers.
Carrico is a certified public accountant and has a bachelor's degree in accounting from Bellarmine University and an MBA from the Mendoza College of Business at the University of Notre Dame. He graduated from St. Xavier High School in Louisville and previously served on the school's board of directors.
He is a married father of three, a U.S. Masters swimmer, and a former marathon runner who also has climbed Mount Rainier.