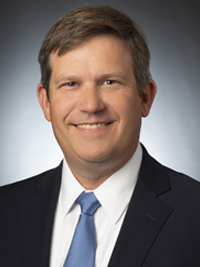 Michael Erickson
Chief Information Security Officer
Michael Erickson is chief information security officer (CISO) for Baptist Health. In this role, which he has held since Nov. 1, 2016, he works in collaboration with the system's clinical, information technology and compliance departments, serving as a member of the system Enterprise Risk Management committee to oversee all facets of the system's Information Security Risk Management programs.
Erickson joined Baptist Health in January 1995 and was named system director of IT Infrastructure and HIPAA Security officer in 2005. In 2014, he was named executive director of IT Infrastructure and Security.
Erickson earned a bachelor's degree in mathematics from Hanover College in 1994 and an MBA from Vanderbilt University in 2010. He is a member of the Governing Body of the Evanta Cincinnati CISO Executive Summit, a member of the Kentucky chapter of InfraGard, a non-profit organization that serves as a public-private partnership between U.S. businesses and the Federal Bureau of Investigation, and a graduate of the Kentucky Federal Bureau of Investigation Citizens Academy.