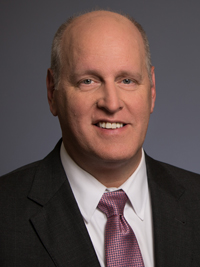 Patrick D. Falvey, PHD, DSC
Chief Operating Officer
Patrick Falvey, PhD, DSc, is chief operating officer for Baptist Health, a Louisville, Kentucky-based system of more than 22,000 employees. The Baptist Health family includes nine hospitals in Kentucky and southern Indiana, the Baptist Health Medical Group physician network, and more than 400 points of care.
Joining Baptist Health in September 2018, Dr. Falvey served in executive roles for Aurora Health Care and the recently formed Advocate Aurora Health since 1992. Most recently, he was executive vice president and chief transformation officer, with responsibilities for Aurora Ventures, Care Management/Clinical Quality, Clinical Engineering, Enterprise Project Management, Informatics/Operational Analytics, Operations Improvement, Radiology Integration, System Pharmacy, and Supply Chain/Logistics.
In his transformation role, he led efforts in operational portfolio optimization, cost management and revenue growth, and government program implementation and worked closely with Advocate Aurora's Enterprise Business Group, Aurora Health Care Medical Group, chief medical officers, and chief nursing officers on Aurora's population health strategy and implementation.
Dr. Falvey received a bachelor's degree from the University of Wisconsin-Whitewater, master's degrees from the University of Wisconsin-Oshkosh, and doctorate degrees from the University of Wisconsin-Milwaukee and the University of Alabama-Birmingham. He has served as a board member for several internal Aurora organizations and on the boards for the Children's Community Center in Wisconsin and the Wisconsin Collaborative for Healthcare Quality.
Dr. Falvey and his wife, Suzanne, have two children.