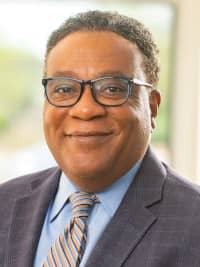 Isaac J. Myers, II, MD
Chief Health Integration Officer and President of Baptist Health Medical Group
Isaac J. Myers II, MD, is chief health integration officer for Baptist Health and president of Baptist Health Medical Group. In the chief health integration officer role, he leads Baptist Health Community Care, the organization that develops and manages Baptist Health's population health strategies and value-based care business. This oversight includes Baptist Health Care Partners, Baptist Health's Medicare accountable care organization; Baptist Health Network Partners, the system-wide clinically integrated network of physicians; the system's wellness programs and the system's managed care contracting divisions.
Dr. Myers joined Baptist in 2014 as president of Baptist Health Medical Group, which brings together more than 1,100 employed physicians and providers across Kentucky and southern Indiana, providing support to these practices through centralized business and financial operations. He served in that role through April 2016, returning to the position in November 2017.
Prior to joining Baptist Health, Dr. Myers served as president of Saint Francis Medical Group (Central Indiana Region), part of Franciscan Saint Francis Health in Indianapolis. In that role, he led a multispecialty medical group that included 205 employed physicians, 40 advanced practice clinicians and 1,400 employees, in addition to hospitalists and immediate care clinics managed by Franciscan Physician Network. Dr. Myers was instrumental in building the Franciscan Health System statewide accountable care organization.
A New York City native, Dr. Myers holds a bachelor's degree from Hope College in Holland, Mich., and a medical degree from Wayne State University in Detroit, completing his family medicine residency at Indiana University Hospital. He began his healthcare administration career as a family practitioner in 1991, but left private practice in 1996 to begin a 20-year career in administrative roles.
Dr. Myers' extensive experience spans all aspects of healthcare delivery, including a physician hospital organization, management service organization, health insurance companies, home care and hospice. He also was an executive leader at Wishard Health Services (Eskenazi Health), one of America's five largest safety net health systems, and was an adjunct faculty member for Indiana University in Indianapolis, teaching healthcare information technology in the master's program for healthcare administration.
Recently, Dr. Myers co-authored a chapter in the textbook, "Clinical Integration, Accountable Care and Population Health" (3rd Edition), which is being used by students in the master's program at the University of Louisville. Chapter 2 of the textbook, titled "Re-Framing Primary Care and Patient-Centered Medical Homes in the Lens of Complexity, Culture and Relationship-Centered Care," also is being printed as a separate publication. The chapter describes the importance of primary care as a foundation for an effective healthcare system and discusses its importance to population health, taking into account healthcare reform, changes in healthcare, social influences, chronic care and management perspectives.
Dr. Myers and his wife, JoAnn, enjoy spending time with their four adult children and four grandchildren.