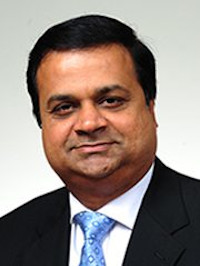 Nilesh Desai
Chief Pharmacy Officer
Nilesh Desai joined Baptist Health as chief pharmacy officer in March 2020. In this newly created role, he is responsible for pharmacy operations across the eight-hospital system, including oversight of the system's retail pharmacies.
Desai spent 21 years with Hackensack University Medical Center/Hackensack Meridian Health in New Jersey, most recently as administrator of pharmacy and clinical operations. In this leadership role, he oversaw inpatient, outpatient and retail pharmacies and had responsibility over OB/GYN and maternal-fetal medicine physician faculty practices.
He also served as a program preceptor for the PGY1 pharmacy residency program and a clinical adjunct professor with the Ernest Mario School of Pharmacy and Massachusetts School of Pharmacy.
Under Desai's leadership, the hospital implemented a number of successful systems, including Epic medical record software, Barcoded Medication Administration, National Drug Code billing, e-prescribing, and other technologies. The hospital also constructed USP-compliant clean rooms for sterile and hazardous compounding.
Desai led an effort to centralize and integrate all decision-making on technology, training, educational materials, formulary standardization, medication management policies, workflows, Epic build and standardization across the Hackensack Meridian Health network.
In addition, he expanded the clinical pharmacist team and the pharmacy residency program, and established Transitions of Care, Med to Beds, and PGY2 Emergency Medicine programs.
Desai holds a Bachelor of Science in Pharmacy and an MBA in healthcare.