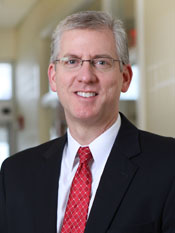 Brett Oliver, MD
Chief Medical Information Officer
Brett Oliver, MD, is chief medical information officer for Baptist Health. In this role, he works closely with the chief information officer to develop and implement information technology across the health system. In addition to providing clinical expertise to the IT team, he works closely with other physicians to ensure the system's IT solutions are designed to meet the needs of staff and patients.
Board certified in family medicine, Dr. Oliver joined Baptist in 2012 and has accepted ever-increasing leadership roles, while continuing to see patients in his Georgetown, Kentucky, practice. He most recently served as medical director for Integrated EHR Development, serving as a liaison between practicing physicians and the IT team. As medical director, he provided valuable clinical input throughout the process of building Baptist's new electronic health record platform.
Dr. Oliver is a member of the Health IT Advisory Committee for the Office of the National Coordinator for Health Information Technology and serves on Kentucky's Telehealth Board, a position appointed by the governor.
Dr. Oliver earned a bachelor's degree from Vanderbilt University and a medical degree from the University of Kentucky. He completed his residency at Wake Forest University in Winston-Salem, North Carolina, and practiced with a Novant Health family medicine practice in Winston-Salem for three years.
In 2000, Dr. Oliver returned to Kentucky to practice in Georgetown, starting a solo private practice in 2003. The practice, Scott County Family Physicians, which now includes three additional physicians and two mid-level providers, joined Baptist Health Medical Group in 2012.
Dr. Oliver is a member of the Christian Medical and Dental Association, the American Academy of Physician Leadership, the Kentucky Medical Association, the American Medical Informatics Association, and the American College of Nutrition. He and his wife Jenny, a pediatrician in Georgetown, have been married for more than 25 years. They have two children, Ben and Erin.