Urgent Care Without the Drive
A single TytoCare device can be used for multiple family members - also available at Best Buy.
What is a TytoCare device?
TytoCare is a hand-held, medical device kit that allows for remote medical exams from our providers at any time. A TytoCare device can be used for improved diagnosis and treatment in Virtual Care visits. A TytoCare device can be used for urgent care video visits through MyChart with a Baptist Health provider, giving you access to quality medical care from home. TytoCare devices can also be used with select primary care offices for scheduled video visits with your provider.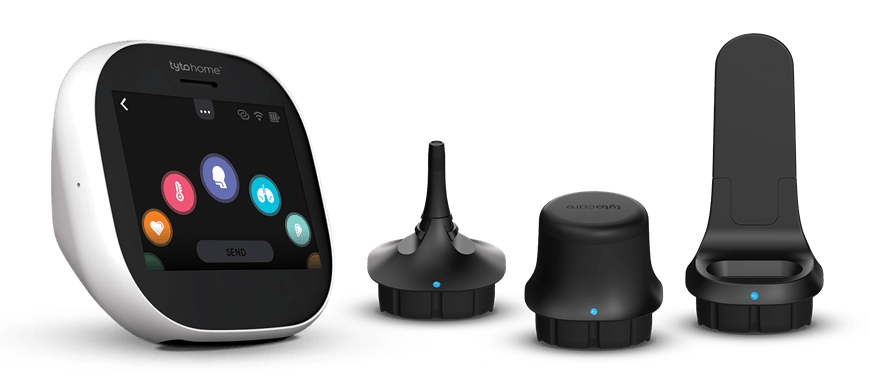 $149.99 - FSA/HSA eligible
What Does TytoCare Do?
Many conditions require a physical exam for diagnosis and treatment. The TytoCare device allows a Baptist Health virtual provider to take precise measurements of the vital signs needed to diagnose and treat your symptoms appropriately. The kit includes a camera, stethoscope, otoscope and tongue depressor to examine and monitor:
Heart rate or heart sounds
Lung breathing sounds, coughing, congestion
Ear canal and eardrum
Throat and vocal cord conditions
Abdominal sounds
Skin rashes, bug bites and other conditions
Blood pressure & oxygen levels
Temperature
Take a closer look


How It Works
When you receive your TytoCare device, it's recommended that you unbox, register the device, pair it with your MyChart account and complete TytoAcademy. This usually takes about 10 minutes and allows you to be ready to use TytoCare when you need to see a provider or feel under the weather.
Using TytoCare for an Urgent Care Video Visit
Sign into MyChart on your computer or the MyHealth mobile app. You can also sign up now to get started in one easy process on MyChart.
Click menu, then select "Urgent Care Video Visit".

Confirm your current location.

Choose "Tyto" for your reason for your visit.
Choose whether you will use a computer or a mobile app. The MyHealth mobile app is the preferred method of connection.
Review the estimated wait time and click "put me in line".
When a provider is ready to see you, you will receive an email and/or mobile app alert that you can join the visit. If you are on a mobile device, please be sure to turn on notifications in your mobile settings for the app.
After clicking Join Video visit, you will automatically launch into Twilio to connect to the video visit. Ensure you click Continue and then Allow for your device to access your camera and microphone.
You will be prompted to a hardware test where we recommend testing your speaker. After completing this, click Join Call to be placed in the virtual waiting room.
Experiencing an Issue or Need Support?
Whether you need technical support with your TytoCare device or have questions about Baptist Health and Tyto, we're happy to help.