Patient Education
What is Telemedicine?
Telemedicine refers to the remote delivery of healthcare services. It enables healthcare providers the ability to evaluate, diagnose and treat patients remotely using HIPAA-compliant telecommunications technology.
Telemedicine originally sought to provide healthcare access to patients in remote areas that lacked healthcare options. Today, telemedicine continues to serve this function, but has also expanded to provide accessible and convenient care to all. In this age of technology, many have access to the tools needed for telemedicine, which makes this form of healthcare delivery a quickly expanding option. Baptist Health Virtual Care provides various telemedicine options that allow us to offer the trusted and compassionate care for which we are known.
What is the Difference Between Telemedicine and Telehealth?
Telemedicine seeks to improve patient outcomes by increasing access to care and medical information. The World Health organization defines telemedicine as: "The delivery of heath care services, where distance is a critical factor, by all health care professionals using information and communication technologies for the exchange of valid information for diagnosis, treatment, and prevention of disease and injuries, research and evaluation, and for continuing education of health care providers, all in the interests of advancing the health of individuals and their communities."
Telehealth refers to the use of electronic information and telecommunications technologies to support and promote long-distance clinical health care, patient and professional health-related education, public health, and health administration, according to the Health Resource and Services Administration (HRSA) of the U.S. Department of Health and Human Services.
Therefore, telemedicine is a service under the larger umbrella of telehealth.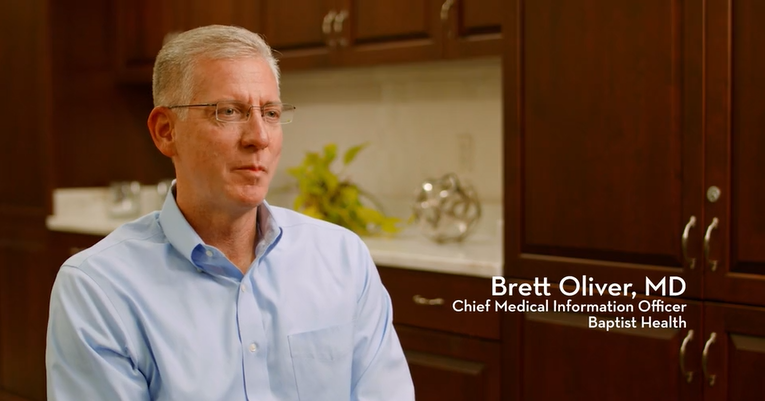 What are My Virtual Care Telehealth Options?
Each of Baptist Health's Virtual Care options can be easily accessed through following the below instructions and technology.
Virtual Care Telehealth Visits
Baptist Health offers 3 different types of telehealth visits to get you feeling better faster:
Urgent Care Video Visits require a smartphone, tablet or computer with a working camera on your device. This will connect you face-to-face via your device with a Baptist Health urgent care provider. These visits are on-demand, on your time.
Scheduled Video Visits also require a smartphone, tablet or computer with working camera to connect you face-to-face with your primary care provider or specialty provider. These are scheduled through your provider's office.

With an eVisit, you answer questions about your symptoms via an online medical interview that adapts as you answer questions. eVisits allow for immediate online care with no need to turn on your video, 24/7 via your MyChart account.
Virtual Care urgent care video visits and eVisits are also a safe and recommended option for those seeking screening for coronavirus (COVID-19) symptoms that do not merit an Emergency Room visit. Learn more about the Coronavirus and screening and treatment at Baptist Health here.
*All virtual care visits require a patient to have a MyChart account. Signing up is easy and can be done here. For mobile device video visits only, a patient needs to have the Zoom app downloaded on their device prior to their scheduled appointment. You can download the Zoom app in the iTunes or Google Play Store. To sign up for MyChart, visit MyChart.BaptistHealth.com.
Remote Monitoring
Remote monitoring allows Baptist Health to monitor a patient's progress outside of a typical clinical setting, such as a hospital or clinic. Using remote monitoring devices, patients can remain in their homes and transmit their health information to health care providers for evaluation and recommendations. Providers are able to follow a patient's health progress and support them in reducing chances of readmission to the hospital or clinic.
Remote monitoring programs at Baptist Health include:
Remote Monitoring Devices: Patients wear a device the size of an iPhone on their arm that takes their vital signs at regular intervals and sends that data to the patient's provider. These devices enable patients to be safely monitored from the comfort of their homes. This program is currently in place at select Baptist Health hospitals.

MyChart Care Companion: Through MyChart, patients complete questionnaires at regular intervals and upload them to their provider. Patients use their own equipment to monitor their health. Providers then communicate recommendations and treatment plans to the patient. This program is currently in place through Baptist Health's Urgent Care COVID-19 evaluation sites.
Benefits of Baptist Health Virtual Care
You set the schedule. You pick the time. We'll be there.
We understand that life is incredibly busy. We also understand that your health is the foundation of everything you do. Through Baptist Health Virtual Care, Baptist Health provides top-rate digital healthcare that is convenient and works within your schedule. Virtual care lets you support your health from the comfort of your own home. As virtual healthcare advances, easy access to our providers expands so that your experience of Baptist Health is truly centered on you.


An in-office visit, from the comfort of your couch.
It's natural to have questions about how a virtual care appointment will compare to an in-person appointment. Patients often wonder: Will the level of care and communication be comparable? Will I understand how to use the technology? These questions and more are why we've been intentional about asking virtual care patients how they would rank their virtual care experiences at Baptist Health.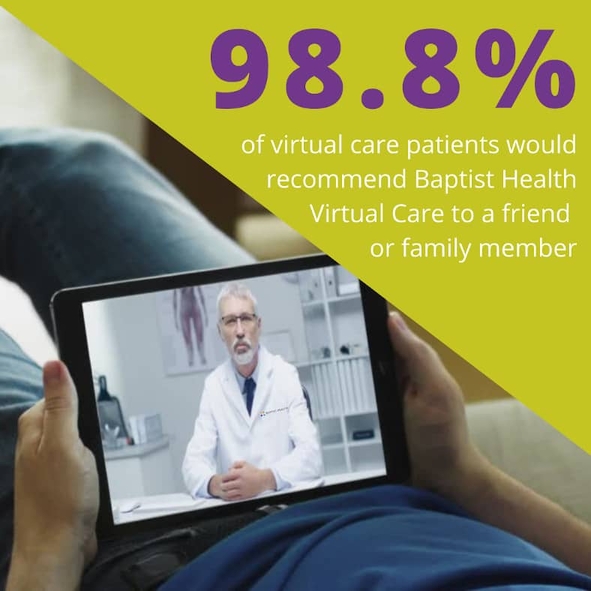 Is Virtual Care Covered by Insurance?
In most all cases, Virtual Care is covered by insurance. For eVisits, no insurance is billed and there is a flat cost of $30. For Urgent Care Video Visits and Scheduled Video Visits, your insurance will be billed for this visit and collect a co-pay per your insurance. Any portion not covered by your insurance plan will be billed and collected after the visit. Urgent care and scheduled video visit pricing follows the same pricing structure as standard in-office visits and varies per appointment type (primary care, specialist, etc.). If you should have any questions regarding your insurance and virtual care, please contact your insurance carrier.
What Basic Technology Do I Need?
To get the most out of your virtual care experience, you will need the following:
Internet connection
Video access through a tablet, smartphone, or computer
Any apps required by your physician (downloaded prior to visit)
A MyChart account
How to Schedule a Virtual Care Appointment
All virtual care visits require a patient to have a MyChart account. Signing up is easy and can be done here.
For mobile device video visits only, a patient needs to have the Zoom app downloaded on their device prior to their scheduled appointment. You can download the Zoom app in the iTunes or Google Play Store. To sign up for MyChart, visit MyChart.BaptistHealth.com.
Next Steps with MyChart
Discover MyChart, a free patient portal that combines your Baptist Health medical records into one location. Schedule appointments, review lab results, financials, and more! If you have questions, give us a call.
Care Finder