Total Hip and Knee Replacement Program
Baptist Health Hardin Total Hip and Knee Replacement Program provides patient-centered care designed to help the patient meet their lifestyle goals. The multidisciplinary team works closely with each patient to determine the appropriate treatments for their hip and knee relief so they can get back to doing what they love.
Hip and Knee replacement patients encounter more than 60 Baptist Health Hardin team members that support them on the continuum of care ranging from consultation and education to surgery and inpatient care to outpatient therapy.
Program Distinctions:
1st in Kentucky to earn Joint Commission's Advanced Total Hip and Total Knee Replacement Certification
Kentucky's lowest 30-day readmission rate – 3.2% – according to the Centers for Medicare and Medicaid Services (CMS)
12th lowest readmission rate in US according to Becker's Hospital Review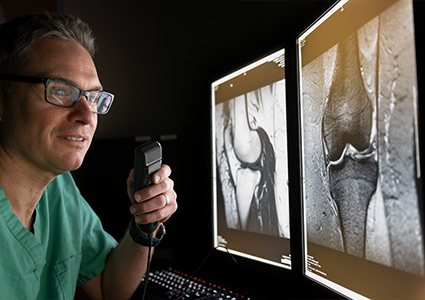 Knee and Hip Joint Pain Assessment
Wondering what your knee and hip pain means? Or what you can do to alleviate that pain? Take this knee and hip assessment to find out how well your joints are functioning and how joint pain affects your quality of life.