Joint Replacement Success Stories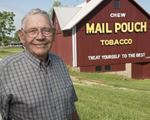 Maynard Lambertus, Total Reverse Shoulder Replacement
82-year-old Maynard Lambertus, one of the founding fathers of Lanesville's Heritage Weekend Festival, has had his share of joint pain. After already having a knee and one shoulder replaced, he understands that you can't let pain control your life. He explained, "I was having a lot of pain in my shoulder, it kept me from sleeping at night, I could only lift my arm waist high and pain would shoot through my shoulder. With all that's available to help with joint pain, I didn't think twice about having my other shoulder replaced." Maynard heard about Baptist Health Floyd board certified orthopedic surgeon and fellowship trained sports medicine physician, Kris Abeln, MD. Maynard recalled, "Dr. Abeln was straight forward and didn't mince words when I saw him for a consultation."
Dr. Abeln explained, "Maynard had rotator cuff arthropathy, a special type of arthritis associated with a large rotator cuff tear. I told Maynard he could find a way to live with the pain with physical therapy and injections or fix it with reverse total shoulder replacement surgery.
This surgery works best for patients with a detached rotator cuff. It involves attaching a metal ball to the shoulder socket and placing a plastic cup in the upper end of the humerus bone. Essentially, it takes the place of the rotator cuff and stabilizes it."
"At his follow-up appointment, he was progressing very well. Maynard was finished with physical therapy and doing his exercises at home and I felt he'd virtually have full mobility back. A large set of my patients are in their 70s and 80s and Maynard is a prime example. People are living longer and taking better care of themselves. With intense shoulder pain, their quality of life goes down and there's no reason to live with that pain when shoulder replacement is a good, safe option," said Dr. Abeln.
Maynard explained, "I feel so much better. It even made my other shoulder feel better. I didn't realize I was favoring it so much. Now I can get back to cutting the grass, going about my normal routine and working with machinery for the next Lanesville Heritage Festival."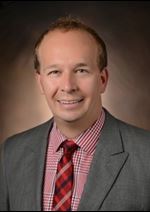 "A large set of my patients are in their 70s and 80s. People are living longer and taking better care of themselves. With intense shoulder pain, their quality of life goes down and there's no reason to live with that pain when shoulder replacement is a good, safe option."
Kris Abeln, MD
Board Certified Orthopedic Surgeon
Baptist Health Medical Group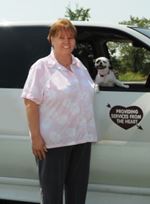 Helen Montgomery, Total Knee Replacement
Accustomed to always helping others, 55 year-old Marengo resident, Helen Montgomery, spends her days driving patients to doctor's appointments for Older Americans transportation company. Having driven a truck for 23 years with her husband, she's used to being on the road. But she started to notice discomfort in her right knee that progressively got worse, and she started having trouble helping her passengers in and out of the van.
Board certified orthopedic surgeon, Edward Bell, MD, noted, "Helen had osteoarthritis in both knees, but the cartilage in her right was completely worn down. Together, we decided it was time for a knee replacement. Helen's surgery went smoothly and she was able to leave the hospital after three days," explained Dr. Bell.
"Everyone at Baptist Health Floyd from the Orthopedic and Spine Nurse Navigator, to my home health physical therapist, Darryl Abella, PT, to my outpatient physical therapist, Chad Eurton, DPT, CSCS treated me with such great kindness and care. They made it easy for me," said Helen.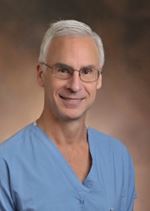 Some people may think they can do everything on their own, but the team approach really helps patients recover effectively and in a timely manner. Each one of our team members has an integral role in the healing process. I'm glad to see that Helen is able to return to her normal lifestyle. That's what makes my job rewarding."
Edward Bell, MD
Board Certified Orthopedic Surgeon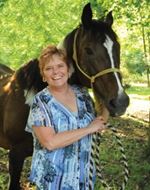 Nila Hubert, Total Hip Replacement
65 year-old retired nurse, Nila Hubert, has ridden horses most of her life, raising her American paint horse, Katchina, since she was a foal. Nila explains, "I've had Katchina for 21 years, and my knee and hip pain had reached a point that I thought I'd never get to ride her again." In fact, the pain in Nila's hip and knee forced her into a wheelchair.
Nila heard about Baptist Health Floyd's board certified and fellowship trained orthopedic surgeon, Aniefiok Uyoe, MD, as well as the anterior approach to hip replacement from her colleagues and decided to seek his help. "He was so nice and explained everything slowly and in a way that was easy to understand. My sister, who does not have a medical background, left the consultation with me feeling confident that even she knew what to expect from this less invasive procedure," said Nila.
Dr. Uyoe explained, "Nila's hip was in bad shape. She had bone-on-bone arthritis, but I knew that she'd be able to get back to her active lifestyle fairly quickly after performing the anterior approach hip replacement. She was an ideal patient for this procedure. She's extremely active professionally and in her free time."
Nila added, "I was treated like royalty at Baptist Health Floyd from the minute I entered the building. I left the hospital after three days and underwent outpatient rehab for two weeks. After that I had very few restrictions. I am now in an exercise class and getting reacquainted with Katchina after not being able to ride for so long. I'm so happy that I can enjoy the outdoors again."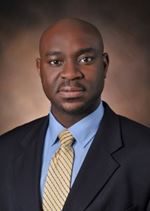 "With the use of the latest technology and surgical tools like the hana® surgical table designed specifically for anterior approach surgery, The anterior approach allows for the entire hip replacement procedure can be done from the front of the body, taking advantage of our natural anatomy. The natural hip joint is actually closer to the front of the body than the back. What this means is that less tissue needs to be dissected in order to get down to the hip joint. Also, the anterior approach takes advantage of the natural muscular plane in front of the hip joint. The surgeon is able to go in between the muscles, instead of cutting through them. Research shows that because of this less invasive technique, recovery is quicker."
"It's exciting to see patients get immediate results. That's one of the reasons I got into orthopedics, to improve the well-being of patients almost instantly."
Aniefiok Uyoe, MD
Board certified, Fellowship Trained Orthopedic Surgeon
Baptist Health Medical Group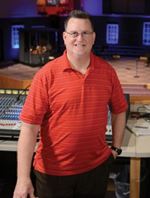 Jay Usher, Total Knee Replacement
Jay Usher, 54 year-old creative arts and media director at Graceland Baptist Church in New Albany, started having knee problems over 20 years ago after being involved in an auto accident that damaged his knee. After two arthroscopic procedures, he was told that a knee replacement was probably going to be his next option but that he was too young. Jay explained, "I had developed a stabbing pain in my left knee when I walked or climbed stairs. It had gotten to the point where I would avoid these activities at all costs. I was unable to participate with my family on outings and even walking our dogs became something to avoid. Even though I am in charge of production, I would avoid carrying heavy equipment and have others climb up into the catwalk to adjust lighting for our Sunday services and events. It was affecting every aspect of my life."
"I was amazed at how well Baptist Health Floyd's orthopedic staff treated me during the whole process. The personal attention I was given on a regular basis made me feel confident that everything was going to continue to improve. The emphasis on pain management during recovery allowed me to immediately start my physical therapy and I could see marked improvement each day. The nursing staff and physical therapists were a tremendous motivational factor for me. I was ready to do what it took to get my mobility back and do the things I'd been missing for many years," said Jay.
"I am improving on a daily basis, gaining back abilities that I thought I had lost for good. I'm more physically active now and I've lost 15 pounds after my surgery. I'm able to join my wife again walking our three dogs and am even able to carry equipment while climbing up into the catwalk high above the sanctuary to adjust the lighting for our services again. If I ever need this procedure done on my other knee, I'd call Dr. Conner again in a flash."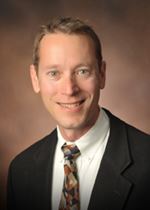 "Physical therapy is the defining factor in how well knee replacement patients recover and return to normal activities. Jay was very motivated and I'm proud of how well he is doing. I'm seeing more and more patients in their 40s and 50s who aren't willing to stop the activities they love because of knee pain. I tell all of my patients that the prosthetic knee will last 10 to 15 years, so if they decide to have the surgery at a young age, they are looking at a possible second replacement in the future. It is a personal choice."
John Conner, MD
Board Certified Orthopedic Surgeon