We are a Three-time Designee!
Dedicated to nursing excellence, nurse involvement in shared decision-making, and excellent patient outcomes.
Nursing Contributions to Care
Baptist Health Louisville is proud to be a three-time designee of the American Nurses Credentialing Center's Magnet Recognition Program®. This honorable achievement reflects our organization's dedication to nursing excellence, nurse involvement in shared decision-making, and excellent patient outcomes.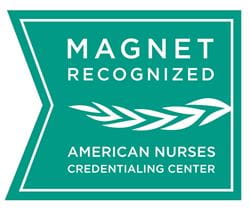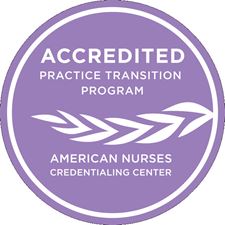 Why Magnet Matters
Baptist Health is the first health system in the U.S. to have every hospital in the system recognized by the American Nursing Credentialing Center (ANCC) with either a Magnet® or Pathway to Excellence® designation for nursing excellence. Regarded as the most prestigious and coveted designation for nursing practice Magnet recognition speaks to the skilled, compassionate, and professional nursing care given at Baptist Health Louisville. The ANCC developed the Magnet program to foster excellence in nursing care by creating rigorous standards for hospitals, encouraging nursing autonomy and investment in nursing education and professional development. At a Magnet designated facility, you will find nurses engaged in their practice through a shared governance system giving the bedside nurse a clear voice to advocate for their patients and themselves. You will also find a greater proportion of nurses certified in their specialties, providing you with nationally recognized knowledge and skill when it matters most.
Magnet means more. More knowledge, more skill, more remarkably high-quality care. And that is why Magnet Matters.
What Magnet Means
Achieving Magnet Designation requires the unwavering commitment of leadership and staff to excellence in every facet of nursing practice. The designation process entails an electronic application, written patient care documentation, an on-site visit, and a review conducted by the ANCC's Commission on Magnet Recognition. It is not only the achievement of this goal, but the pursuit that makes Magnet Designated hospitals the best choice for exceptional nursing care. Less than 10% of hospitals nation-wide have attained Magnet status, and Baptist Health Louisville is proud to be among the very best.
Our Magnet Mission
Though the redesignation cycle is every four years, the hospital's commitment to the Magnet principles is demonstrated daily.
Shared Governance
For over a decade, Baptist Health Louisville has maintained a shared governance structure dedicated to nursing involvement in shared decision-making. Through this process, nurses can be involved in various aspects of nursing-related decision-making at the organizational and unit levels. Shared governance teams are key to nursing input and to making meaningful changes that impact nursing practice, the nursing practice environment, and patient outcomes and experiences.
Nurse Sponsored Initiatives
A nurse in our Emergency Department saw an opportunity to provide more accessible care for victims of sexual assault. She proposed a "SANE (Sexual Assault Nurse Examiner)-Ready" initiative to ensure that our Emergency Department can provide time critical nursing care to these victims 24 hours a day, 7 days a week. September 16, 2019, Baptist Health Louisville became a (SANE) ready hospital thanks to the diligence and passion of our nursing staff.
To improve the pre- and post-surgical experience for patients, a nurse at our hospital envisioned the role of an orthopedic nurse navigator. Through her insight a position was developed to usher patients through this vulnerable time providing consistency and familiarity in care.
Relentless pursuit of excellence drives us to seek the most up to date evidence-based nursing practice. Exemplifying this organizational value is our infant swaddle bathing practice. Caring for our tiniest patients is an honor and a great responsibility. Due to the conscientious nature of our NICU nurses, this emerging practice update was implemented to improve neonatal temperature management and overall infant well-being.
Organizational Initiatives
Employee Wellness Initiative
Becoming a Magnet designee requires an organization to seek out how they can facilitate best nursing practices by investing in their nurses. This includes investing in educational and professional development, but here at Baptist Health Louisville, we believe that it also includes investing in the individual. Our Employee Wellness Program encompasses mental, physical, emotional, intellectual, social, environmental, financial, and spiritual health offering multiple services available to our staff to promote their well-being. We care for them, so they can care for you.
Daisy Program
Baptist Health Louisville is a proud partner of the Daisy foundation which honors nurses internationally in memory of J. Patrick Barnes. This organization bestows the highest individual honor in nursing – the Daisy Award. Each Daisy nurse is selected via nomination from patients, family members or co-workers that have recognized within their nominee exceptional caring and compassion. Recognizing our nurses for the extraordinary care they provide is our duty and our privilege.
Click to learn more about the American Nurses Credentialing Center's Magnet Recognition Program®.