Linda Boswell, PharmD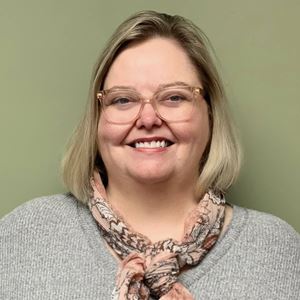 Linda is a staff clinical pharmacist at Baptist Health Hardin and precepts with Neonatology-Pediatrics longitudinal rotation. Linda was born in Elizabethtown, Kentucky and grew up in the area. She graduated from the University of Kentucky College of Pharmacy in 1987, then completed the 2-year residency program there (R172). She returned home to work at Hardin Memorial Hospital for several months, then took a position at Kapiolani Medical Center for Women and Children in Honolulu, Hawaii. Here, she participated in daily NICU multi-disciplinary rounds and focused on individualizing parenteral nutrition for the neonates unable to feed orally.
Linda returned to Hardin Memorial in 1992 and has worked in their mixed distributive/clinical roles since then. In 2015, Linda led in the development of the newly formed level II NICU clinical pharmacist roles and responsibilities. Outside of work, Linda enjoys spending time with her family and her West Highland Terrier, Bailey; remodeling her home, cooking, reading, and local trivia nights with friends.
Education/Training
PGY1, University of Kentucky
PharmD, University of Kentucky College of Pharmacy
Email