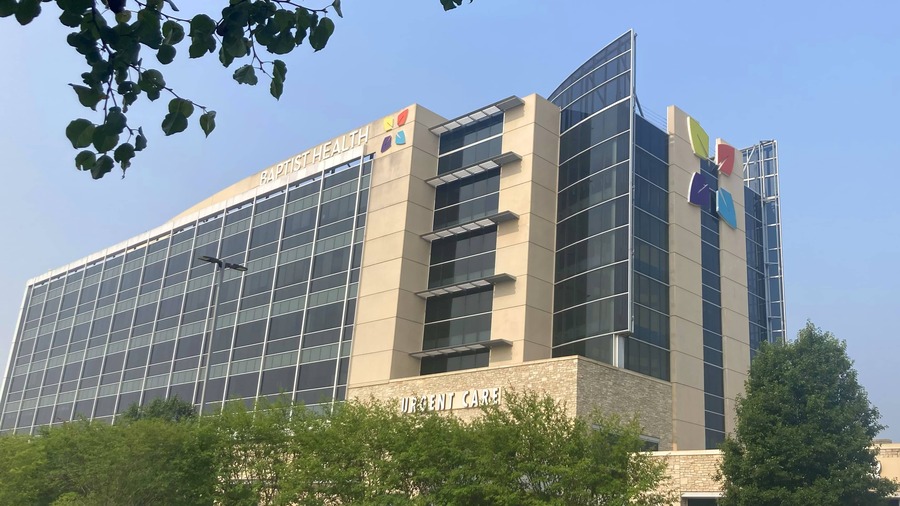 Baptist Health Eastpoint
Hours:
Monday: 7:00 AM - 5:00 PM
Tuesday: 7:00 AM - 5:00 PM
Wednesday: 7:00 AM - 5:00 PM
Thursday: 7:00 AM - 5:00 PM
Friday: 7:00 AM - 5:00 PM
Saturday: Closed
Sunday: Closed
For residents of fast-growing eastern Jefferson County, Baptist Health Eastpoint offers a convenient alternative for outpatient surgery with advanced equipment, experienced staff and physicians, and well-appointed surroundings. Patients and visitors will also enjoy the easily-accessible entrance bay that provides a covered location for pick-up and drop-off.
Outpatient Surgery Center
The $63 million building which opened in January 2009, features four surgical suites fitted for a variety of same-day procedures – from ear tubes to hernia repair to fixing fractured bones. Endoscopy procedures, such as colonoscopy, can also be performed in one of two special rooms at Baptist Health Eastpoint. Minimally invasive procedures are also available.
Baptist Sports Medicine
The Baptist Sports Medicine team includes all sports-medicine-trained primary care physicians and orthopedic surgeons, athletic trainers, and physical therapists. Baptist Sports Medicine operates in a state-of-the-art 11,000-square-foot facility at Baptist Health Eastpoint.
For more information about Baptist Sports Medicine services, or for a physician referral, call 502.253.6699.
Physical Therapy
Physical therapy is provided within the Sports Medicine facility at Baptist Health Eastpoint. Patients benefit from working with Orthopedic and sports-minded physical therapists who focus on helping patients return to their full potential, including returning to sports, work and daily activities. Patients are treated in our large gym space, including a rubberized running track, turf field and private treatment rooms.
For more information or to schedule physical therapy, call 502.962.2400.
Radiation Center
Residents of Eastern Jefferson, Oldham and Shelby counties who are diagnosed with cancer will find Eastpoint Radiation Center a convenient alternative. The 7,000-square foot radiation center boasts a brand new state of the art linear accelerator capable of Intensity Modulated (IMRT), Volumetric Modulated (VMAT), and Stereotactic Body (SBRT) Radiation Therapy delivery techniques, as well as advanced technologies that aid in accuracy of patient positioning and greater reduction in radiation exposure to the heart during treatment. The facility also offers on-site CT simulation, treatment planning, and ample space for conferences and educational activities.
Women's Imaging
Comfort and privacy are underscored in the women's imaging area with digital mammography along with bone density testing.
Diagnostic Imaging
Diagnostic imaging services include MRI, fluoroscopy, ultrasound, diagnostic X-ray and CT scans, in addition to digital mammography and bone density testing.
More than 80 percent of lung cancers have a chance to be cured if detected at an early stage. Lung CT screening can give you that chance. If you're a current or former smoker, early detection of lung cancer is key to preventing more serious problems later. Low-dose lung CT screening gives you the ability to take that positive step to safeguard your health. Learn more about lung CT screening.
Heart Services
For your heart, the center offers EKG and echocardiograms, along with vascular testing of the carotid arteries, lower leg and abdomen for clogged arteries or aneurysms.
Baptist Urgent Care
For those needing immediate treatment of minor injuries and illnesses, Baptist Urgent Care is open from Monday-Friday, 8 a.m.-8 p.m. and Saturday-Sunday 9 a.m.-5 p.m.
Eastpoint Café
Grab-and-go foods, such as sandwiches and salads, along with hot convenience items such as pizza, will be served at the Eastpoint Café during breakfast and lunch hours.
Physician Offices
Physician offices are open at Baptist Health Eastpoint, including a location for Baptist Health Medical Group.
Baptist Health Eastpoint main phone numbers:
*Schedule by calling department directly or through Schedule One: 502.897.8888.
Other Locations in the Area