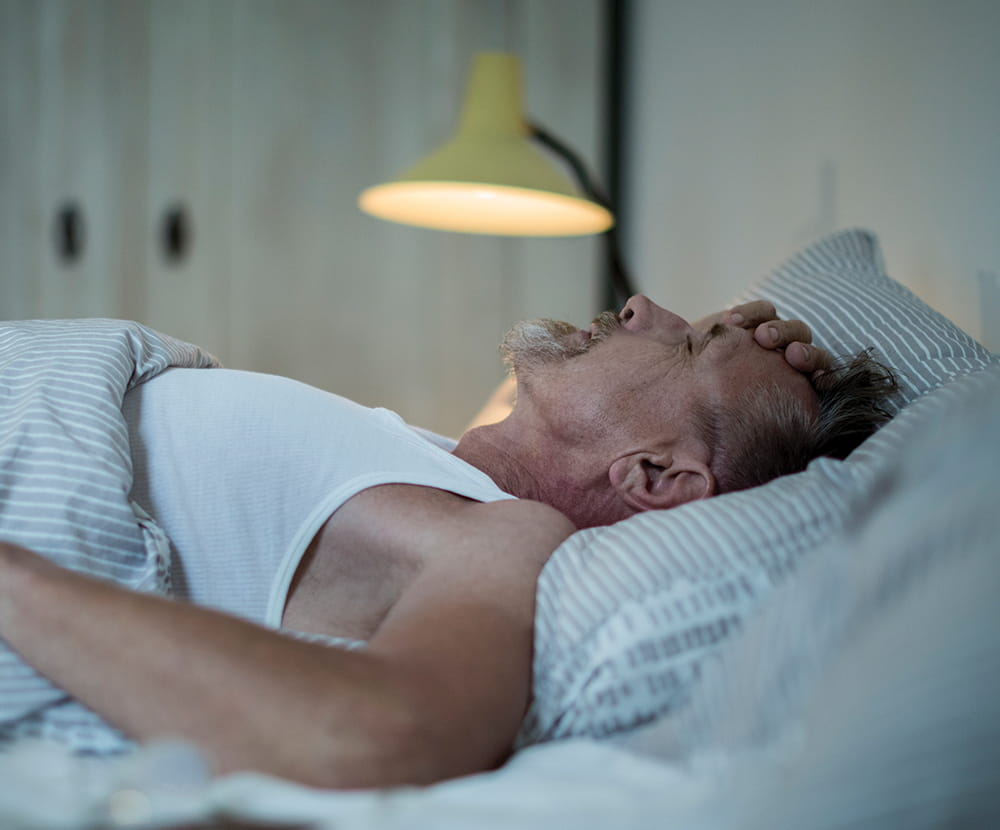 Sleep Medicine
Sleep Medicine
Some people simply find it difficult to relax after a hard day at work or at home, while others struggle to understand why they can't fall asleep.

Many of these same people suffer from common problems known as sleep disorders. Learn more about how to tell if you have a sleeping disorder, how to improve your sleep conditions and general information about sleep disorders in adults.
What are Sleep Disorders?
Sleep disorders are conditions that can disrupt the amount and quality of sleep a person receives. They can be caused by any number of things, including stress at home or work, a sudden disturbance in the amount of sleep a person gets, a change in daily schedule or other physical factors.

Sleep disorders can affect how a person thinks, works, drives a car or any other daily activity, decreasing the quality of life. In fact, sleep disorders can be fatal if left untreated.

There are nearly 100 different known sleep disorders, each with different symptoms. Many can be treated with the help of highly trained healthcare professionals. The most common of these sleep disorders are: snoring and obstructive sleep apnea, insomnia, narcolepsy and periodic limb movement.
Sleep Medicine Services for Sleep Disorder Diagnostics & Treatment
Baptist Health sleep centers diagnose and treat patients 13 years and older who have disorders that disrupt the amount and quality of their sleep. Our specialized centers provide advanced diagnostic testing and help with the management of sleep disorders. We use innovative technology and the latest sleep medicine advances to monitor your physiological activity during sleep. The test results help us better understand your symptoms and diagnose what is interrupting your rest. We then offer effective treatment options.
In-Lab Sleep Study
One of the most effective methods for diagnosing sleep disorders is the in-lab sleep study. Baptist Health sleeping suites are designed with the comforts of home, helping patients replicate a typical night's sleep and enabling us to better diagnose sleep issues and recommend treatments.
During a sleep study, we record your brain activity, eye movements, heart and breathing rates, body movement, and more. We also perform daytime studies that monitor your alertness and ability to stay awake. Data from these studies is used to identify problems or conditions that are making it difficult to sleep.
In-Home Sleep Studies
Baptist Health also conducts in-home sleep studies. Similar to an in-lab study, a home study uses portable monitoring devices that you activate before you sleep. The data recorded by these devices is transferred to monitors at Baptist Health sleep centers.
Sleep Educator Visits
The clinical sleep educator is a critical member of your Baptist Health team. He or she will spend time with you and your family, identifying your sleep-health needs and helping you understand the best methods for managing your condition. Our sleep educators offer education on the following therapies and technologies:
CPAP and BPAP mask fittings: If you are diagnosed with sleep apnea or another breathing issue, you may be prescribed a continuous positive airway pressure (CPAP) or bilevel positive airway pressure (BPAP) device to use while you sleep. Both devices blow air at a comfortable and constant pressure through your airway to prevent snoring and help you sleep soundly. The mask with the device will be specially fitted for your comfort.
Desensitization training: Getting used to the CPAP mask while awake is an important step in using it effectively for better sleep. Desensitization training helps you get comfortable with the mask and the air pressure that comes from the device.
Sleep modification: We teach effective techniques to modify behavior and thought patterns that can help improve sleep quality without medication.
List of Common Sleep Disorders
Baptist Health sleep centers provide medical and management solutions for a complete range of common sleep disorders:
Circadian rhythm sleep disorders
Excessive daytime sleepiness (EDS)
Insomnia
Narcolepsy
Parasomnias
Periodic limb movement
Restless legs syndrome
Sleep apnea
Snoring
Are You Getting Enough Sleep?
If you need help with a sleep disorder, you can count on the caring experts at Baptist Health sleep centers. Our staffs include board-certified sleep physicians who keep up-to-date on the most current and effective treatment options. From helping you prepare for tests, listening carefully to your questions, and working with you to provide a personalized treatment plan, you'll appreciate our attention and support.
Understanding and Treating Sleep Disorders
Featured Awards
Baptist Health hospitals in Floyd, Hardin, Lexington, Louisville, Paducah and Richmond are accredited through the American Academy of Sleep Medicine.