How to Exercise Safely During Another COVID-19 Winter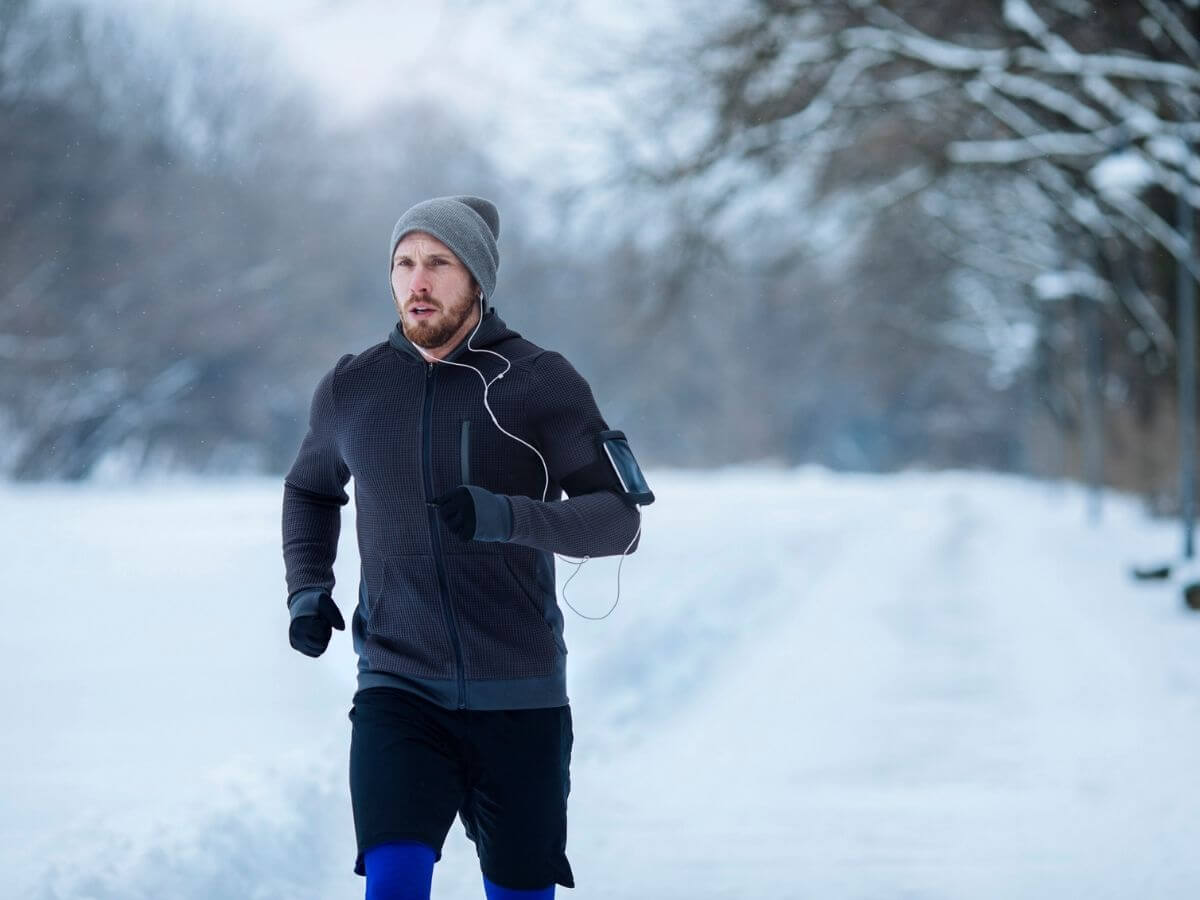 As the COVID-19 pandemic continues, with new variants and ongoing risks associated with indoor gatherings — including at gyms and fitness centers — it's important to find other ways to exercise regularly. 
Getting regular workouts can seem particularly challenging during the winter months when the safest place to work out is also the coldest place to be. But there are steps you can take to make exercising outside safe and comfortable.   
Use Caution if You Have Certain Health Issues
Exercising outside during the winter is generally safe. However, if you have certain health conditions like asthma or heart disease, the combination of vigorous physical activity and cold temperatures may not be good for you. 
Before starting an outdoor winter workout regimen, you should talk with your doctor about what exercises, durations, and intensities are appropriate. You should also increase your activity level gradually so that you can see how your body responds to exercising in cold temperatures. 
---
Never Miss a Beat
Get the health and wellness news that matters most delivered straight to your inbox. Subscribe to our free email newsletter to stay up-to-date on the latest news and more.
---
What Exercises Are Safe Outdoors in Winter?
Just about any type of outdoor exercise you enjoy during the warmer months can be done in the winter. Swimming is one exception to that statement, of course! Walking, hiking, running, biking, dance-focused workouts, calisthenics, and other outdoor activities can be done safely, provided the necessary traction is available. All of these activities can be risky on the icy or snowy ground. 
In addition, many activities that aren't possible in summer can be a part of your winter workout. This includes ice skating, cross-country skiing, snowshoeing, downhill skiing, and sledding.
How to Dress for Your Outdoor Winter Workouts
The best way to dress for outdoor winter workouts is to wear layers. That way, you can shed clothing if appropriate as your body starts to warm up. 
The layer closest to your skin should be one that can wick sweat away. Synthetic fabrics tend to have this capability. Cotton, while very comfortable, absorbs sweat, which isn't good for your comfort, particularly as you start to cool down after your workout.
Fleece and wool are good materials for a second layer since they can help keep you warm. And if rain or snow is in the forecast, a waterproof outer layer can provide protection. You may also want to wear a hat and gloves — ideally made from a material that can be washed between workouts.
---
Getting Vaccinated is the Best Protection
Getting the COVID-19 vaccine is the best way to prevent COVID-19 infection and end the pandemic. The vaccine cannot give you COVID-19, but it can help protect you from serious illness. Learn more about the COVID-19 vaccine and make a first, third, or booster vaccination appointment at a location near you. 
---
Outdoor Winter Workout Risks
Staying active during the winter months is important. But so is your safety. Two of the biggest risks with outdoor activities are frostbite and hypothermia. If the windchill drops much below 20 degrees Fahrenheit, frostbite can occur on exposed skin in less than 30 minutes. 
Hypothermia is a condition in which your body temperature drops below a safe level. It's most common in extremely cold temperatures but can also occur in cool temperatures if you are sweaty or wet from rain or snow. 
Keep in mind that hydration and sun protection are important during winter workouts, too. Be sure to get plenty of fluids before, during (if appropriate), and after your workouts, and wear sunscreen on your face and other exposed skin. 
Support Your Immune System With Winter Workouts
Getting regular, moderate-intensity exercise is good for your immune system, so it may help protect you from COVID-19 and other illnesses. In addition, physical activity is important for your overall health and wellbeing. 
If you have questions about starting an outdoor winter workout regimen, talk with your Baptist Health physician. If you don't have one, you can find a doctor in our online provider directory.
---
Next Steps and Useful Resources
Schedule a Vaccine Appointment
Start a COVID-19 Test Online
10 Best Exercises for Everyone
10 Ways to Manage Frustration That the Pandemic Isn't Over Yet