COVID-19: Where Are We Now?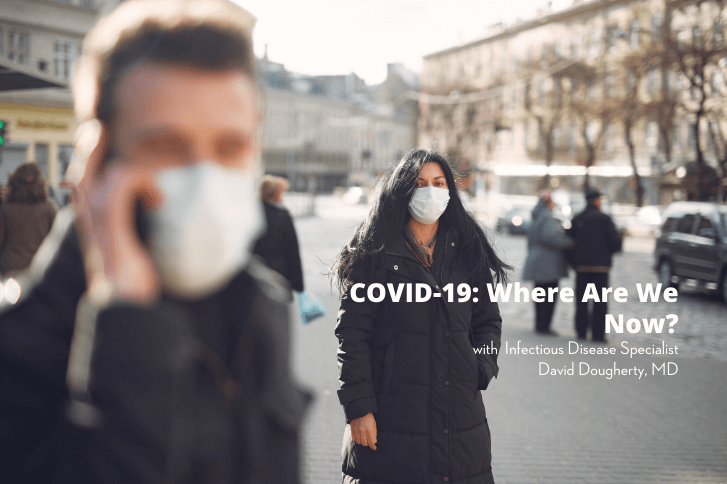 Apple Podcasts Google Play iHeartRadio Tunein Spotify Amazon
In the coming weeks, hospitals in Kentucky and Indiana expect to receive their first doses of a vaccination against COVID-19. While cases of the virus continue to rise, infectious disease specialist David Dougherty, MD, is hopeful the vaccine — combined with antibody treatments and continued precautionary measures — will set the community on a course to a pre-pandemic normal.
In this podcast, he discusses vaccine trials at Baptist Health, the safety of the vaccine, and how it works to provide protection from the virus. He explains COVID-19 treatments and describes the long-term health issues he's seeing in patients who have recovered from the virus. Dr. Dougherty also offers advice for staying safe this holiday season and predicts when we'll see that return to normalcy.
---
Useful Resources and Next Steps:
---
Episode Summary
In this episode of Baptist Health's Health Talks NOW podcast, hosts Kerri and Kendra kick off Season 2 with another look at the ongoing COVID-19 pandemic – and the beginning of a miniseries on the subject! They are privileged to be joined on the phone by Dr. David Dougherty, an infectious disease physician who has invested a great deal of time and effort into studying COVID-19. Before turning to their conversation with Dr. Dougherty, Kerri and Kendra recommend that listeners who have not yet heard the previous season's considerations of the pandemic start with that material from the Health Talks NOW archives.
As the interview begins, Dr. Dougherty shares about himself and his practice at Baptist Health. He has been in private practice for about a year and a half, and is one of eleven physicians at Lexington Infectious Disease Consultants. He works in several hospitals, though the practice has offices at Baptist Health Lexington. For Dr. Dougherty, medicine is a family affair, as his father is actually one of the other physicians with his practice!
This fact prompts a question from Kerri and Kendra, as well as a shift toward their central topic of the COVID-19 pandemic. The hosts wonder, has the pandemic hindered Dr. Dougherty's ability to gather with his family, even though he and his father work together? Dr. Dougherty's answer is affirmative: yes, the pandemic has had such an effect. He and his family have had to limit travel and work hard to avoid exposing either themselves or others to COVID-19 (especially for the sake of the young children in the family). Dr. Dougherty and his father, in particular, have had to take stringent precautions in several arenas of life, as both family life and work pose dangers.
Shifting more overtly toward the pandemic and efforts underway to combat it, Dr. Dougherty and his hosts consider the progress and advancement of the ENSEMBLE study that was announced some time ago. Dr. Dougherty is one of the many physicians involved with the ongoing study, which is a project of Johnson & Johnson. The project is going well, Dr. Dougherty affirms, and he thinks that enrollment will be completed in the next couple of weeks. If any listeners are interested in being enrolled to help reach the local goal of about 2,000 people (and much larger national goal), they can go to stopcovidky.com.
Next, Kendra and Kerri ask about a new treatment for COVID-19 patients who meet certain criteria. This treatment is an infusion therapy using monoclonal antibodies. Two versions of this treatment are now allowed in emergency situations; they include a single-antibody infusion by Eli Lilly, as well as Regeneron's newly approved dual-antibody therapy. These medications seem more effective in the early stages of a course of COVID-19, and are aimed to decrease ER visits and hospitalization rates from COVID-19. So, the therapies are restricted to outpatient use. There is also a risk of anaphylaxis with the infusion use, so medical providers need to keep this danger in mind when prescribing.
Further, there are challenges associated with the care setting in which the infusions may be administered. The patients who receive the medications are, of course, positive for COVID-19. Thus, there are dangers in admitting them to hospitals even just for outpatient therapy. Medical practitioners are facing questions of how to best triage patients requiring such medications (with some leaning toward admittance through the ER). Practitioners are also considering questions of staffing, as staff are required to administer infusions, but these individuals would have to be in close proximity to contagious patients with COVID-19.
Even with all these concerns in mind, though, there is much reason to be encouraged by the availability and use of these new treatments. In fact, President Trump received the Regeneron treatment, and while it's uncertain why his course of illness progressed as smoothly as it did, it's certainly possible that Regeneron was helpful to him. More conclusively, though, there is evidence of the infusions being beneficial for early-stage disease as well as safe for patients.
Moving forward in the conversation, Kendra and Kerri take up the theme of patient safety again by considering the topic of vaccine misinformation. Misinformation is rife across the US with regard to COVID-19 vaccines, but also regarding vaccines in general. Many adults do not get an annual flu shot, and by current tabulations, about 50% of Americans plan to refuse a COVID-19 vaccine! In light of these realities, Dr. Dougherty vouches for COVID-19 vaccines as well as for vaccines in general. Most specifically, he explains the care with which he's seen Johnson & Johnson carry out their trial. Yes, the trial is progressing quickly, but there has been much money and effort poured into development of a safe and effective vaccine simply because of the fact that there is an ongoing and highly disruptive pandemic.
Pressing further into the issue of misinformation, Dr. Dougherty answers the question of whether or not he's surprised and alarmed by the high percentage of people who are not planning to accept a vaccine. Dr. Dougherty is not particularly surprised, since there have always been people not interested in receiving vaccines. In this instance, the politics built up around the vaccine development also impact the public response to the vaccine. As people start receiving the vaccine, though, Dr. Dougherty hopes to see concern over it decline.
Kerri and Kendra also ask Dr. Dougherty to speak to some of the specific concerns people tend to have regarding the vaccine. The first is the speed with which the vaccine is being developed. Usually, vaccine development takes longer, but in the situation of COVID-19 the rapidness is paired with an unusual breadth of study. There are far more people in COVID-19 vaccine trials than in usual vaccine trials, and the vaccine development is a central concern of the medical community all around the world.
With regard to another concern – that of possible side effects from the vaccine – Dr. Dougherty explains that individuals may experience an immune response from the vaccine, including fever and muscle aches. But he is hopeful that, beyond this and some injection site pain, that people will not experience many more issues. Of course, there are still questions to be answered regarding how the vaccine will impact different people, such as the elderly and immunocompromised people. While Dr. Dougherty has some ideas about how they will be impacted, it will take time to know for sure.
Moving forward, Dr. Dougherty tells Kerri and Kendra that he anticipates that the Pfizer and Moderna vaccines will possibly be available for healthcare workers within weeks, and then available to the general public by March or April. And fortunately, Baptist Health is prepared for the storage needs!
Switching gears yet again, the group talks about the long-term effects of COVID-19. While still in large part not understood, there is evidence of long-term neurological effects. Of course, there are also concerns with effects on patients' lungs, such as the development of pulmonary fibrosis. There have been short-term cardiac effects, such as clots and strokes, but the long-term cardiac effects are also unknown. Dr. Dougherty points out that, while there is much focus on mortality rates, he believes that the medical community needs to place more focus on morbidity, looking at long-term effects of the virus.
At the moment, we are experiencing what the media calls the third wave of the pandemic. Dr. Dougherty expects that cases will remain elevated until at least February, and that a natural dip in illness, combined with the widening availability of vaccines, will bring the numbers down for a more normal summer. However, we will still not be at a pre-pandemic sort of normal, and masks will still be necessary in large gatherings. In fact, Dr. Dougherty does not expect a more thorough normal until – he hopes – 2022. Even then, he's not sure how mask requirements will age, and much of the future also hinges on the efficacy of the COVID-19 vaccines.
As far as advice for the holiday season is concerned, Dr. Dougherty knows that people are eager to see family and struggling with pandemic fatigue. However, with a widely accessible vaccine so close, he advises that people continue to be very careful. It's not safe to have large family gatherings, and it's not an ideal time for travel. At the very least, Dr. Dougherty cautions, people ought to avoid exposing any high risk individuals to illness, and should wear masks when around people outside their own family. Such practices will help mitigate the exacerbation of the pandemic that Dr. Dougherty expects will arise from the combined factors of the weather, the holiday season, and pandemic fatigue.
Moving towards the end of the conversation, Dr. Dougherty addresses people who don't buy into the pandemic. If he didn't want more people than necessary in hospitals, he'd invite these individuals to come and see for themselves what the hospital scene looks like. The pandemic is real, and it's consuming a lot of hospital resources. What people careless about possible exposure and spread often fail to recognize is that the continual allocation of resources to combat COVID-19 makes other conditions harder to take care of. Ultimately, Dr. Dougherty calls for listeners to cooperate with the health community's efforts to take care of patients before Kerri and Kendra conclude the episode with their own final thoughts and encouragement to listeners to keep up with future installments of this Health Talks NOW miniseries on COVID-19.
Key Takeaways:
[0:53] – Kerri and Kendra are excited to be back for season 2, and to talk about COVID-19! [1:59] – Turning to their guest, Dr. David Dougherty, they ask about his background. [4:33] – How have things been going in the ENSEMBLE trial? [6:23] – The conversation turns to a new treatment for patients who meet certain criteria. [8:57] – Is this the antibody treatment that President Donald Trump received? [12:12] – Vaccine misinformation is rife across the US. [15:34] – Turning to concerns about a COVID-19 vaccine, Dr. Dougherty addresses the speed of development. [17:05} – He is asked about side effects associated with the vaccine. [19:15] – When will we likely see the vaccine in Kentucky? [20:26] – What do we know about the long-term health effects of COVID-19? [22:31] – Dr. Dougherty and his hosts talk about the ongoing third wave of the pandemic. [24:50] – Will we ever get back to our pre-COVID-19 concept of normal? [26:01] – Kerri and Kendra seek advice for listeners for the holiday season. [28:11] – The conversation turns to people who don't buy into the pandemic. [30:01] – Kerri and Kendra offer their concluding thoughts before wrapping up the episode.
View Transcript
Intro:
Welcome to HealthTalks NOW. Bringing you the facts you need to keep you and your family well. We're happy you're tuning in today. Baptist Health is committed to providing compassionate, high-quality care that is centered on you. Listen to all of our podcasts to hear from Baptist Health physicians about the latest medical advancements and treatments, and get trusted information on timely health topics from our healthcare professionals. Whether you want to learn more about a specific condition or procedure or find tips for living a healthy lifestyle, Baptist Health is here to help you become a healthier you.
Kerri:
Welcome back to season two of the HealthTalks NOW podcast, a show brought to you by Baptist Health. Kendra and I are so glad to be back, bringing you inside access to the health topics that matter to you and your family the most.
Kendra:
It's so good to be back. We have some really exciting things lined up for season two, so if you're not already subscribed, go ahead and hit that subscribe button so you don't miss an episode.
Kerri:
We're kicking off this season bringing you more information on the topic that's dominated the year, COVID-19.
Kendra:
That's right. And today we are privileged to be joined by phone with a leading expert in the field of infectious disease, Dr. David Dougherty. Dr. Dougherty has spent countless hours studying and understanding COVID-19, and we're eager to jump into today's conversation.
Kerri:
That's right. If you're just joining us, you want to go back and listen to the special edition of the COVID-19 series, HTN COVID-19: Baptist Health Responds, for some really valuable updates from Baptist Health CEO, Gerard Colman. Let's go now to our conversation with Dr. Dougherty.
Kendra:
Dr. Dougherty, thank you for taking the time to join us for this important conversation today.
Dr. David Dougherty:
Thank you.
Kerri:
Can you tell us a little bit about yourself and your practice at Baptist Health?
Dr. David Dougherty:
Yeah. So I'm one of 11 physicians in our private practice here at Lexington Infectious Disease Consultants. We work at multiple hospitals. Our office is located at Baptist Health Lexington. I have been in private practice for about two and a half years now. My father's also in this practice, along with nine other physicians, and we see infectious diseases, anything from COVID-19 to skin and soft tissue infections, to HIV.
Kendra:
It must be interesting both working with your dad and then having a personal relationship outside of that. Has COVID-19 affected your ability to gather with your family, even though you're exposed to your father in practice?
Dr. David Dougherty:
Yes, definitely. This is an ongoing topic over the last year, basically now, in terms of having pods or not exposing people, and minimizing risk. And we have little kids. We have three children in my family, and the topic of school also has come up, so it's been very difficult. But yeah, we've limited any family gatherings, really not had them recently, and limited travel, obviously, not really done a lot of travel or anything, and just really trying not to expose anybody else or ourselves. And it's been difficult. I'm sure everybody has been dealing with this. We do as well, as providers.
Kendra:
Yeah, you're kind of taking it from both ends, where you're getting it in clinic, and then you still have all the family stressors that all the rest of us do.
Dr. David Dougherty:
Right. And we have clinic here, we have the vaccine trial clinic as well, and then I'm seeing patients in the hospital, and then I'm at home. I have to be very careful.
Kerri:
Okay. Well, we announced a month ago that University of Kentucky, in partnership with Baptist Health Lexington and Norton Healthcare in Louisville were selected as testing sites for a phase three clinical research study called ENSEMBLE trial to evaluate an investigational COVID-19 vaccine. What can you share with us in terms of progress and advancements in this last month?
Dr. David Dougherty:
Yeah. So this trial is progressing nicely. We're enrolling a lot of people. Were actually … The three sites combined, UK, Baptist and Norton, are one of the top trial sites in terms of enrollment in the world.
Kerri:
That's impressive.
Dr. David Dougherty:
I anticipate that the trial, hopefully, we'll complete enrollment within the next couple of weeks, and that's exciting. And so we're really pressing forward. We're working this weekend too, keeping the clinic open on Saturday to try to get patients enrolled. And we really had help from the community, we need more help too. So I encourage anybody that's interested to go to StopCOVIDKY.com and sign up still.
Kendra:
And so that magic number you all are looking for is somewhere around 2,000 participants. Is that right?
Dr. David Dougherty:
Yeah, that's the original goal. If we hit that, that's great. We'd like to … That's local. Initially, we were looking at 60,000 enrollees internationally for this trial. It looks like we may hit our … potentially our advocacy [inaudible 00:05:56] quicker than that before the 60,000, because unfortunately, we're having a massive outbreak of COVID across the country and the world right now. So that's playing a role, and actually, we may need fewer enrolled in the trial because it's going to be easier to prove whether or not this vaccine is effective given the numbers.
Kerri:
It makes sense. What a great partnership too.
Dr. David Dougherty:
Yeah, it's been great.
Kendra:
Well, let's talk now about a new treatment available to COVID-positive patients who meet certain criteria, and this is infusion therapy using monoclonal antibodies. Can you talk a little bit, give us kind of a high-level overview about what monoclonal antibody therapy entails, how it works, who makes a good candidate, and when this would be an option for treatment?
Dr. David Dougherty:
Yeah. So as you probably heard, there's a couple of different monoclonal antibodies that have recently received an emergency use authorization by the FDA. In particular, one from Eli Lilly, and another from Regeneron. And these are essentially laboratory-made proteins that mimic the body's immune response in terms of fighting off viruses. And so the one from Eli Lilly is a single antibody. The one from Regeneron is two antibodies. We think these are more effective … We don't know exactly how effective they are yet, the trials are ongoing, but we think they're more effective in the early phases of the illness.
Dr. David Dougherty:
So these are actually not approved for inpatients or patients on oxygen due to COVID-19, because there's not really a proven benefit for those folks. So this is an outpatient treatment. We're still figuring out, as I'm sure a lot of hospitals are around the country, how this will be administered without compromising resources within the hospital system itself, and so this is an ongoing process. It seems to be a relatively safe treatment. There is some slight concern for some people could have anaphylaxis. That is a potential risk factor for the treatment itself. But that the idea behind it is to decrease ER visits, and potentially prevent hospitalization for COVID-19.
Kendra:
Obviously it's a completely different treatment, but similar to Tamiflu with influenza, you have to get that early on, or it really is ineffective. Similar here, is what I hear you saying.
Dr. David Dougherty:
We actually think that probably a lot of the treatments like Remdesivir is effective if given early. We were thinking that with convalescent plasma too, which would make sense if convalescent plasma is effective, because it's a similar type of theory as these monoclonal antibodies.
Kendra:
Makes sense. Now, is this the antibody treatment that was given to President Trump? And is that why he had such a shortened hospital stay?
Dr. David Dougherty:
The Regeneron antibody is what President Trump … I should say Regeneron and antibodies, because there's two of them, are what he received. I can't say whether or not that's what shortened his hospital stay. It's possible, if you received it early enough that his body may not have developed antibodies on its own yet, and that's where it's beneficial in terms of decreasing maybe the severity or duration of the illness. He received several things, though. I'm sure he received Decadron, Remdesivir in the hospital. So it's difficult to say exactly what helped improve his outcome, if anything.
Kerri:
Right. And this was given intravenously, correct?
Dr. David Dougherty:
Yes. So it's intervenous infusion. I believe it lasts around an hour, and then you have to be monitored for an hour afterwards.
Kendra:
And so the risks here of the anaphylaxis, and that's why the challenge is the care setting in which it can be administered.
Dr. David Dougherty:
Exactly. Hospitals right now are being kind of asked to give this, I guess. But ideally, this is the kind of treatment that's an outpatient therapy. Ideally, this would be given in an outpatient infusion center, but the complicating factor with that is you have people walking in with COVID-19, and so it's really complicated in terms of one of the biggest strains on the healthcare system right now throughout the country is staff. It's actually not beds. And so, where do you get the staff to triage these patients, and to staff the infusion … the clinic, and monitor these patients?
Kerri:
Yeah, that's a really good point. I think there's so much emphasis on bed capacity. But really, there's a shortage of healthcare workers even before COVID, and now we're quarantining our staff, and-
Dr. David Dougherty:
Well, the other complicating factor is, some hospitals are thinking about using this med, triaging from the ER, and deciding … Because it's only given to patients that are high risk for progression, that have underlying health conditions or over a certain age or BMI. You don't just give this to anybody that has early COVID-19 at this stage. It's not beneficial to everybody, and so that's what it's approved for under the EUA. But the problem is, if you're being triaged in the ER, and the whole point, or one of the main points of the drug is to decrease ER visits. You're increasing ER time, and you also … We don't want to flood the ER with people wanting this therapy, either, because it's going to be people that actually need admission, that have low oxygen coming in, or have other medical conditions that needs to be in the ER. So it is a difficult situation.
Kerri:
Vaccine misinformation is a tremendous problem in this country. We're aware of the millions of lives that are saved each year because of immunizations that protect against deadly diseases such as tetanus, measles, and influenza, but some alarming statistics remain. According to the CDC, half of adults do not get the annual flu shot.
Kendra:
And concerns over vaccine side effects have led to increased mistrust, and diseases that were once eradicated in our country are now seeing a resurgence because more and more parents are refusing to vaccinate. In fact, vaccination rates for both kindergartners and teenagers in half of all States have fallen below 95%, or the level needed to provide maximum protection.
Kerri:
Research also shows that about 50% of Americans plan to refuse the COVID-19 vaccine no matter what. What reassurance can you offer the public right now about this vaccine, or vaccinations in general?
Dr. David Dougherty:
So I can vouch for Johnson and Johnson, at least. And the whole process, the FDA, the data safety monitoring board, they're watching over this. The companies, at least. I know because I'm working on the Johnson and Johnson trial right now. They're doing a very, very good job. They have monitors that come into the site, some that are blinded and some that are not blinded, that are monitoring the study progress. We're monitoring it, and then you've got the data safety monitoring board that's an external entity, and the FDA that are also monitoring these clinical trials. Even though they're progressing rapidly, I don't want the general public to be afraid to take these vaccines just because of that, because so much money and effort has been poured into this because we're in a pandemic, and the focus has to be on getting a first of all safe, but also effective vaccine as quick as possible, and multiple of them, because we're in a dire situation here with the pandemic, and we need to protect people.
Kendra:
Does it surprise or alarm you that 50% of Americans plan to refuse the vaccine?
Dr. David Dougherty:
Well, there's always been a group of people in the country that have not wanted to get vaccines. I think that there's been a lot of politics around the vaccine in the news, vaccines in general, and it's kind of just a heated topic. And it doesn't surprise me a ton, but I'm hopeful that as some of the healthcare workers get vaccinated, as this kind of rolls out, some more of the general public will come around and want a vaccine, because I think, obviously, we need to continue masking and social distancing right now. But in order to get out of this, we really do need the vaccines, and we need a lot of the general public to get vaccinated in order to not wear a mask eventually outside again, and be able to get back to our somewhat normal lives that we had before this pandemic.
Kendra:
Well, I think, as we mentioned, a lot of the hesitancy just revolves around misinformation. So let's take a minute to address some of the specific questions and concerns that have been widely expressed about the COVID-19 vaccine and try to dispel some of that, to maybe help alleviate some of the fears. So one of the major concerns cited among those hesitant to receive the vaccine is as we mentioned, the time it's taken to develop it. You've responded a little bit to this, but what would you say to anyone who says their staunch opposition is that it's been developed way too fast?
Dr. David Dougherty:
Well, I mean, there's still a lot of people that were being enrolled in these trials, so we're able to monitor a lot of people, in terms of safety. We're monitoring them before these EUAs are being rolled out, or being applied for. They're being monitored for at least a couple months. And there's just so much effort being poured into this that I think people are surprised that the vaccines have moved along this quickly in the trials, because they're comparing it to other vaccine trials that have taken years, but that's not in a pandemic situation where the money and the effort has been poured into this. There's 100s of clinical trial sites across the US and the world that are participating in these trials. So I do think that these trials are being conducted safely and quickly at the same time. So I think that can be done.
Kerri:
Was there any side effects of the COVID-19 vaccine have been of great interest? What can we expect? What are some of the initial trial showing?
Dr. David Dougherty:
Well, I mean, I think with any of these vaccines, you can expect that there's a possibility that you could have some immune response shortly, like within the first 24 to 48 hours after getting a vaccine, as far as your body building up immunity and responding to the vaccine itself. So fever, maybe some muscle pains and other symptoms. Maybe a little bit of pain at the injection site. But I think aside from that, I'm hopeful that these vaccines … And they seem to be pretty effective. I can't necessarily speak for the other vaccine trials. But so far, everything has looked pretty safe. So I'm excited that we have so many vaccines this far along.
Kendra:
Do we expect the immune response that's experienced to be more severe in immunocompromised individuals who get vaccinated?
Dr. David Dougherty:
Not necessarily. I mean, it may actually be less immune response in immunocompromised or elderly individuals, even. But some of this is yet to be determined. We don't know, because they haven't been fully rolled out yet. But I think for the most part, as far as immunocompromised individuals, it's tough to enroll the really immunocompromised individuals in the vaccine trials because the vaccine might not respond like it would in a normal host.
Kerri:
That makes sense.
Dr. David Dougherty:
We won't really know that quite as much during the vaccine trials themselves, because it might not be as big of an immune response. For instance, the ACE patients, sometimes, the vaccines will not be effective until we increase their cell counts with the medications, and so then we can vaccinate them after their immune system kind of recovers.
Kendra:
When will we likely see this vaccine arrive in Kentucky, and when do we expect it to be widely available?
Dr. David Dougherty:
In general, it's looking like the Pfizer Moderna, they both applied for an EUA and we may see those for healthcare workers in particular, and then it looks like nursing home folks maybe within a matter of weeks. As far as the general public, I'm thinking that we're going to hopefully have widespread vaccination by March and April. I don't know if we will by February. So I'm hoping that March we'll have enough vaccines that are approved through an EUA, emergency use authorization that we'll have a more widespread distribution across the country.
Kendra:
And is Baptist Health prepared for the storage needs?
Dr. David Dougherty:
Yes. From what I know, Baptist Health has anticipated the storage needs for these Pfizer and Moderna vaccines.
Kendra:
Great. Well, let's switch gears a little bit. As the pandemic has evolved and more time has elapsed in the recovery of patients from the initial surge back in March 2020 rather, attention is turning to the longterm effect on survivors' health. We've read news articles that mentioned lasting effects to the immune system, damage to the lungs, neurological and mental health impacts, brain fog and memory loss. What do we know right now about the longterm impact of COVID-19?
Dr. David Dougherty:
I am concerned that there are things that we still … I know there are things that we still do not know about in terms of long-term damage. I am concerned about the long-term neurologic side effects. I don't know that we fully understand this yet, I don't think we do. The thing I think we're already understanding is what the longterm lung damage is going to be like, and I'm concerned about pulmonary fibrosis, kind of scarring in the lungs, especially in patients that get severe COVID-19 and require oxygen during an admission or are on the ventilator. And some people may require oxygen for long periods of time.
Dr. David Dougherty:
And I'm hoping that this doesn't happen to so many people. We're trying to prevent this progression. As far as cardiac issues, I don't know that we know the full extent of organ damage so far. We've seen short term cardiac issues. We've seen clotting issues. We've seen strokes that are associated with COVID-19 and folks that have never had a stroke before. And of course, that leaves some folks with long-term damage. So I am concerned. I think there's a lot of focus on mortality rates, but not enough focus on morbidity long-term consequences of having COVID.
Kerri:
That's a great point. Well, the media is calling this season, the third surge or the third wave. Do we think we've reached the peak of this wave in Kentucky? What are your predictions? Do we expect cases to continue to rise throughout the cold and flu season?
Dr. David Dougherty:
I think cases are going to unfortunately continue to remain elevated. I don't know how long they're going to continue to rise, but I think they're going to be elevated through probably at least until February, maybe March. I don't really see the cases declining in December or January even. And so maybe at the end of January, but I think we're in for another couple of months, at least of really high case numbers.
Dr. David Dougherty:
I think as we see more vaccines roll out and more folks in the general public get vaccinated, keep in mind that some of these vaccines, most of them require two doses a month apart. So the Johnson & Johnson one doesn't of course, we're still completing enrollment with that trial. But I think that things got naturally better this last summer, but I think in addition to things getting naturally better and more people getting vaccinated in the general public in March and April, I think things will start to get better over this summer.
Dr. David Dougherty:
I don't think we'll have a pre-pandemic normal, but I think we will get back to more of a normal. Masking will still be important in large settings, but I think in terms of having more businesses open up and remain opened, I'm hopeful of that. I know a lot of small businesses have been really hurt. Restaurants have been really hurt by this, and I'm really hopeful that the goal with the vaccines too is to get these businesses back open, that's the goal with masking. We need to get everything back open as soon as safely possible. But right now it's just, the rates are too high. So we do not want the hospital systems to get overwhelmed.
Kendra:
So do you think we'll ever get back to a pre COVID normal or do you think our quote unquote "normal" is forever altered because of this?
Dr. David Dougherty:
I don't know what masking is going to look like in the future. I'm hopeful that we will get closer to that pre-pandemic normal in 2022. A lot of it depends on how many people are willing to get vaccinated, and how effective these vaccines are in terms of long-term efficacy. What is the durability? We still do not know that answer. That is one big unanswered question with these vaccines because I think we have a good safety data so far, and we're going to continue to monitor folks, but most reactions to vaccines happen within the first couple of months after vaccination. But in terms of long-term efficacy, we don't know. And so I'm hopeful though that in 2022, we're going to be back more towards our normal.
Kerri:
Okay. Before we wrap up today's episode, we would love if you would share some advice for the holiday season, we know people are missing their families and traditions, and they're getting pandemic fatigue. But of course we know the importance of taking precautionary measures to slow the spread of disease. What advice can you offer for those contemplating their holiday plans and travel, and who are simply exhausted from a year of limited contact, masking, et cetera?
Dr. David Dougherty:
I would say that we're very close to vaccines and I would say especially, well, I would say first off, it's probably not safe. It is not safe to have large family gatherings right now, unfortunately, especially indoors. And it's tough to have them outdoors because of the cold weather in most areas. I'd say it's not the safest time to travel either, being around a lot of other people during the traveling process. But for those that are going to do this, despite what I say, I would say, try to minimize exposure to your relatives that are elderly or have comorbidities other medical conditions, try to protect them.
Dr. David Dougherty:
Try to wear a mask whenever around people outside of your immediate family that you're around all the time because most of the spread right now, or a lot of the spread is happening between different families or one immediate family to some other family members that they get together with. And so I'm worried what it's going to look like a few weeks from now, a few weeks after Christmas. I think that the holiday season, along with the cold weather and fatigue from the pandemic are really going to exacerbate what's happening. And until we get to a point where enough people are vaccinated and enough people are masking at the same time, I don't think things are really going to get better.
Kendra:
Would you say to those people who still don't buy in to this whole pandemic, who think it's the same as the flu or it's a hoax. What would you say to those folks?
Dr. David Dougherty:
Well, I would say aside from the fact that we don't want them in the hospital right now without a mask on, I'd invite them to the hospital to take a tour right now, because we have more COVID patients in our hospital and most hospitals do around the country than we've had throughout this pandemic. And regardless of whether you think this is as simple as the flu, which the flu can be bad too, but regardless of whether you think this is a cold or not, it's taking up a lot of hospital beds and a lot of resources. And when that happens, when the resources are diverted towards COVID, then your other medical conditions, it's going to be harder to care for those.
Dr. David Dougherty:
And so we don't want to get to a point where elective surgery is shut down again. And some of these surgeries aren't quite as elective as you might think. It might be something like postponing a coronary artery bypass surgery that's non-emergent. That's what a lot of people are not thinking about. And so the pandemic is very real. I know a lot of people are fatigued, but it's happening and we're trying to care for patients, and we are caring for patients to the best of our ability, and we need the general public to help us.
Kerri:
Dr. Dougherty, it's been a pleasure having you on our show today, and we really appreciate your time. We would love to do this again soon.
Dr. David Dougherty:
Well, thank you. It's been a pleasure.
Kerri:
Kendra, did you hear? Did he say 2022?
Kendra:
He did, he certainly did.
Kerri:
I'm just thankful that this is audio and not video.
Kendra:
Yeah, my jaw fell open a little bit at that.
Kerri:
Are you going to get the vaccine?
Kendra:
Yeah, I think there was a lot of reassurance in today's episode. There's a lot of misinformation spreading around and it's easy to question what's true, what's not, especially with the politics that have come into play this year. But when you hear straight from someone who's dedicated their life to the study of infectious diseases, and particularly COVID-19 in this past year, there was a great comfort in knowing that there are a lot of safety precautions in place and hearing and understanding how and why the vaccine was able to be produced so quickly, I think was really, really interesting.
Kerri:
Absolutely. I signed up for the clinical trial that he mentioned at the beginning. I would love to have the opportunity to talk to his father as well.
Kendra:
Yeah, I'm excited. We're going to be able to continue this as a mini series and have Dr. Dougherty back to join us for some more COVID 19 updates as we continue on through this third surge and hopefully as we get closer to a widespread vaccine, the information was very helpful. I thought it was really interesting. The point he made about the pandemic prompting the resources, not only financially, but also the time and the effort that was afforded to be able to produce this vaccine kind of an all hands on deck approach.
Kerri:
Around the world.
Kendra:
I think a lot of people who are skeptical about the timeline or comparing this vaccine trial to ones of years past, and if you think back even to the 2014 Ebola pandemic or if you want to go way back all the way to the HIV and AIDS pandemic in the 80s, the world didn't stop turning like it did this year.
Kerri:
Businesses weren't closed.
Kendra:
No, kids didn't get pulled out of school and small businesses didn't shut their doors. So it makes a lot of sense when you think about it, that this has not only been an effort in the United States, but this has been a worldwide collaboration where literally all of the resources have been made available to come up with a solution to this so that we can try to get back to normal and save lives.
Kerri:
Yeah, it's been a race and one we'll all benefit from.
Kendra:
So I'm excited to continue this series. Tune in next time on HealthTalks NOW, a show brought to you by Baptist Health. And if you have not subscribed already, please go ahead and hit that subscribe button, send this episode to a friend who may have questions of their own about COVID-19.
Kerri:
Yeah, season two's going to be great. Let us know what you want to hear. Send us an email at bhsocial@bhsi.com. We'll see you next time on HealthTalks NOW.
Outro:
Thanks for tuning in to HealthTalks NOW. Staying healthy is a lifelong commitment and Baptist Health can provide the support you need to lower your risks, improve your quality of life, and protect your longterm health. Visit baptisthealth.com to hear our other podcasts, learn about our services and find more tips to help you stay a step ahead of your health. Baptist Health, be a healthier you.
This podcast is for informational purposes only, and should not be relied upon as medical advice. The content in this podcast is not intended to be a substitute for professional medical advice, diagnosis, or treatment. This podcast is not designed to replace a physician's medical assessment and medical judgment. Always seek the advice of your physician with any questions or concerns you may have related to your personal health or regarding specific medical conditions. To find a Baptist Health provider, please visit baptisthealth.com.