My Why: Vaccine Testimonies from the Frontline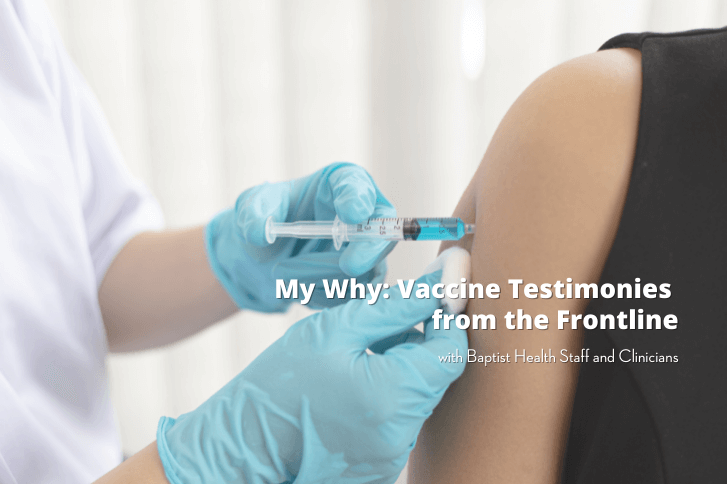 This episode was recorded in May 2021 prior to organizational decisions regarding employee vaccination status.
Apple Podcasts Google Play iHeartRadio Tunein Spotify Amazon
In this episode, the "HealthTalks Now" team asked staff from across the Baptist Health system to reflect on their decisions to get vaccinated. From infectious disease specialists and respiratory therapists to physician leaders and nurse managers, the front-line caregivers help listeners sort through myths and facts about the vaccine.
"This vaccine not only prevents people from getting sick from coronavirus; it also prevents people from passing on coronavirus. It's a win-win situation," said Benjamin Klausing, MD, an infectious disease specialist in Louisville.
Marcie Backus, director of quality at Baptist Health Richmond, said that as a nurse, she saw the impact a positive diagnosis made on her patients, their families, and the Richmond community.
"Receiving the vaccine meant that I was doing my small part to protect my family, myself, my friends, my co-workers, and everybody in the community from getting a virus that I may carry and not even realize it," she said.
What's your 'why'? See how to tune in to hear how your Baptist Health colleagues answered that question.
---
Next Steps and Useful Resources:
Read More Vaccine Testimonies
Vaccine Fears + Social Media = Many Misconceptions
[PODCAST] From the Frontline: Your Vaccine Questions Answered
The Importance of Getting the Second COVID Vaccine