Baptist Health board chair Aaron Thompson named to Modern Healthcare Excellence in Governance
April 18, 2022
The Excellence in Governance program recognizes influential individuals.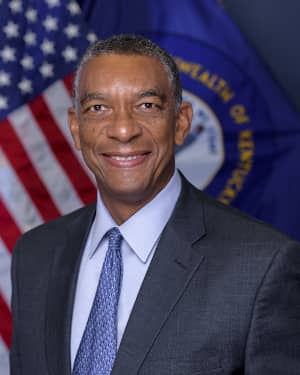 CHICAGO, IL — (April 18, 2022) – Aaron Thompson, PhD, chair of the Baptist Health system board of directors, is among the rebranded class of Modern Healthcare's Excellence in Governance award.
The Excellence in Governance program recognizes influential individuals who serve on a board of directors for a healthcare organization and foster advancement in culture, mission and performance.
"We are thrilled to launch the rebranded Excellence in Governance Awards program with such an esteemed group of honorees. Each of these outstanding directors exemplifies the qualities of excellence in governance: loyalty and service; strategic and innovative vision; and commitment to fostering the values of accountability, diversity, equity and sustainability," said Fawn Lopez, publisher of Modern Healthcare.
"They are invaluable assets to the organizations and communities they serve and to the advancement of healthcare. We congratulate and thank them for their leadership and dedication."
"Dr. Thompson's extensive background in education, advocacy and diversity has made him an invaluable leader for Baptist Health during a very challenging time," said Gerard Colman, PhD, Baptist Health president. "He has been an advocate for health equity and quality healthcare across the Commonwealth who has helped to shape Baptist Health's strategic focus on access, quality and growth to meet the needs of patients.
"During his system board tenure, Baptist Health has successfully navigated a pandemic, improved access to high quality care and shown strong financial performance."
In 2021, Dr. Thompson was honored by the Kentucky Hospital Association with its Health Care Governance Leadership Award. This national recognition joins the long list of honors that the Eastern Kentucky native has received over his 27-year career.
"I am honored to be among the esteemed recipients of Modern Healthcare's Excellence in Governance award," said Dr. Thompson. "Helping Baptist Health forge a path ahead and face the tremendous difficulties brought by COVID-19 has been both a challenge and a privilege. I look forward to continuing to work alongside the talented and dedicated people at Baptist Health to ensure every Kentuckian has access to quality healthcare."
Association with Baptist Health
Dr. Thompson, president of the Kentucky Council on Postsecondary Education, joined the board of directors of the former Pattie A. Regional Medical Center in Richmond (now known as Baptist Health Richmond) because he had a strong desire to support quality close-to-home healthcare for that community. In 2010, when he chaired that hospital board, Pattie A. Clay signed a three-year management agreement with Central Baptist Hospital, now known as Baptist Health Lexington. That strategic partnership led to an acquisition by Kentucky's largest health system -- Baptist Health -- in 2012 and the name change to Baptist Health Richmond.
In 2016, Dr. Thompson joined the Baptist Health system board of directors, getting more of a big picture view of healthcare in Kentucky and – soon thereafter – Southern Indiana as the health system acquired Floyd Memorial Hospital and Health Center. In 2020, Baptist Health added Hardin Memorial Health to its family, after successfully managing the hospital for 20 years. In 2021, Baptist Health signed a joint venture agreement with Deaconess Health to operate what's now known as Baptist Health Deaconess Madisonville and Baptist Health Deaconess Medical Group.
In 2020, Baptist Health announced a $1 billion strategic plan of capital projects to expand access at its hospitals through expansions, renovations, construction of outpatient healthplexes and innovative facilities such as hybrid Emergency Departments and joint venture for a rehabilitation hospital.
Dr. Thompson was named chair of the Baptist Health system board in January 2021, the first person of color to hold that position.
Contributions
Dr. Thompson has researched, taught and consulted in areas of diversity, leadership, ethics, multicultural families, race and ethnic relations, student success, first-year students, retention, cultural competence and organizational design throughout his career.
During his time as board chair for the system, Dr. Thompson has used his talents to spark efforts in diversity, and in supporting nursing and physician education – among other contributions.
For instance, Dr. Thompson and Larry Gray, Baptist Health Louisville president and a minister, collaborated on a recent development presentation for Baptist Health employees: "Infusing Diversity and Cultural Competence into Baptist Health."
Dr. Thompson's career is founded on improving the success of underrepresented minority students, expanding education access for rural and low-income students, improving the employability of Kentucky's college graduates, and increasing awareness about the value of higher education to both citizens and state. As president of the Kentucky Council on Postsecondary Education, he is uniquely qualified and situated to spark change and to encourage young people with his personal story of achievement as the first in his family to graduate high school and college.
In December 2021, Baptist Health announced an effort to support nursing education in the area with a $2.5 million commitment to Ivy Tech. The funds will establish the Baptist Health School of Health Sciences and renovate the renamed Baptist Health Life Sciences Laboratory. More than 200 Ivy Tech graduates are currently employed at Baptist Health Floyd.
Baptist Health also supports a number of other nursing and physician education efforts through residency programs, clinical affiliations and externships.
This year's honorees are profiled in the April 18 issue of MH magazine and online at Modernhealthcare.com/awards/excellence-governance-2022 (digital subscription required)
Sign up to receive Baptist Health emails to learn more about your health from our blog and e-newsletter. Or follow one of our social media accounts.
Sign Me Up