Leadership at Baptist Health Corbin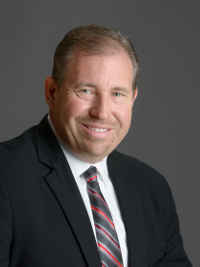 Anthony Powers is president of Baptist Health Corbin, a 273-bed hospital serving residents of Whitley, Knox, Laurel, Bell, Jackson, Clay, McCreary and Harlan counties in Kentucky, and Jellico, Tennessee. He has served as interim president for the hospital since June.
Powers joined Baptist Health in 1998 as a nursing unit director. Certified by the American Nurses Credentialing Center as a nurse executive, his background includes more than 20 years of experience in nursing, encompassing both patient care and administrative positions.
In 2002, Powers became vice president and chief nursing officer for the hospital and, in 2013, was promoted to vice president of Clinical Operations, the position he held prior to serving as interim president.
During his career in Corbin, Powers was instrumental in the development of Baptist Physicians Southeast, the physician/medical group employment division. He also helped guide the development and creation of the hospital's Oncology service line and helped recruit physicians and management for that department.
In addition, he was a leader in Baptist Health Corbin's efforts to become one of the first hospitals in the nation to obtain ISO certification and led the Interventional Cardiology program pilot Certificate of Need process prior to the hospital receiving a full certificate for the program.
Powers also directed the expansion of Behavioral Health services, a service line that saw an increase in volume of more than 40 percent in the two years that followed the expansion.
Powers received a bachelor's degree in nursing from Eastern Kentucky University, a master's degree in business administration from Baker College in Michigan and a master's degree in nursing from Eastern Kentucky University. Prior to joining Baptist, he worked for Catholic Health Initiatives at Saint Joseph Hospital in Lexington.
He and his wife, Dana, and their children live in the London area.