About Hematology and Oncology
About Us - CBC Group Louisville
Baptist Health Medical Group Hematology & Oncology specializes in two areas of internal medicine - hematology and oncology. In simple terms, we are concerned with the diagnosis, study, and treatment of diseases of the blood and/or tumors.
Dr. Marion F. Beard, the first hematologist to practice in the state of Kentucky, founded our practice in 1947. Our practice has expanded to include 12 physicians who specialize exclusively in the fields of hematology and oncology. You may read about the background, training, and qualifications of our physicians by going to the "Our Team" section of the web page.
You will find that the composition of our practice is unparalleled, as our physicians operate as a team in a rotating schedule. Patients who receive continuing care from our office will normally be seen and treated by the physician available. This permits all of our physicians to be informed of your medical problems.
Most unique to this team approach is a spirit of cooperation targeted at providing our patients with the best possible care in an honest, compassionate, and courteous manner. Our physicians consult with one another daily on mutual patients, a practice which offers our patient the advantage of multiple consultations and assures that a physician, familiar with their case, is available at all times; in turn, our physicians benefit from the peer-review inherent to this system.
We automatically furnish a complete report of each consultation to your personal physician. In addition, should you require reports to be sent to other consulting physicians, we will be happy to furnish a copy for them, as well.
Our Facilities
Our services are provided in the outpatient oncology/hematology department at Baptist Health Lagrange. We are located on the Baptist Health Louisville campus on the 5th floor of the Charles and Mimi Osborne Cancer Center, at 4003 Kresge Way. The department hosts a full laboratory, diagnostic imaging facilities (including x-ray and CT scanning), exam facilities, a research department, and chemotherapy treatment facilities. The department also employs a business office, whose responsibilities include appointment scheduling, new patient orientation, patient services (who work closely with our triage nurse who is on call during the hours of operation), and medical records. We also see our patients and operate outpatient infusion center at Baptist Eastpoint off the Gene Snyder Freeway between the Old Henry and LaGrange road exits, and in the Physician Office Building at Baptist Health LaGrange.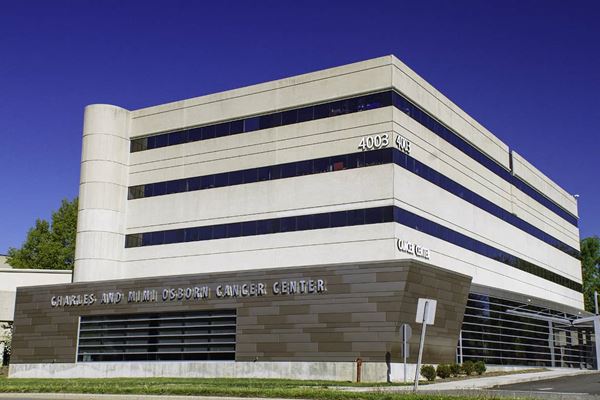 Hours of Operation
Our department is open Monday through Friday, 7:30 AM to 5:30 PM. CBC LaGrange is open Tuesday-Friday only.

The office is closed on Saturdays and Sundays. The office is also closed on the following holidays*: New Year's Day, Memorial Day, Independence Day, Labor Day, Thanksgiving Day, and Christmas Day.
We realize that neither blood disorders nor cancer take a break for weekends or holidays, so when our office is closed, an answering service is available on our main line (502) 897-1166 to connect you with the doctor on call, who is available to assist you. Our doctors make rounds in the hospitals on weekends and holidays, in addition to their rounds during the week.
Address
4003 Kresge Way, Suite 500
Louisville, Kentucky 40207
Phone 502.897.1166
Fax 502.897.1461