Healthy Baking Substitutions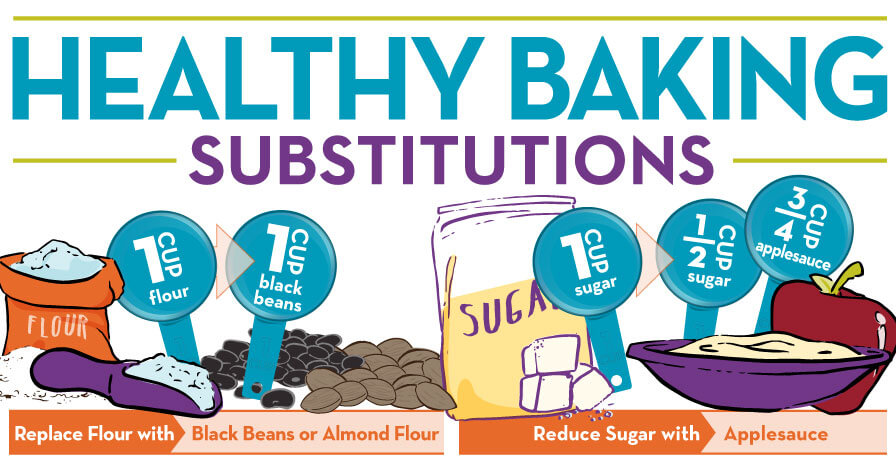 Baking can be a bittersweet experience. The extra calories consumed can cause guilt and unwanted weight gain. However, there are healthy baking substitutes that can be used instead without giving up the flavor.
Flour – Looking for a flour substitute? Black beans may seem like an unusual substitute, but by using black bean puree in exchange for flour, you can cut down on calories (up to 228 calories per cup) and increasing your fiber intake from 1.22 to 15 grams per cup. Try this next time you make brownies and cookies. Another healthy option is almond flour. This gluten-free substitute is high in protein, low in sugars and low in carbs.
Sugar – One great way to replace this baking basic staple is simply cut it in half and add applesauce. If a recipe calls for 1 cup of sugar, use ½ cup of sugar and ¾ cup of applesauce. This exchange will save you approximately 308 calories per cup. It is important to note that when adding applesauce as a substitute, reducing the recipe's liquids by 25% for every cup of applesauce used is a good rule of thumb. This is great for cakes and cobblers. You can also use zero calorie sugar substitutes such as Stevia. Keep in mind Stevia is 300 times sweeter than sugar, so be sure to sample your recipe as you go along.
Butter – Have you ever thought of using a mashed avocado to replace butter? Try it sometime! You will save 1,260 calories per cup and 150.4 grams of fat. Avocados come with added benefits, such as good fats, essential vitamins and minerals. Just use a 1:1 ratio. (e.g. for each cup of butter, use a cup of mashed avocado). Avocado works best in cakes and cookies. When baking a cake, reduce the oven temperature about 25% and increase baking time to approximately 40 minutes. This helps prevent cake cave-ins and browning too quickly.
Cream – Heavy whipping cream in recipes can add approximately 821 calories and 88 grams of fat per cup. Substitute evaporated milk to save up to 483 calories and 69 grams of fat per cup. Just replace cup for cup to make your dessert healthier without the guilty feeling for indulging.