Masks Are Still Required in Healthcare Settings: Know Before You Go!

Medically reviewed by: Baptist Health
Throughout the COVID-19 pandemic, the Centers for Disease Control and Prevention (CDC) has provided guidance on when and where to wear masks to reduce the risk of contracting or spreading the virus. For the most part, that advice has aligned with the direction given by healthcare organizations.
However, the CDC recently released updated masking guidance for the general public through its new COVID-19 Community Levels system, but healthcare settings have different requirements to ensure the patient safety.
To be clear: If you plan to visit a Baptist Health hospital or provider, you must wear a mask. Please follow this rule and share it with others who may be visiting a Baptist Health provider — or any healthcare organization, for that matter!
COVID-19: A Continuing Threat to Patients and Healthcare Providers
Researchers, healthcare providers, public health officials, and people like you have worked together and made tremendous strides in fighting the COVID-19 pandemic. Even so, many people are still at high risk of contracting the virus and becoming very sick or even dying from it.
Often, those people must make regular visits to a hospital or doctor's office to get treatment for other medical conditions. Consequently, everyone who enters a healthcare facility must do everything they can to minimize the spread of the virus. That includes wearing a well-fitted, high-quality mask.
Masking also helps protect doctors, nurses, and staff at healthcare facilities. They remain on the "front line" in the fight against COVID-19 and need our help to stay healthy. Contracting the virus puts them and the patients they interact with at risk.
Assume Masking is Required. Call With Questions.
We all hope that at some point, masking won't be required. However, you should continue to wear a mask in healthcare settings until we reach that point and it's widely publicized. You should also get vaccinated and boosted.
If you have questions or concerns about visiting a Baptist Health facility, your provider can answer them. Be sure you "know before you go." If you stay current on disease-prevention measures for healthcare settings, you help protect yourself, our staff, and other patients.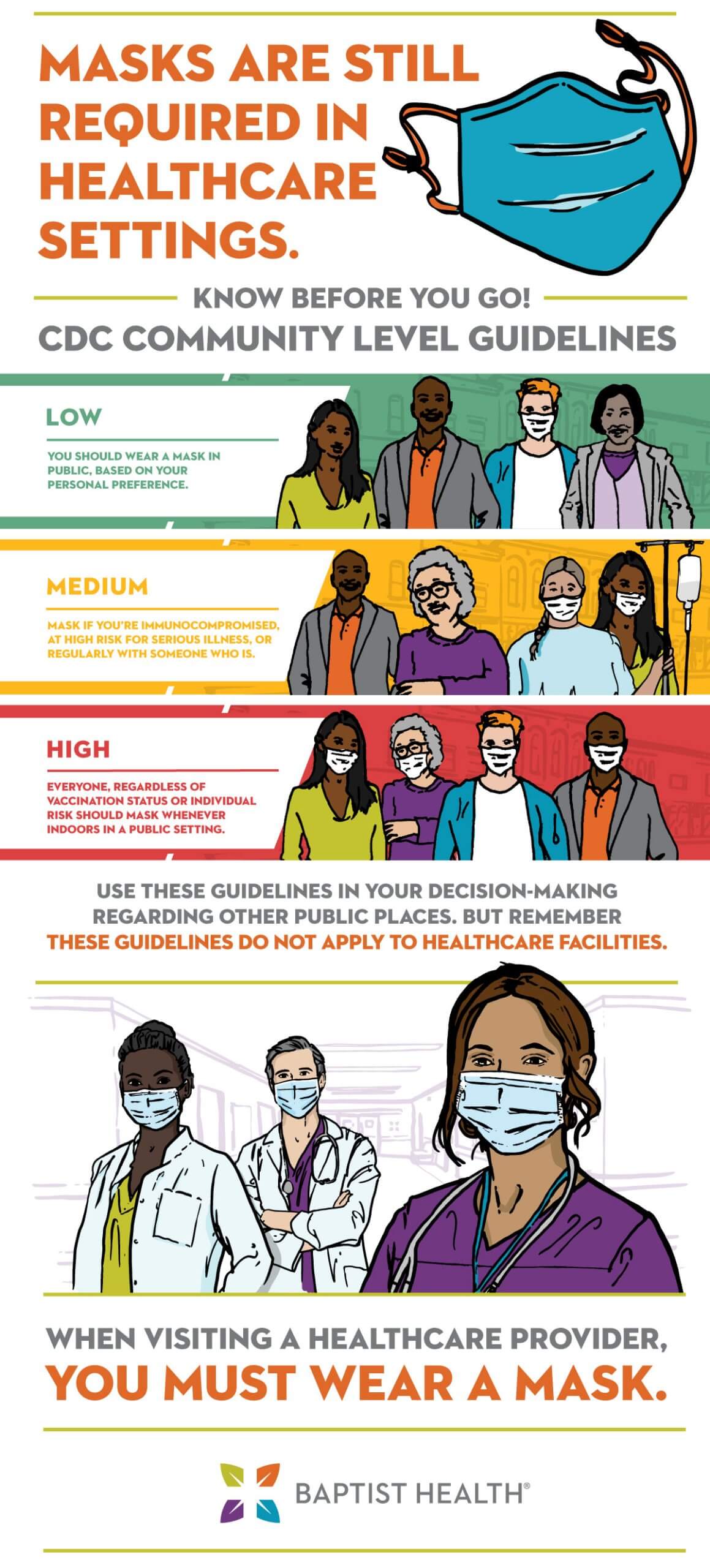 About the COVID-19 Community Levels System
As mentioned above, COVID-19 Community Levels are a new tool from the CDC to help people understand what disease prevention actions are needed in a specific area based on the latest data on the prevalence of the virus.
For example, if a community has the "Low" COVID-19 Community Level (signified by the color green), it's up to you whether to wear a mask based on your assessment of your health risk. If a location has a "High" (red) level, public health officials advise you to wear a well-fitting mask at indoor public places. And the "Medium" (yellow) level falls between the other two.
Again, this guidance doesn't apply to healthcare facilities. You can use it to guide your decision-making regarding other public places. But when visiting a healthcare provider, you must wear a mask.
---
Next Steps and Useful Resources
View Baptist Health's Visitation Policy
Schedule a Vaccine Appointment
Visiting the Emergency Department During COVID-19
Mask Mistakes You May Be Making