What is Palliative Care & How is it Different from Hospice?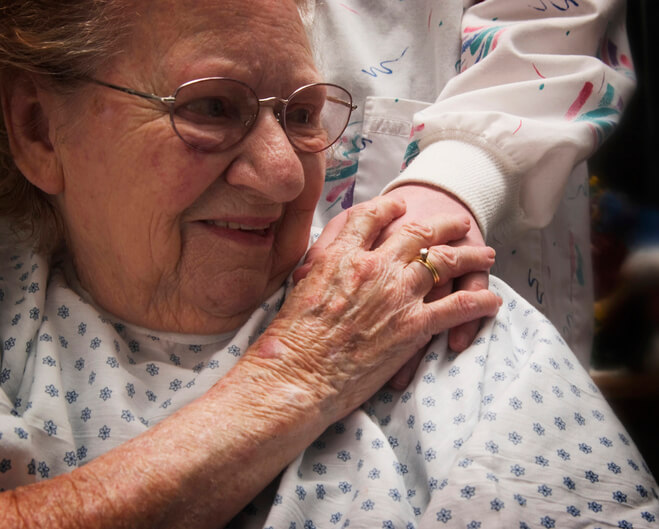 Palliative (pronounced pal-lee-uh-tiv) care is a specialized type of care provided to people with life-threatening illnesses. The World Health Organization (WHO) defines it as:
"An approach that improves the quality of life of patients and their families facing the problem associated with life-threatening illness, through the prevention and relief of suffering by means of early identification and impeccable assessment and treatment of pain and other problems, physical, psychosocial and spiritual."
What is Palliative Care?
While palliative care takes many forms, it is often associated with pain management and home health care.
Palliative Care vs. Hospice Care
Palliative care and hospice care are related in their goal of providing patients who have a serious illness with compassionate measures that address their physical, emotional and spiritual needs. However, they are distinct areas of medical practice.
Hospice care is focused on assisting terminally ill patients in the last six months of life when treatment of their illness is no longer effective and has been discontinued. It can include a wide range of actions, from administering medication to helping with bathing and dressing.
Palliative care, which is always a component of hospice care, may also be used to relieve symptoms in situations where a patient is still receiving treatment for their illness. The only difference with Palliative care is that the patient can continue with curative treatment while receiving these services.
When is Palliative Care Used and What Does It Address?
Palliative care is employed to improve the quality of life for people with a wide variety of illnesses, including:
Chronic obstructive pulmonary disease (COPD)
This type of care typically involves a team of experts focused on helping a patient with a number of physical and emotional challenges caused by their illness. This can include working with doctors and other caregivers to make sure they understand the patient's needs and desires regarding the alleviation of symptoms such as:
Pain
Nausea
Fatigue and lack of energy
Shortness of breath
Depression
Insomnia
Constipation
Incontinence
Loss of appetite
Anxiety
Palliative care teams also provide support and assistance to patients' families. This includes ensuring that changes in a patient's care or health status are communicated promptly and clearly to loved ones, as well as assisting family members in their bereavement.
Palliative care encourages patients and their families to affirm life while recognizing that death is a normal process. If you or a loved one are suffering from a serious illness, your doctor can talk with you about whether palliative care is right for you, and if so, what options are available.