Is Healthcare Going Digital? The Role of Virtual Care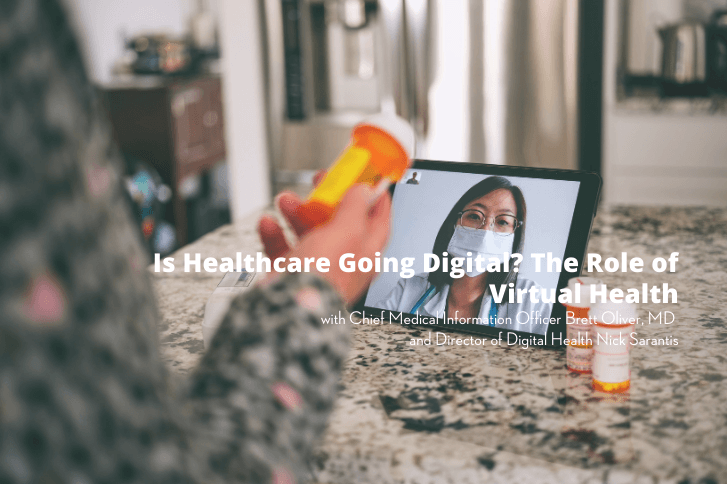 Apple Podcasts Google Play iHeartRadio Tunein Spotify Amazon
The COVID-19 global pandemic spurred rapid advancement for telemedicine, breaking down barriers both for healthcare providers and for patients. Since Baptist Health expanded its Virtual Care capabilities, providers have seen more than 125,000 patients remotely. In this "HealthTalks Now" episode, the team talks with Brett Oliver, MD, chief medical information officer, and a practicing primary care physician, and Nick Sarantis, director of Digital Health.
They walk listeners through each Virtual Care option, including virtual visits, e-visits, and telephone conversations, and explain costs, insurance coverage, and access through the MyChart patient portal. In addition, they discuss the next steps for Virtual Care and other innovative digital tools Baptist Health is using to enhance patient care.
---
Episode Summary
In this episode of Baptist Health's Health Talks NOW podcast, hosts Kerri and Kendra are joined by Nick Sarantis, Director of Digital Health Services, and Dr. Brett Oliver, Chief Medical Information Officer.  The episode focuses on digital health and virtual care, particularly in light of the COVID-19 pandemic and the ways in which it has forced rapid advances in these lines of healthcare service.
Before considering the main subject of the conversation, the guests provide background information about themselves and their careers. Dr. Oliver is a Kentucky native who studied at the University of Kentucky Medical School before completing his residency in family medicine at Wake Forest. He owned a private practice in Kentucky as a primary care physician but sold it to Baptist Health and over time transitioned into different combined administrative/health practitioner roles. At this point, he sees patients one day a week and fulfills his administrative role with his remaining time. Nick is from Philadelphia but moved to Kentucky to play soccer, and he began his medical career in the sports medicine field. His first role with Baptist Health was in athletic training, but he, too, moved into administrative work and eventually his current role.
Moving into the body of the conversation, Dr. Oliver explains the impact he and his colleagues have been seeing in virtual care as Baptist Health has adapted to changing needs. Fortunately, the organization already had some infrastructure for virtual healthcare in place before the advent of the COVID-19 pandemic, but it was still challenging to meet the needs of the moment. Virtual care has always had potential, Dr. Oliver explains, but COVID-19 was the game-changer that rendered virtual care the only option for a lot of patients. The big task now is to continue learning how to best use the technology.
Even as the learning process continues, Baptist Health has logged 125 thousand virtual care visits since early March. The 3-5 year plan for developing virtual care has been shortened to a 35-month implementation schedule, and the next phase is an improvement, as the organization fine-tunes its services in order to make them the best they can be. Baptist has already worked hard to break down barriers between patients and providers and anticipates more positive changes to come.
As the conversation continues, the group turns to a consideration of relevant (though inconsistently used) terms. More specifically, they think through how to best categorize the three different types of available visits: E-visits, urgent care video visits, and scheduled video visits. E-visits are asynchronous, dynamic, evidence-based medical questionnaires that are patient-initiated and sent to physicians for review. There are currently available questionnaires for about six problems, including a COVID-19 questionnaire, and they can be submitted at any time. There is room to see the use of these tests expand, and while primary care physicians often respond to them themselves, there are also urgent care providers available to respond.
Urgent care video visits were available from a number of providers even before the pandemic, and the Baptist Health virtual urgent care service is staffed 24/7 by a team of nurse practitioners. Patients log into MyChart, place themselves in the virtual line for urgent care service, and receive care. The service focuses on about 10-12 problems and accepts in-network benefits. Finally, a scheduled video visit is like a normally scheduled visit with a primary care physician or other doctor but is carried out by a patient logging into MyChart, checking in, and conversing by video with his/her doctor.
Virtual healthcare brings many benefits to patients. Of course, it brings convenience and speed, allowing patients to begin their clinical journeys faster and at times revealing clinical details that go unnoticed during office visits. The usefulness of the services is apparent, but the process of implementing them was very involved. Other tasks were put on hold, and seemingly nonstop work and the foregoing of normal procedures were both necessary to get the pieces put in place for virtual health to meet the needs created by COVID-19. Baptist has also had to rely heavily on the training and support team to help patients and providers connect effectively.
Turning to misconceptions about virtual visits, the group first considers the cost. Fortunately, many insurance plans have waivers for virtual visit co-pays, and the visits should not be more (but may actually be less) expensive than other visits. The next misconception relates to the difficulty of using technology, and while there is a learning curve involved in taking advantage of virtual services, Baptist Health is working to make the process simple. By the end of August 2020, it even plans to have a 100% dedicated MyChart help desk.
With regard to the misconception of security, the group turns to the safety of the EPIC MyChart, as well as the HIPAA-compliance of the Zoom program used for video appointments. Finally, in regarding the misconception that virtual visits are inadequate to deal with people's physical ailments, the group has no problem acknowledging that there are some occasions when in-person visits are necessary. However, there is much that can be accomplished virtually, and opportunities for patients to provide exam findings are only expanding!
Nick clarifies that patients can receive prescriptions through virtual visits if the prescriptions are deemed clinically appropriate and that patients can seek refills either through MyChart or virtual visits with their primary care physicians. Moreover, while there were some limitations on the insurance coverage prior to COVID-19, Kentucky was ahead in accommodating to meet the needs presented by the pandemic because it is a parity state. There are many waivers and reimbursements available now, insurance is covering visits, and there is no reason to see these things changing.
Currently only established patients may take advantage of virtual visit opportunities, but Baptist is working on "patient matching" technology that will allow new patients easier access to virtual care. And if a patient has a virtual visit in which a provider deems in-person care of some sort necessary, there can be a back-and-forth between virtual and in-person care, as the case requires. New workflows are emerging, and this includes alternations of in-person and virtual care, even as Baptist works to make as many aspects of healthcare as possible available from home. The ultimate aim is to provide the same great care as ever, and to make it as safe and convenient as possible.
Moving on, the group terms to another often-confusing term: digital health. Digital health is an umbrella term that includes virtual care services within its purview, and it was adopted to differentiate between traditional practice of healthcare and newer, interactive, and accessible services Baptist is leaning into. It is much larger than one thing and involves the interplay of many different technologies that enable patient care. The internal definition developed for the term is, "The convergence of technology and healthcare that enhances and expands delivery, personalizes medicine, connects populations, and engages patients and their own well-being."
Telehealth, telemedicine, and visual care all fall under the umbrella of digital health, though the terms are (frustratingly) often used interchangeably. Telehealth is generally the most recognized in terms of regulatory guidelines and payer policies, but it varies state to state. Virtual health is more often used in the market and makes a more innate sense than "tele." There is a lot of work still to be done in defining relevant terms. There are internal definitions available, and these try to call services by what they are.
The next topic of the conversation is current health, which is a device described on a previous episode of the podcast that offers ICU-level home monitoring and has been used to serve 38 Baptist Health patients. In recent days, the technology has been used with COVID-19 patients to help determine when to send them home and to monitor them even after discharge from the hospital. There are other service lines well suited to this technology, as well, such as cardiology and pulmonology, and there is room to continue expanding use of it.
Moving toward the conclusion of the conversation, the group weighs obstacles to greater use of technology (including that of current health) in healthcare, which include patient and provider buy-in, adequate presentation of technology to patients, development of fitting workflows, and payment for services. Virtual health has been helped of late by regulatory changes, which have provided for greater access and moved the services forward. Changes will likely stay, as many government officials see that this is the direction in which healthcare needs to move. While about 50% of the changes require Congressional action for permanence, there is room for encouragement in the form of proposed bipartisan legislation.
Finally, Dr. Oliver and Nick offer parting takeaways. Dr. Oliver shares his excitement about what is to come in the digital space, particularly with regard to quality and personalization. Nick notes that it is amazing what can happen with people growing in the same direction. Both he and Dr. Oliver are thrilled to be part of the innovative space of Baptist Health.
Key Takeaways:
[1:15] – The conversation begins with an introduction to the topic and the guests. [1:36] – Dr. Brett Oliver and Nick Sarantis introduce themselves by sharing about their backgrounds and careers. [4:46] – Dr. Oliver explains the impact he and his colleagues have seen on virtual care as Baptist Health has adapted to changing needs. [6:29] – Where do we stand on numbers today, and what can patients expect from virtual healthcare moving forward? [7:57] – The group considers how to differentiate the three services available. [11:53] – What and the benefits to patients in the use of this technology, and what did the process of implementing the technology look like? [15:25] – The group addresses misconceptions about virtual visits. [19:27] – Listeners learn about receiving and refilling prescriptions virtually, as well as about insurance coverage of virtual visits. [21:17] – The next topics are whether both established and new patients can make use of virtual healthcare opportunities, and how virtual and in-person healthcare are alternated. [23:14] – How should the term "digital health" be understood? [25:57] – The group turns to current health and the opportunities it affords. [28:57] – What are obstacles to greater use of current health and other technology in healthcare? [30:36] – Listeners hear about regulatory changes in telehealth. [31:57] – Dr. Oliver and Nick offer parting takeaways.
Links:
Learn more about Baptist Health and opportunities for virtual care.
Sign up for MyChart, Baptist Health's free patient portal.
---
Next Steps and Useful Resources
Learn About Long COVID Care via Virtual Care
Download the Baptist Health My Health App
Maintain Your Health During the COVID-19 Crisis With Easy Access Through MyChart
Discover MyChart
See a Doctor Online with Virtual Care E-Visits