Recipe: Chocolate Laced Mandarin Orange Cake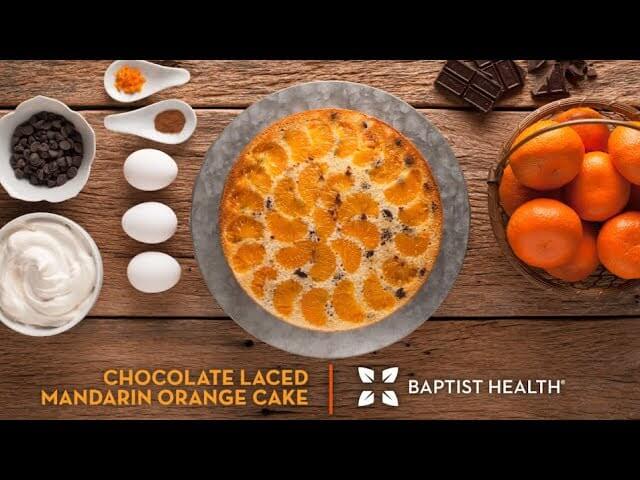 Delight your loved one with this chocolate laced mandarin orange cake. Whether you're celebrating a special occasion with your significant other, or baking a cake for a friend, this recipe is sure to wow!
Chocolate Laced Mandarin Orange Cake
Serves 12
1 (11 oz.) Cans Mandarin Oranges with Juices
Reserve 1/2 Cup Juice from Oranges
1 (18.5 0z.) White or Yellow Cake Mix
1 tsp. Orange Liquor, Almond Flavoring or Vanilla
1 tsp. Grated Orange Peel
1/2 tsp. Ground Cinnamon
1/2  Cup Chocolate Chips coarsely chopped
Instructions:
Preheat Oven to 350*.
Prepare batter for cake mix according to directions on package, substituting 1/2 of water with orange juice from mandarin oranges.
Add orange peel and flavoring (as desired) to batter.
Line bottoms of two 8 or 9-inch cake pans with wax paper.
Arrange orange sections evenly over bottom of pans.
Sprinkle with 1/4 tsp. cinnamon for each pan.
Divide batter evenly in pans.
Coarsely chop chocolate chips and sprinkle over cake batter.
Swirl batter with a knife to blend in chocolate pieces.
Bake at 350* for 25 minutes or until a toothpick inserted into the center comes out clean.
Cool for 10 minutes and turn cake upside-down onto a cake plate. Carefully remove wax paper on the orange side up.
Place one cake on a serving plate and spread a layer of whip topping, placing the second cake on top.
Garnish as desired with additional whip topping and melted chocolate blended with remaining orange juice.
Not a fan of orange? Check out our recipe for Lemon Berry Ladyfingers Dessert or Rainy-Day Chocolate Cake with Chocolate Pudding Sauce. And if you want to indulge in something healthier, try these swaps for a sweet treat.