Choosing Urgent Care or the Emergency Room
Baptist Health Floyd: 
Choosing Urgent Care or the Emergency Room
Bryan Grumley, MD, offers guidance to help patients decide whether to head to the emergency room or seek faster treatment in an Urgent Care clinic.
Choosing Urgent Care or the Emergency Room

Health Talks Transcript

Bryan Grumley, MD, Urgent Care
Urgent care is for quick, convenient care of everyday problems, everyday injuries and illness. Our Emergency Department at Baptist Health Floyd sees over 50,000 patients a year. Lots of those patients are emergency conditions. Many of those patients are not emergency conditions and can be more appropriately seen at our Urgent Care centers. That allows our Emergency Department staff to concentrate on true life-threatening and more serious conditions.
---
Care When You Need It – 24/7
If you're experiencing COVID-19 symptoms or had been exposed to COVID-19, Baptist Health is able to see you virtually, diagnose and order a COVID-19 test to the urgent care closest to you. You don't even need to get out of your car to be tested. Get started with an urgent care video visit by logging in or signing up for MyChart.
---
The Emergency Department sees patients based on level of severity, and those who visit the Emergency Department for a cold or a cough or a minor injury oftentimes end up having a really long wait time. Most people's least favorite part of seeing the doctor is the wait time.
Within the past year, Baptist Health Floyd Urgent Care centers have introduced online check-in services. With online check-in, we can eliminate a lot of the waiting. Sign in online; pre-register for your visit; show up at your appointed time; and you'll be next in line. Our Urgent Care centers have a variety of resources available onsite. We're here for everyday conditions that slow you down and we can help get you back to normal activities.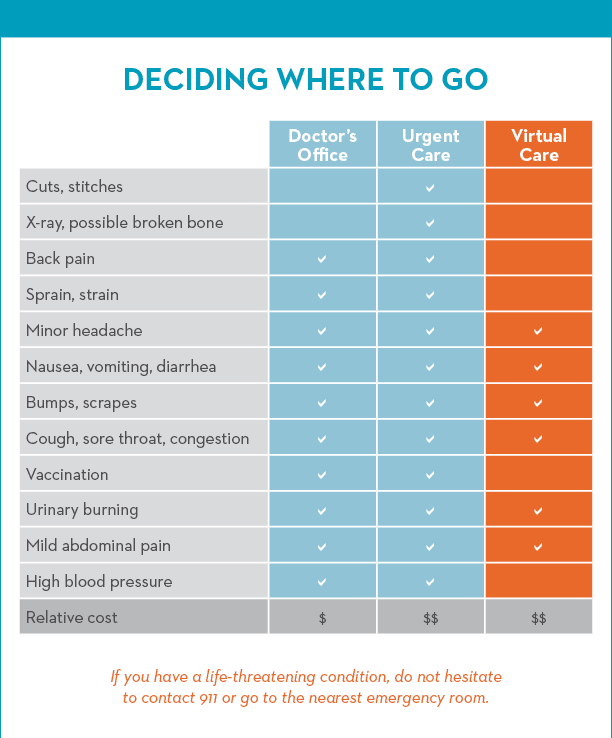 ---
Next Steps and Useful Resources:
Find an Urgent Care Location Near You
Start a Virtual Care Visit
The Difference Between Urgent Care & the ER
ER or Urgent Care?
See a Doctor Online with Virtual Care eVisits