Why You Should Be an Organ Donor

The statistics on organ donation and organ transplants are eye-opening. According to the U.S. Department of Health and Human Services, approximately 116,000 men, women and children are on the national organ donation transplant list. And, every 10 minutes another person is added to the list. Many of those people will receive a life-saving organ transplant — more than 33,000 transplants were performed in 2016 — but unfortunately, 20 people die each day waiting for a transplant.
Register as an Organ Donor to Make a Difference
While 95 percent of U.S. adults say they support organ donation, only 54 percent are signed up as donors. Adding to the challenge of those needing a transplant is that just three in 1,000 people die in a way that allows for organ donation. Consequently, it is critical that anyone who is willing to donate gets registered at RegisterMe.org.
Registration takes less than two minutes, and when you agree to share the gift of life, you share it abundantly. One donor can save up to eight people by providing as many as eight organs:
Heart
Two lungs
Liver
Pancreas
Two kidneys
Intestines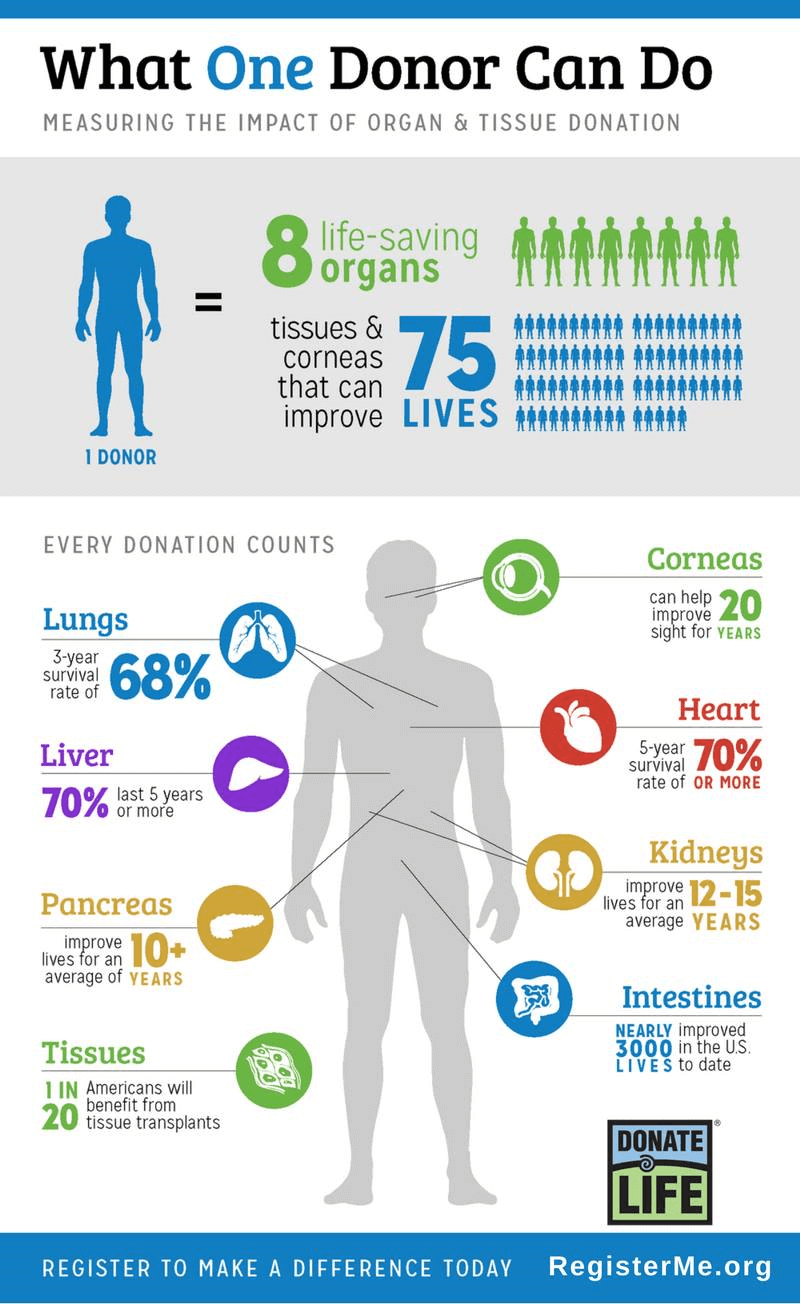 Important Facts on Organ Donation
If you are considering becoming an organ donor, here are some facts to consider:
You can donate an organ at any age.
All major religions approve of tissue and organ donation.
A donation is possible with many medical conditions.
A national database and strict standards ensure the fair and ethical distribution of organs.
Financial status is not a factor in getting a transplant.
You can be a living donor of a kidney or part of the liver, intestine, lung, bone marrow or blood.
What Else Can You Do?
After registering at RegisterMe.org, there is still more you can do to support organ donation. For example, you can share your commitment to organ donation with your family and friends. Your generosity may inspire them to register. It is also helpful to spread the word about the tremendous need for organ donors on your social media channels. And, there are many ways to volunteer and support organ donation.
Ultimately, one of the most valuable gifts you could ever give costs just a few minutes of your time.