Diabetes During the Holidays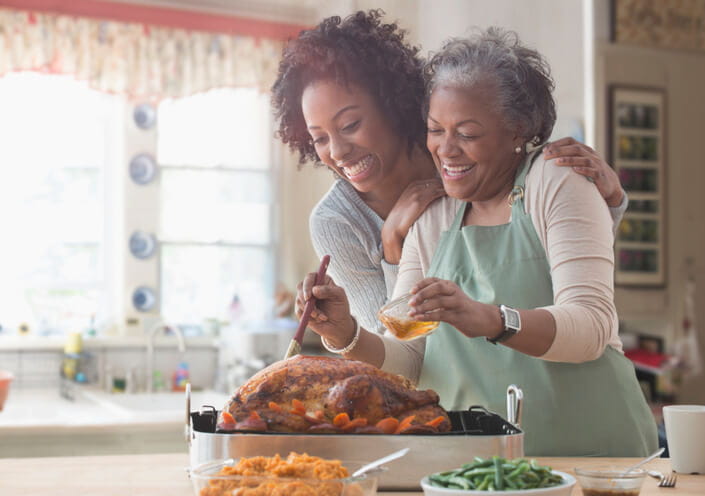 The holidays can be challenging when it comes to eating healthy – especially if you have diabetes. However, you don't have to give up all of your holiday favorites if you make healthy choices and limit portion sizes.
8 Smart Holiday Substitutes:
Nibble on raw vegetables with low-fat dips before dinner rather than salted nuts or cheese and crackers.
Have a slice of white turkey meat (without the skin) rather than dark turkey meat. It has less fat.
Use wild rice for stuffing and bake it separately in a covered casserole. Cornbread stuffing cooked inside a turkey is loaded with a variety of meats, nuts veggies and plenty of butter.
Steam vegetables rather serving them in a casserole with creamed sauces.
Make cranberry sauce with fresh cranberries. Canned cranberry sauce is high in sugar.
Enjoy a small baked sweet potato rather than a serving of sweet potato casserole topped with marshmallows. Or make sweet potato fries by cutting sweet potatoes into strips and roasting them on a baking sheet (sprayed with calorie-free cooking spray).
Bake some apples using a little bit of butter and brown sugar or artificial sweetener. You won't miss that serving of apple pie.
Choose low-calorie drinks such as sparkling water, unsweetened tea or diet beverages. If you decide to drink alcohol, limit the amount (one drink a day for women, two for men) and have it with food. Talk to your doctor about whether alcohol is safe for you.
Additional Tips:
Managing diabetes throughout the holiday season can be challenging.  With proper planning and the right tips, you can meet your diabetic goals and enjoy gatherings with friends and family.  Brining dishes to gatherings that are diabetes-friendly, not only helps yourself make good choices, it can show others that delicious food can be healthy.
I encourage everyone, not just those who are diabetic, to try a diabetes-friendly recipe to share with guests.  Often we are so used to eating the same thing year after year, a new dish could be the start of a new tradition.  Making small changes to recipes can have a big impact on the nutrition content, without altering the taste.  You may be surprised to find out that you enjoy your favorite casserole with whole grain rice better than regular rice.
Also, consider the following:
Show up with a side dish. Maybe you aren't the one hosting the holiday dinner this year. That doesn't mean that you can't contribute to the spread. Offer to bring a holiday dish that's been lightened up a bit.
Make everyone exercise after eating. After a holiday meal, make your family and friends go for a walk. Exercise helps lower blood sugar levels and burn calories.
Pack plenty of medications when traveling (in case of travel delays or other problems). Carry a prescription from your doctor for insulin or oral medication in case of an emergency.