Going Back to School During COVID-19: 6 Safety Tips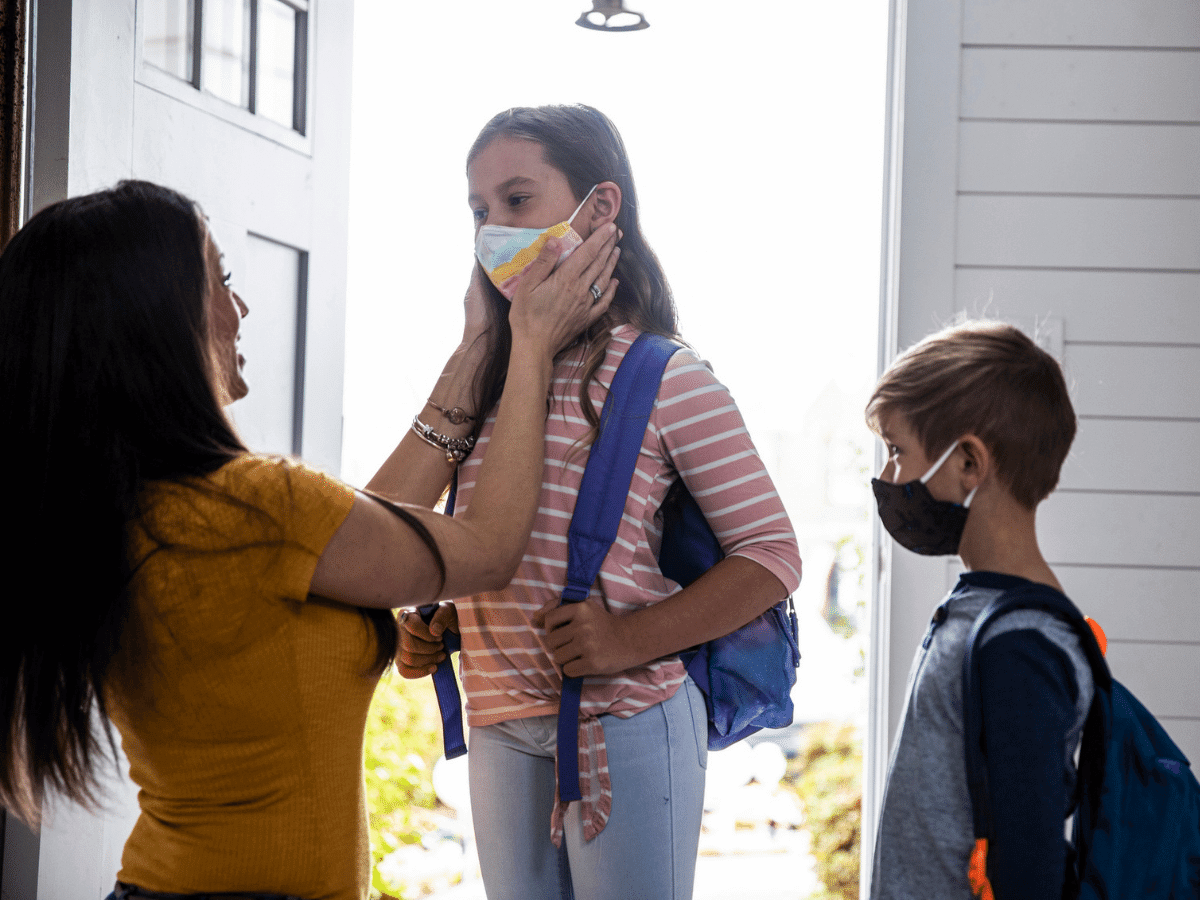 Back-to-school season can be stressful for parents and kids alike under any circumstances. Having to contend with COVID-19, and its evolving variants is making it even more challenging this year.  
Some schools likely will stick with distance learning for the time being, but many have announced plans for full-time, in-person instruction. And, others will use a hybrid approach that incorporates both in-person and remote learning.
If your child's school year will involve any amount of in-person instruction, you and they should understand how to maximize their safety and minimize their risk of becoming ill while at school.  
---
What Parents Need to Know about COVID-19: Advice from a Pediatrician
In this podcast, pediatrician Jeffrey Mudd, MD, takes questions from a parent regarding some of the concerns she has about caring for her own kids during the pandemic. Dr. Mudd discusses ways to help children stay healthy both mentally and physically. In addition, he offers tips on recognizing stress and helping children with the transition back to "normal" life. Listen now.
---
How to Stay Healthy in the New School Year
Despite the understandable concerns that parents, children, and educators have about students coming back to classrooms this fall, there are a few important reasons for optimism. One is that a growing number of students can be vaccinated against COVID-19 and are choosing to get the vaccine. The second is that we've learned a lot about communicable diseases and safety measures for preventing them since the pandemic began in earnest in early 2020. 
If your child will be — or already is — back in school this fall, here are six things you, your child, and their school should be doing to minimize disease transmission.
Get your child (and yourself) vaccinated as soon as you're able. COVID-19 vaccines are free, safe, and effective, and are being approved for use with younger children all the time. While rare instances of "breakthrough COVID" (that is, someone who's vaccinated contracting COVID-19) continue to make the news, the vaccines keep most people from becoming ill or ensure that the worst they get is a very mild case. Hospitalization and death are much less common in people who are vaccinated.  
Remind your kids to practice safe distancing. The term "social distancing" is being replaced with "safe distancing," especially in school settings where social engagement is such an important part of the experience. But avoiding getting too close to others while connecting with them is still a good idea and an important part of preventing the spread of COVID-19. Schools can help here by dividing students into distinct groups that are in classes together, have lockers near one another, etc. Limiting the number of students on buses and using outdoor spaces for classes, meals, and recess when possible is also helpful.  
Have your child wear a mask when appropriate. There are strong opinions about wearing (or not wearing) a mask, but the fact is that wearing one helps reduce the spread of coronavirus. Be sure that your child has a mask with them at school. And whether the school requires face coverings or not, it's wise to encourage students to mask up, especially when in smaller classrooms and when around large groups.  
Prompt your child to keep their hands clean. Regular, thorough washing can minimize the risk that a child will contract COVID-19 or unknowingly pass it to someone else. The advice to sing the "Happy Birthday" song twice while washing with warm, soapy water is as valuable now as it was when the pandemic started. Important times for handwashing include just before leaving the house and as soon as a child gets home from school. If you pick your child up at school, have them use hand sanitizer before touching surfaces in your car. 
Keep your child home if they're sick. This is good advice at all times and especially now. The symptoms of COVID-19 overlap with other conditions like the common cold and allergies, but without a COVID-19 test, there's no way to know what they have. Consequently, kids who develop a fever or other signs of illness shouldn't go to school. 
Listen to your child's concerns. Mental health is important, too. Be open to conversations about the new COVID-related challenges your child is experiencing and encourage them to do the talking while you listen to and support them.  
---
Start COVID-19 Testing Online & Save Time
If you're experiencing COVID-19 symptoms or have been exposed to COVID-19, Baptist Health is able to provide a virtual care visit and, if needed, order a COVID-19 test to the urgent care closest to you. You don't even need to get out of your car to be tested. You will be charged the co-pay cost for an urgent care video visit, and any remaining cost will be billed to your insurance. Get started with urgent care video visit by logging in or signing up for MyChart.
---
Be Prepared for an Illness or Outbreak
It's important to be prepared if your child (or the school population in general) is exposed to COVID-19. This includes reviewing and updating emergency contact information at your child's school. It also means having a plan for what you'll do if your child has been in close contact with someone who tests positive for COVID-19.
Where will you get your child tested? If they contract the illness, where within your home can they be quarantined? What's the school's policy on the return of kids after an illness? What's its policy on suspending in-person instruction if an outbreak occurs and what will you do for child care if needed?  
Getting the answers to these and related questions in advance can prevent a mad scramble if your child tests positive or others do. Plus, it can give valuable peace of mind to you and your child.
Stay Informed 
The Baptist Health website has a variety of information and resources related to COVID-19. Visit regularly for updates.  
---
Next Steps and Useful Resources:
Get Tested for COVID-19
Sign Up for Our Free Email Newsletter
Back-To-School Bedtime Basics
Common School-Spread Illnesses
[PODCAST] Radical Acceptance: Youth and Mental Health in 2020
[PODCAST] What Parents Need to Know about COVID-19: Advice from a Pediatrician