Flu vs. COVID-19: How to Tell the Difference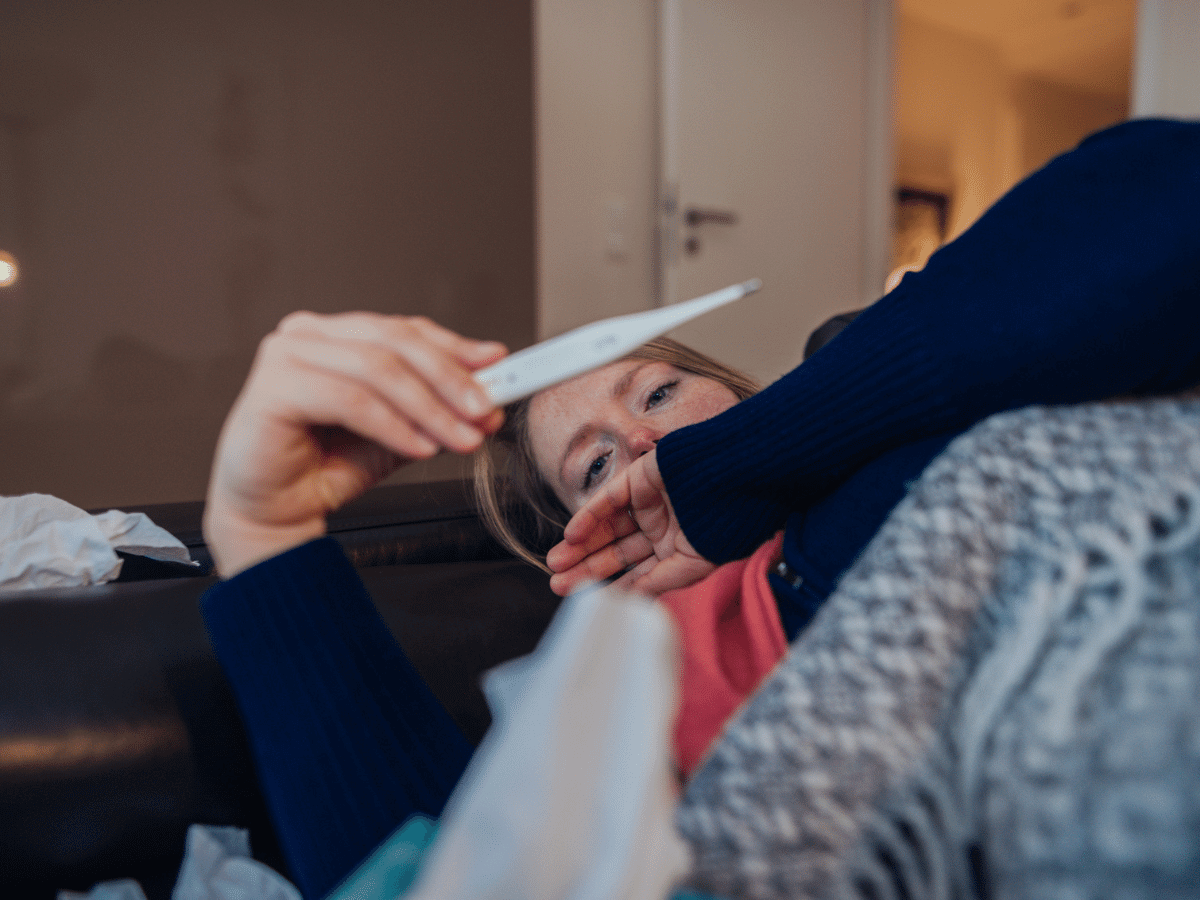 Influenza (better known as "the flu") and COVID-19 are similar in many ways but also have their differences. Knowing how to prevent these two potentially serious illnesses and how to spot them if they develop can help minimize the impact they have on your health and the health of those around you.
Causes of the Flu and COVID-19
The flu and COVID-19 are both highly contagious respiratory illnesses. The flu is caused by the influenza virus, of which there are two main types — influenza A and influenza B. COVID-19 is also caused by a virus, but a different one called SARS-CoV-2, which has different strains like the so-called Delta and Delta Plus variants.
The flu and COVID-19 spread in similar ways, including through droplets in the air exhaled by someone who has the illness and virus particles on surfaces that people touch and that get into their mouth, nose, or eyes. And it's important to note that you can spread the flu or COVID-19 to others even before you're aware that you have the illness.
---
Save Time and Start Your COVID-19 Test Online
If you're experiencing COVID-19 symptoms or have been exposed to COVID-19, Baptist Health Urgent Care is here to help. Get the care you need by finding a location near you.
---
Flu and COVID-19 Symptoms
Symptoms that can be caused both by the flu and COVID-19 include:
Breathing difficulties
Fever
Chills
Body aches
Muscle pain
Sore throat
Runny nose
Congestion
Vomiting and diarrhea in some instances
Two symptoms that are common with COVID-19 and uncommon with the flu are the loss of the senses of smell and taste.
The onset of symptoms is also different in the two illnesses. Flu symptoms typically develop within four days of being infected, while COVID-19 symptoms can appear up to 14 days after being infected.
Treating the Flu or COVID-19
For most patients, treating the flu or COVID-19 is primarily about addressing the symptoms. This can include medication to reduce a fever, headache, or body aches. In severe cases of both illnesses, patients may need to be hospitalized and put on a ventilator, which is a machine that helps them breathe.
There also are antiviral medications for both illnesses that can be used in some cases. These medications tend to be more effective the sooner they're administered. Antiviral flu medications can be taken by mouth, but the antiviral medications currently available for COVID-19 are only in intravenous form, so they have to be given in a healthcare setting.
---
Don't take a chance with your health.
Getting the COVID-19 vaccine is the best way to prevent COVID-19 infection and end the pandemic. The vaccine cannot give you COVID-19, but it can help protect you from serious illness. Learn more about the COVID-19 vaccine and make a first, third, or booster vaccination appointment at a location near you.
---
Vaccination: Your Best Defense Against the Flu and COVID-19
Safe and effective vaccines are available both for the flu and COVID-19. Flu vaccines are typically given in the fall just ahead of "flu season." Different formulations of the flu vaccine are developed each year based on the flu strain that experts feel will be predominant.
Currently, there are approved COVID-19 vaccines available from three companies: Johnson & Johnson (a one-shot regimen), Moderna, and Pfizer (both two-shot regimens). Researchers and health experts continue to study data on how long the protection provided by these vaccines lasts.
The initial recommendation is that certain groups of people (those over 65 years of age, people with certain medical conditions, people with jobs that require in-person interactions, etc.) get vaccine booster shots. You can get more information on this recommendation from your doctor or on the CDC website.
Other Ways to Protect Yourself from the Flu and COVID-19
A final similarity between the flu and COVID-19 is that you can reduce your risk of contracting both illnesses by using simple disease prevention practices that we've all become more familiar with over the last 18 months. These include avoiding crowds, wearing a mask when it's hard to maintain adequate physical distance from others or when required to, washing your hands frequently and thoroughly, and avoiding touching your face after touching potentially contaminated surfaces.
The flu and COVID-19 are both illnesses that can cause serious health problems. But by taking appropriate precautions, you can protect yourself and those around you while still going about your normal activities.
If you think you may have the flu or COVID-19, get tested to confirm. If you don't have a Baptist Health provider, you can find one near you on our online provider directory. You can also get care 24/7 from home with Baptist Health Virtual Care.
---
Next Steps and Useful Resources:
Start a Virtual Care Visit
COVID-19 and Flu Safety Tips From a Doctor
Flu Shot Side Effects & Common Reactions
Tips to Mitigate COVID-19 Vaccine Side Effects