COVID-19 Vaccine Booster Doses and Third Doses Explained

If you received the two-dose Moderna or Pfizer COVID-19 vaccine regimen, additional shots may eventually be necessary to ensure that you maintain full immunity.
However, there's a difference in the total number of shots you'll need depending on whether you're immunocompetent (meaning your immune system is believed to be functioning properly) or immunocompromised (meaning it's known or suspected that your immune system isn't functioning properly or fully).
In short, if you're immunocompetent, you will eventually need a third shot as a booster, and if you're immunocompromised, you'll likely need a third shot to provide full immunity and a fourth shot as a booster. This is explained in more detail below.
COVID-19 Vaccine Booster Doses
A COVID-19 vaccine booster dose helps you maintain the level of immunity you developed after being fully immunized. Both people who are immunocompetent and immunocompromised can get a booster shot.
You can receive a booster shot if you're immunocompetent, received two doses of either the Moderna or Pfizer COVID-19, and you're:
65 years old or older, OR
18 to 64 years old AND

Are at high risk for severe COVID-19 due to underlying medical conditions such as diabetes, heart, kidney, or lung disease or a BMI greater than 25
Have frequent institutional or occupational exposure (such as working in healthcare or education) that puts you at high risk of serious COVID-19 complications
You can get a booster shot if you're immunocompromised and previously received a third dose of the Moderna or Pfizer vaccine to reach full immunity.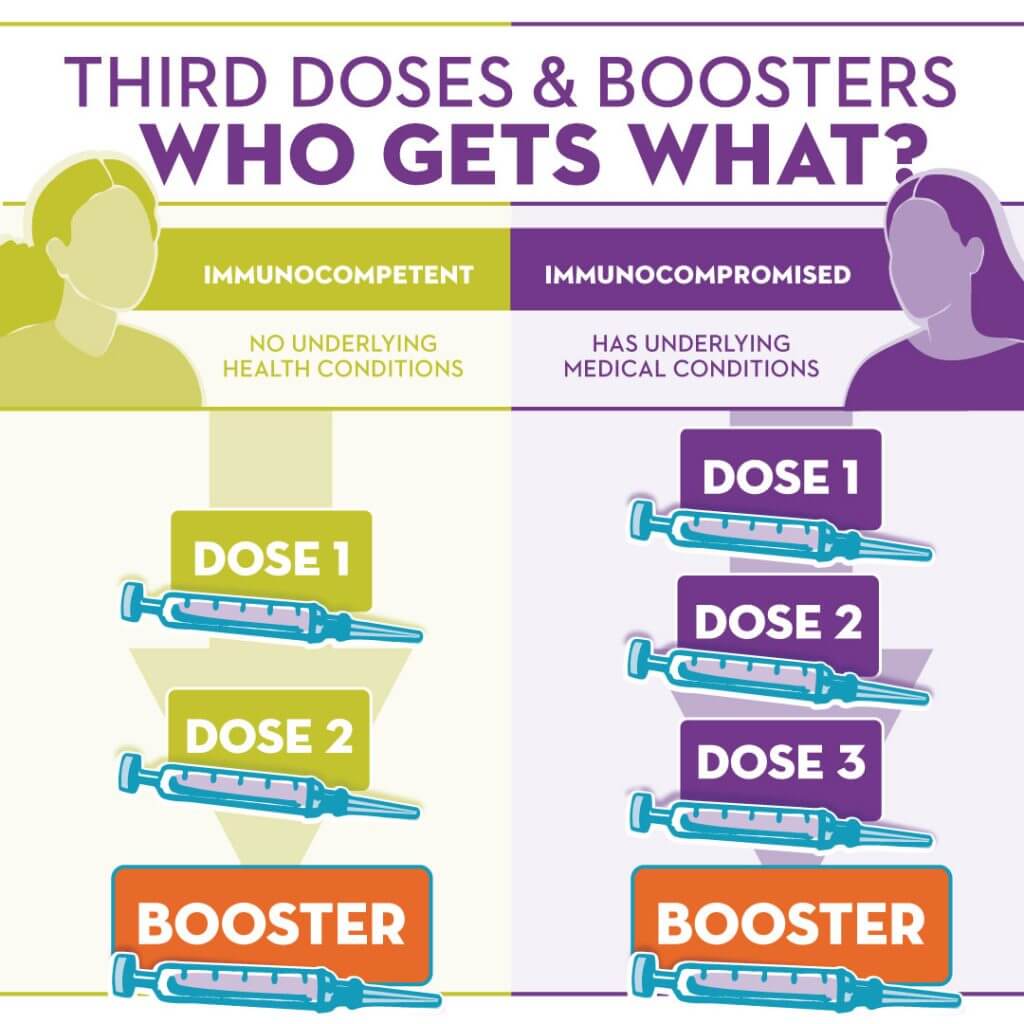 Why Do People Who Are Immunocompromised Need a Third Dose of the COVID-19 Vaccine Before a Booster?
If you're considered to have a moderately to severely compromised immune system, your doctor may advise you to get a third dose of what's normally a two-dose COVID-19 regimen of the Moderna or Pfizer vaccine. This dose is needed to help you reach full immunity. Without it, your immune system may not be fully prepared to fight the COVID-19 virus.
According to the Centers for Disease Control and Prevention (CDC), "For people who received either Pfizer-BioNTech or Moderna's COVID-19 vaccine series, a third dose of the same mRNA vaccine should be used. If the mRNA vaccine product given for the first two doses isn't available or is unknown, either mRNA COVID-19 vaccine product may be administered."
After reaching full immunity, you'll likely need a booster (fourth) dose of the vaccine later to maintain that immunity.
What if I Had the Johnson & Johnson COVID-19 Vaccine?
According to the CDC, the recent emergency use authorization amendment from the Food and Drug Administration (FDA) only applies to mRNA COVID-19 vaccines (Moderna and Pfizer), as does the CDC's recommendation. That's because, as the CDC notes, "There is not enough data at this time to determine whether immunocompromised people who received J&J/Janssen COVID-19 vaccine also have an improved antibody response following an additional dose of the same vaccine."
Talk with Your Baptist Health Doctor About Your COVID-19 Vaccine Needs
If you're unsure whether you need a third dose or booster dose of the COVID-19 vaccine, your doctor can provide guidance. If you don't have a Baptist Health doctor, you can find one in our online provider directory. And you can schedule your next dose of the COVID-19 vaccine at ScheduleYourVaccine.com.
---
Next Steps and Useful Resources
Schedule a Vaccine Appointment
COVID-19 Boosters vs. Third Dose: What's the Difference?
[PODCAST] COVID-19 Third Dose vs. Booster Dose
What You Need to Know About Your Vaccine Card