In 2022, patients counted on Baptist Health for chicken tenders - and a lot more
January 13, 2023
Hospital cafeteria goers consumed some 127,934 orders of chicken tenders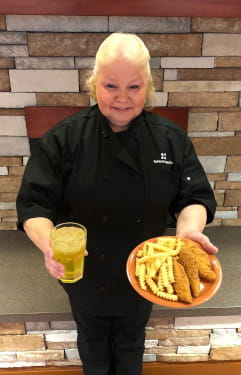 LOUISVILLE, KENTUCKY JAN. 10, 2023 – If you ordered chicken tenders with a side of French fries – or a chef's salad -- and washed that down with some Diet Mountain Dew, then you made one of the most popular food orders at a Baptist Health hospital cafeteria in 2022.
Hospital cafeteria goers consumed some 127,934 orders of chicken tenders, along with 134,030 sides of French fries, 3,813 chef's salads and 39,716 Diet Mountain Dews. At the cafeteria grills, a cheeseburger was the most requested item – some 56,419 served.
And don't forget the bacon – 316,538 pieces, to be precise.
"We strive to make sure everyone visiting a Baptist Health cafeteria has healthy options, along with more filling options, but sometimes you just need comfort food," said Lisa Shoopman, associate vice president of Food and Nutrition Services. "We are happy to see the chef's salads are a top choice. This year, as all of our hospitals move to similar menus, it will be fun to see which items are top sellers as we promote our healthy Fresh-N-Fit items."
Patients of the nine hospitals – nearly 104,000 of them -- consumed more than 1.7 million meals.
And why did they come to a Baptist Health hospital? Some came to deliver babies, with 12,459 little darlings brought into the world. Nearly 7,300 people came for joint replacement surgery and a bit more than 1,400 for open heart and/or valve replacement.
Nearly 2.2 million outpatient visits were made at Baptist Health facilities in Kentucky and southern Indiana for diagnostic procedures such as mammograms (97,865) and colonoscopies (32,322).
And the Emergency Departments were kept hopping with 372,070 visits that saw 16.2 percent of those patients admitted to the hospital. In November, five Baptist Health hospitals set new single day records for ER visits when flooded with respiratory illness patients – Corbin, Hardin, La Grange, Lexington and Louisville.
Baptist Health is ranked #1 in Kentucky for open heart surgeries (performing 1 in 5); orthopedic surgeries (1 in 6); emergency visits (1 in 7); admissions (1 in 6); deliveries (1 in 4), and outpatient visits (1 in 6).
Patients also kept the phones ringing at the Patient Connection Hubs which take 300,000 calls each month. Representatives at the hubs – located in Louisville and Lexington – schedule physician office visits and diagnostic procedures. Baptist Health staff made an average of 2,800 calls each month for interpreter services to better assist with patient care.
Baptist Health nurses, aides and therapists traveling to provide care visited 16,743 people in Kentucky, southern Illinois and southern Indiana, making an average of 9.6 visits per patient.
By the numbers: Baptist Health has 2,740 licensed beds at eight owned hospitals and one joint venture, offering more than 400 points of care and nearly 1,500 employed healthcare providers. The health system employs more than 23,500 people. Learn more at BaptistHealth.com – which has more than 12,000 indexed pages.