Baptist Health Corbin receives re-designation for Pathways to Excellence
March 11, 2022
Re-designation for Pathways to Excellence lasts for the next four years.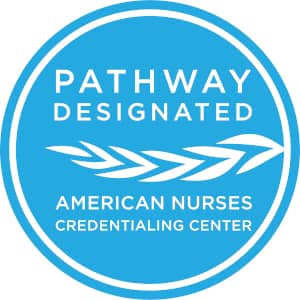 CORBIN, KY (March 11, 2022) - Baptist Health Corbin received our re-designation for Pathways to Excellence for the next four years. The Pathway to Excellence Program® is the premier designation for healthy work environments and recognizes health care organizations for positive practice environments where nurses excel. ANCC Pathway to Excellence® designates health care organizations committed to a culture of sustained excellence and a positive practice environment. By successfully adopting the Pathway Standards into our organization's daily practice and culture, Baptist Health Corbin earned the Pathway designation.
What does LIVING PATHWAY mean?
As a Pathway-designated organization, our nurses embody the Pathway Standards through the work they do each and every day:
Shared decision-making: The organization has an established shared governance structure as the foundation for involving direct care nurses in decision-making.
Leadership: Leadership fosters the foundation of collaboration among staff and supports a shared governance environment.
Safety: The organization protects the safety and well-being of nurses, staff, and patients through safety policies and processes.
Quality: Organizational-wide quality initiatives are evidence-based, focused on improving patient outcomes, developed through interprofessional collaboration, and implemented based on internal and external benchmarking.
Wellbeing: Staff have the opportunity to develop a balance between work and personal life. Achievements for community service, patient advocacy, and contributions to improving population health are encouraged, supported, and recognized by the organization.
Professional development: The organization recognizes the importance of staff orientation, collaboration, and professional development in the delivery of safe and effective patient care.
"Baptist Health Corbin will continue to deliver on our Pathway Promise to create a healthy work environment where nurses excel and feel empowered as an integral part of our team. Our organization's investment in our nursing leadership, policies, and safety means better quality care from our nurses and better outcomes for our patients," stated Sherrie Mays, Vice President and Chief Nursing Officer for Baptist Health Corbin. Mays added, "We are so proud of our nurses and nursing leaders and we are honored to have such a great team at our facility.
Sign up to receive Baptist Health emails to learn more about your health from our blog and e-newsletter. Or follow one of our social media accounts.
Sign Me Up