Baptist Health Corbin now offering Stereotactic Body Radiation Therapy (SBRT) for Oncology Patients
May 23, 2022
SBRT can be delivered in five or less daily sessions.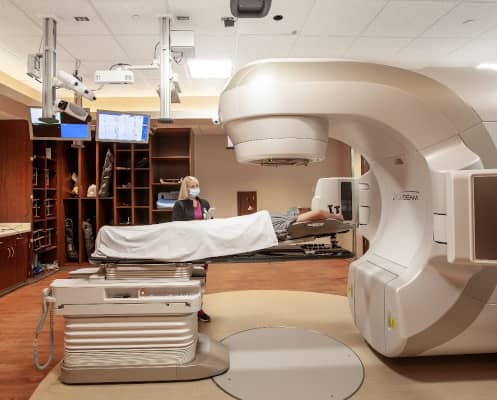 CORBIN, KY (May 23, 2022) - Baptist Health Corbin is now offering Stereotactic Body Radiation Therapy (SBRT). Stereotactic Body Radiation Therapy (SBRT) refers to an innovative, non-invasive, image-guided delivery of high doses of radiation to target a tumor with exact precision to the cancer cells while sparing healthy surrounding tissues.
SBRT can be delivered in five or less daily sessions on the state-of-the-art, Varian True Beam linear accelerator only found locally at Baptist Health Corbin, which services the Tri-County area. SBRT can also lead to better outcomes and fewer side effects than conventional radiation therapy because of it's ability to treat within 1-2 millimeters accuracy of the tumor site.
SBRT will benefit lung cancer patients who are not surgical candidates, and improve survival in selected metastatic cancer patients. Prostate cancer patients who qualify for SBRT may be able to have five treatments versus the usual 25-45 conventional treatments.
"As a team, we have been working extremely hard to get the SBRT program up and running for the patients in our area. This is a huge accomplishment since we have only been open for one year," stated Trish Meeks, RTT Radiation Oncology Manager.
For additional information, please contact Radiation Oncology Manager, Trish Meeks, RTT, at 606.526.4770.
Sign up to receive Baptist Health emails to learn more about your health from our blog and e-newsletter. Or follow one of our social media accounts.
Sign Me Up