Baptist Health Paducah to host webinar on overactive bladder options
June 17, 2021
Free webinar on treatment options for overactive bladder at 6 p.m. Tuesday, June 22.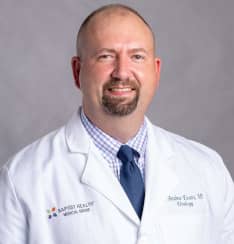 (Paducah, Ky.) June 17, 2021 — Did you know more than 37 million adults suffer from overactive bladder? Baptist Health Medical Group urologist L. Andrew Evans, MD, is hosting a free webinar on treatment options for overactive bladder at 6 p.m. Tuesday, June 22.
The webinar coincides with World Continence Week, a health campaign started by the International Continence Society to raise awareness of incontinence related issues.
During the webinar, Dr. Evans will discuss various treatment options and how the InterStim™ systems, made by Medtronic, can help patients with overactive bladders. Dr. Evans is the only urologist in the area who performs this outpatient procedure.
The Interstim system offer patients the choice between a rechargeable or recharge-free sacral neuromodulation device, depending on lifestyle and treatment goals. Sacral neuromodulation (SNM) is a treatment option for managing the symptoms of overactive bladder, non-obstructive urinary retention or fecal incontinence for people who have not found success with more conservative treatments.
SNM stimulates the sacral nerves, which control the bladder and bowel and muscles related to urinary and bowel function. If the brain and sacral nerves do not communicate correctly, the nerves will not tell the bladder or bowel to function properly, which can cause bladder or bowel control problems. SNM targets this communication problem by stimulating the nerves with mild electrical pulses.
"Overactive bladder and urge incontinence are very common, yet treatable quality of life issues," Dr. Evans said. "When pills are either no longer successful or tolerated, sacral neuromodulation can provide effective and durable bladder control using a discrete outpatient treatment covered by most insurance plans. I am pleased to help educate patients on all of their different treatment options during World Continence Week."
For more information, visit the event section of the Baptist Health Paducah Facebook page.