Baptist Health Madisonville Foundation receives WHAS Crusade for Children Grant
March 09, 2021
Grant was used to purchase gait training device to help children in the Pediatric Therapy Care program.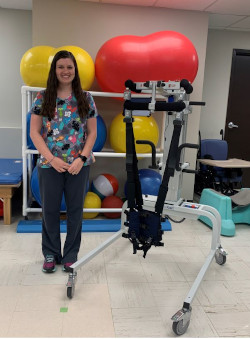 MADISONVILLE, KY (March 9, 2021) – Baptist Health Madisonville has been awarded a $10,000 WHAS Crusade for Children grant that was utilized to purchase a gait training device that will help children in the Pediatric Therapy Care program.
The LiteGait is a gait training device that simultaneously controls weight bearing, posture, and balance over a treadmill or over ground. The unique harness allows unilateral or bilateral support while allowing progression of weight bearing so gait training can begin earlier in the rehabilitation process. It suspends the patient and allows the clinician to manually assist lower extremities and pelvis to achieve proper gait patterns.
"We are so excited about this opportunity," said Sports Medicine and Rehabilitation Services Director Marianne Ramsey. "This new tool will allow for us to further assist the children that require our services and provide them with an even higher level of care. We will be able to provide standing support to the child while they work on upright activities such as writing on a dry erase board, and it provides safe guarding for loss of balance when working on higher level balance and gross motor skills. The LiteGait helps to promote a child's confidence in their own performance and assists in decreasing their fear of movement."
Baptist Health Foundation submitted a grant proposal in conjunction with Julia Kays of Baptist Health Finance department, on behalf of Pediatric Therapy Care, for funds from the WHAS Crusade for Children, and was awarded $10,000 to use towards the piece of equipment in the final quarter of last year.
"We are continuously looking to improve upon the level of care that we are able to provide our patients, but there is something even more rewarding when those enhancements are able to assist growing children to develop skills that they will utilize for the rest of their lives," said Baptist Health Madisonville president Robert Ramey.
For more information, please contact Pediatric Therapy Care at Baptist Health Madisonville at 270.824.5166.