Baptist Health Louisville the first facility to earn ACC's Heart Failure Accreditation with Outpatient Services
September 10, 2021
Award recognizes demonstrated expertise and commitment in treating patients with heart failure.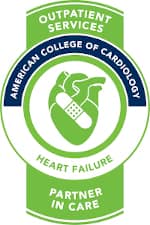 Louisville, KY (Sept. 10, 2021) – The American College of Cardiology (ACC) has recognized Baptist Health Louisville for its demonstrated expertise and commitment in treating patients with heart failure.
Baptist Health Louisville was awarded Heart Failure Accreditation with Outpatient Services based on rigorous onsite review of the staff's ability to evaluate, diagnose and treat patients with heart failure through pre-hospital care, early stabilization, acute care, transitional care, clinical quality measures and more. Baptist Health Louisville has extended its commitment to care for the heart failure population beyond the acute hospital setting.
Heart failure is a chronic and progressive condition where the heart is unable to pump enough blood to meet the body's needs for blood and oxygen. Hospitals that employ an evidence-based, protocol-driven and systematic approach to managing heart failure have been able to reduce time to treatment and are able to identify and predict high-risk patients while also reducing length-of-stay and hospital readmissions.
Steven J. Heatherly, M.D., Ph.D., FACC, System Medical Director of Heart Failure at Baptist Health Systems credits his team's dedication for their success, "I am extremely proud of our heart failure team here at Baptist Health Louisville. We provide outstanding compassionate care. Heart failure effects many in our community. We have a dedicated team of cardiologists, nurse practitioners, nurses, sonographers, clinic staff, and cardiac rehabilitation specialists who work hard to deliver state-of-the-art care to our heart failure patients here in Louisville. To have the ACC accredit our program as the first in the nation shows their acknowledgement of our team's demonstrated leadership and commitment to caring for our heart failure patients using the best of modern medical science."
Facilities earning Heart Failure Accreditation with Outpatient Services not only demonstrate the management of acute heart failure, but also provide, or partner with outpatient clinics for, post-discharge care and services to heart failure patients. This approach promotes a smooth transition between the inpatient and outpatient setting and ensures a collaborative team effort to ensure the continuum of care.
"Baptist Health Louisville has demonstrated its commitment to providing Kentuckiana with excellent heart care," said Deepak L. Bhatt, MD, MPH, FACC, chair of the ACC Accreditation Management Board. "ACC Accreditation Services is proud to award Baptist Health Louisville with Heart Failure Accreditation with Outpatient Services."
Hospitals receiving Heart Failure Accreditation with Outpatient Services from the ACC must take part in a multi-faceted clinical process that involves: completing a gap analysis; examining variances of care, developing an action plan; a rigorous onsite review; and monitoring for sustained success. Improved methods and strategies of caring for patients include streamlining processes, implementing guidelines and standards, and adopting best practices in the precise care of heart failure patients. Facilities that achieve accreditation meet or exceed an array of stringent criteria and have organized a team of doctors, nurses, clinicians and other administrative staff that earnestly support the efforts leading to better patient education, improved patient outcomes, and more effective and efficient disease control.
"This accomplishment is truly a team effort and would not have been possible without the hard work and engagement of our physician champions, Dr. Steven Heatherly and Dr. Jesse Adams; the members of the HF Committee and HF Work Group and the Baptist Health System HF Team," said Anna Laura Trimbur, DNP, APRN, FNP-BC, CHFN, Heart Failure Coordinator at Baptist Health Louisville. "This achievement demonstrates our commitment to providing the highest quality of care for the HF patients we serve, and that we are committed to fostering a culture of quality improvement for our program."
The ACC offers U.S. and international hospitals like Baptist Health Louisville access to a comprehensive suite of cardiac accreditation services designed to optimize patient outcomes and improve hospital financial performance. These services are focused on all aspects of cardiac care, including heart failure.