Baptist Health Louisville lights up blue for Colon Cancer Awareness Month
March 17, 2021
Baptist Health Louisville is lighting up BLUE for the month of March.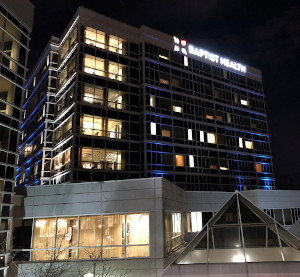 Louisville, KY – March 17, 2021 – It may be St. Patrick's Day, but Baptist Health Louisville is lighting up BLUE during the month March for Colon Cancer Awareness Month. Lighting up blue helps raise awareness to this important issue.
According to the Colon Cancer Prevention Project:
Colon cancer is the second leading cancer killer in the US among cancers affecting both men and women.
Colon cancer is up to 90% curable with early detection.
Colon cancer can be present with or without symptoms.
If you are at least 45 and have not had a screening, are due for a screening, or are experiencing symptoms, talk to your provider today about scheduling your screening.
Sign up to receive Baptist Health emails to learn more about your health from our blog and e-newsletter. Or follow one of our social media accounts.
Sign Me Up