Baptist Health Louisville Celebrates the One-Year Anniversary of Its First COVID-19 Vaccination
December 16, 2021
83,651 vaccines have been administered through Baptist Health Louisville.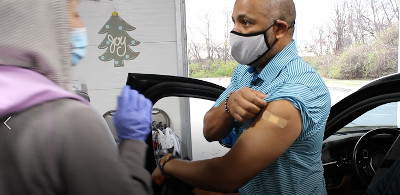 LOUISVILLE, Ky. (Dec. 15, 2021) – On Thursday, Dec. 16, Baptist Health Louisville will be celebrating its one-year anniversary since administering its first COVID-19 vaccinations. The first five shots were given to healthcare staff working directly with the most critical COVID-19 patients. The hospital received 975 doses of the Pfizer vaccine in their first delivery of the vaccine.
One Dec. 16, 2020, Larry Gray, President of Baptist Health Louisville said, "At Baptist Health Louisville, we are grateful for the opportunity to offer this vaccine to our front line employees who are caring for our most vulnerable patients. They have been there for our community, and now we want to be there for them. We eagerly look forward to the day that the vaccine is more readily available to provide needed protection for all of our families and neighbors."
That time did come soon after with the creation of the Baptist Health Louisville COVID-19 Vaccine Clinic. Director of Rehab, Karen Thompson accepted the challenge of leading the clinic's operation. She is quick give credit for the clinic's success to the team and her peer leaders. The initiation of the clinic inside the hospital transitioned outside to a drive-thru. Both locations met a large community need with demonstration of planned, coordinated service.
"We started the vaccine clinic in the Education center and we could quickly see it was not convenient from a parking perspective, especially for our elderly," Thompson said. "The drive-thru has allowed for a much more efficient process for the patient and one that is convenient for all ages. The whole process takes about 10 minutes for registration and vaccine then 15 minutes to wait after your vaccine to make sure you do not have a reaction. We have been called the "chick fil a" of vaccine clinics and I consider that a huge compliment. We are a well-oiled machine!"
When asked if there have been any changes in the attitude or positivity of the people being vaccinated, COVID Vaccine Clinic Coordinator, Emily Richmond said, "The overall temperature of gratitude for the vaccine has ebbed and flowed over the last year. Most of our patients have been extremely thankful to get their vaccines, especially those who are immunocompromised."
Since that day one year ago, 83,651* vaccines have been administered through Baptist Health Louisville.
*Total number of vaccines given and not patients – ie. one patient could have received three vaccinations.