Baptist Health's Gerard Colman named a 'Most Admired CEO' in Louisville
November 24, 2020
Baptist Health's Gerard Colman is among the 25 local leaders named to Louisville Business First's annual "Most Admired CEO" list.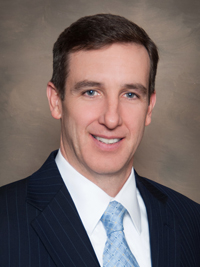 LOUISVILLE, KENTUCKY Nov. 17, 2020 – Baptist Health's Gerard Colman is among the 25 local leaders named to Louisville Business First's annual "Most Admired CEOs" list. A virtual event showcasing the honorees was held Nov. 12.
Colman, 50, is in his third year as CEO of the state's largest healthcare system with nine hospitals, more than 400 points of care, some 1,500 employed healthcare providers and 22,500 employees.
Taking the reins as CEO in December 2017, Colman has led the healthcare system to record financial success, acquisition of Hardin Memorial Health (now Baptist Health Hardin) and forged a $1 billion strategic plan for future growth.
It is the second year for the publication to honor outstanding chief executives in for-profit and nonprofit companies. In outlining the selection criteria, Louisville Business First stated: "An outstanding CEO is an innovator, standard-bearer, role model and exceptional leader. Their contributions impact the company they head as well as the community in which they serve. A commitment to financial success, quality, workplace wellness, diversity and philanthropy are hallmarks of an exceptional and admired chief executive."
The New York state native gave a glimpse of his management style and philosophy in a Q&A with Louisville Business First. Following is a selection of those responses:
What is the best thing about being a CEO? What's the worst?
The best thing about being a CEO is setting a vision that pushes Baptist Health to improve the health of our communities by leading in clinical excellence, inspiring caregivers to provide compassionate care and setting a strategic growth plan to meet the health care needs of everyone in the diverse communities that we serve.
I really love what I do. This was my life's goal and I have no complaints.
Describe your leadership style/recipe for success?
Hiring great people and surrounding myself with leaders who are strategic and understand our vision. I try to cultivate a culture of individual thinkers who are empowered to make informed decisions.
What is the biggest turning point in your career and why?
Throughout my career, I made it a point to be open to new career opportunities — such as being willing to move for the right position — knowing that my ultimate goal was to become the CEO of a not-for-profit health system such as Baptist Health.
Although there was no "a-ha" moment, this flexibility has resulted in a steady progression of career advancement.
Describe a tough lesson you had to learn as CEO.
Speaking of flexibility, the greatest lesson I have learned so far is just how quickly a pandemic can alter the trajectory of a strategic plan — you have to be ready for anything that life throws at you.
How do you motivate employees in this time of uncertainty with the Covid-19 pandemic?
Focusing on our employees' health and safety, as well as that of their family members', while providing the excellent care our communities need, has been our top priority. Our employees understand that it is our mission to improve health outcomes in all of the communities that we serve and are proud to provide the care needed during such difficult times.
Recognizing our caregivers and all of our employees in various ways for their hard work and dedication during such a difficult period has also been a top priority for us.
What has the coronavirus pandemic revealed to you — good or bad — regarding your abilities/traits as a leader?
The ability to stay calm and focused has provided stability in a time of uncertainty for our leadership team and employees. I have also found that the desire and ability to collaborate with other healthcare systems and community leaders to develop a response plan has allowed Baptist Health to play a key role in ensuring the wellbeing of the diverse communities that we serve.