HMH Emergency Department Experiences Record Number of Patients
October 12, 2018
Hardin Memorial Health (HMH) leaders said the hospital emergency department (ED) team cared for 266 patients.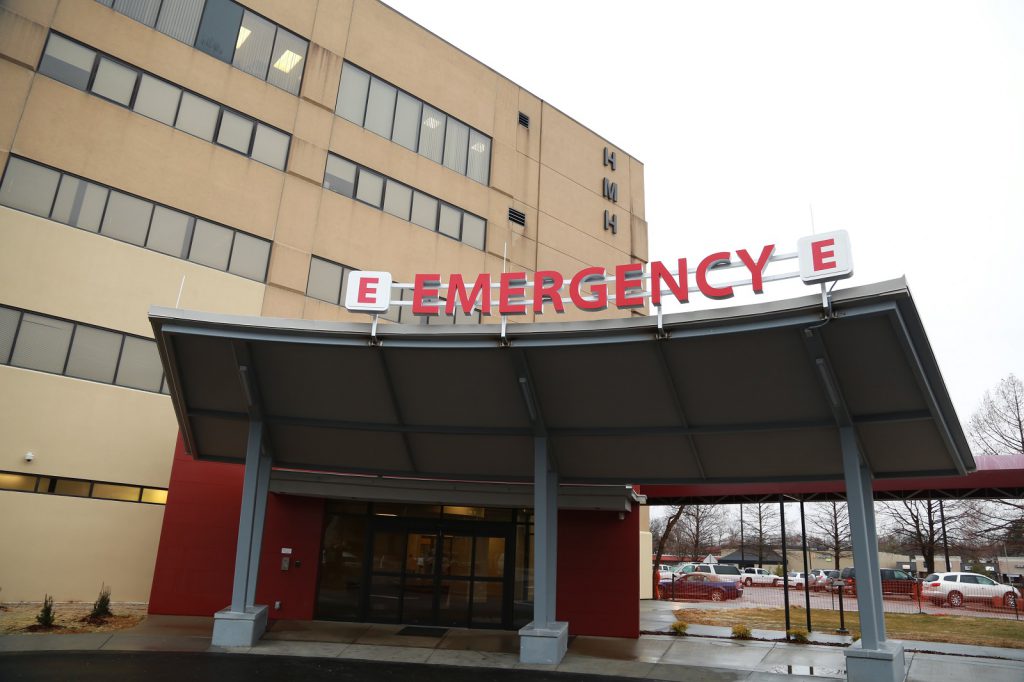 Hardin Memorial Health (HMH) leaders said the hospital emergency department (ED) team cared for 266 patients on one day recently and is on track to care for more than 70,000 patients in 2018 making it one of the busiest in Kentucky.
HMH President and CEO Dennis Johnson said what is especially encouraging is that while the number of patients increases, the ED team's patient scores for quality, compassionate care improved. Johnson said that is no easy task and praised the HMH ED leadership team.
HMH Vice President for Emergency Services Deanna Parker said the ED team recognizes that patients and their families who come to the ED are often experiencing stress and pain.
"We do our very best to assess every patient's health and treat them as quickly as possible while giving priority to our most critically ill patients," said Parker. "Our entire team, many of whom have worked in major metropolitan trauma centers, work to make the experience the best it can be given the emergency circumstances."
Parker said some patients do not understand why they must wait for treatment. "While our state-of-the-art, expanded facility and bigger team improves care, when volumes are exceptionally high, we know patients who seek treatment for cold and flu-like symptoms and other less acute concerns may have to wait," said Parker.
Parker said HMH offers patients a rare benefit, a team of physicians all board certified in emergency medicine. The HMH ED physicians have more than 130 years of combined experience.
Dr. Scott Bailey is one of those physicians. Bailey serves as the Chief of Emergency Medicine for HMH. He calls the ED the hospital's front door.
"60 to 70 percent of all HMH admissions come through our doors, including as many as 1,000 children each month," said Bailey. "It is critical that our ED Team start their care off right and we work hard to do just that."
HMH Chief Nursing Officer Sharon Wright, who previously directly managed the HMH ED, praised the current team.
"While we care for people in a largely rural area, we manage situations and care on par with emergency care in a major urban center," said Wright. "From major automobile accidents to stroke and heart attack patients, to victims of sexual assault, the HMH team deals with them all and more. I could not be prouder of this amazing team of highly skilled and caring professionals, who day in and day out, save lives in a very stressful environment."
Wright reminded people who are seeking care for illnesses such as colds, flu, earache, sore throat and other common ailments that they can be treated at their HMH primary care provider or one of HMH's Care First Urgent Care Centers that provide extended hours.
"Doing so often saves you time and cost." said Wright "However, if there is any question about the severity of your illness, by all means, seek emergency care immediately. We are here to serve and care for you."
In January 2018, HMH completed a 14,000-square foot $15 million ED expansion and redesign to better serve patients.
The new ED has 65 exam rooms compared to 27 in the former space. The rooms are designed to serve multiple populations including trauma and bariatric patients, individuals with behavioral health needs and victims of sexual assault.
The newly constructed, covered ambulance bay has capacity for six ambulances, up from two.
The expansion also gave the ED its own CT scanner and digital X-ray technology, improving diagnosis speed, which is especially important in emergency situations like stroke.
The dedicated entrance and ribbon-shaped design of the space aids in patient safety and security and optimizes work flow. Nature-themed art, proven to aid healing, is also incorporated throughout the design.
Sign up to receive Baptist Health emails to learn more about your health from our blog and e-newsletter. Or follow one of our social media accounts.
Sign Me Up