Get Your Healthcare Back on Schedule with Safety in Mind

In reopening our physician practices and resuming many procedures in our hospitals and outpatient centers, Baptist Health is taking steps to assure patients and staff it's safe to return.
Baptist Health is committed to meeting the needs of our communities, patients, and staff by focusing on five key safety measures: masking, eHealth alternatives, evaluation and testing, sanitizing and safe distancing. Learn more about each of these here.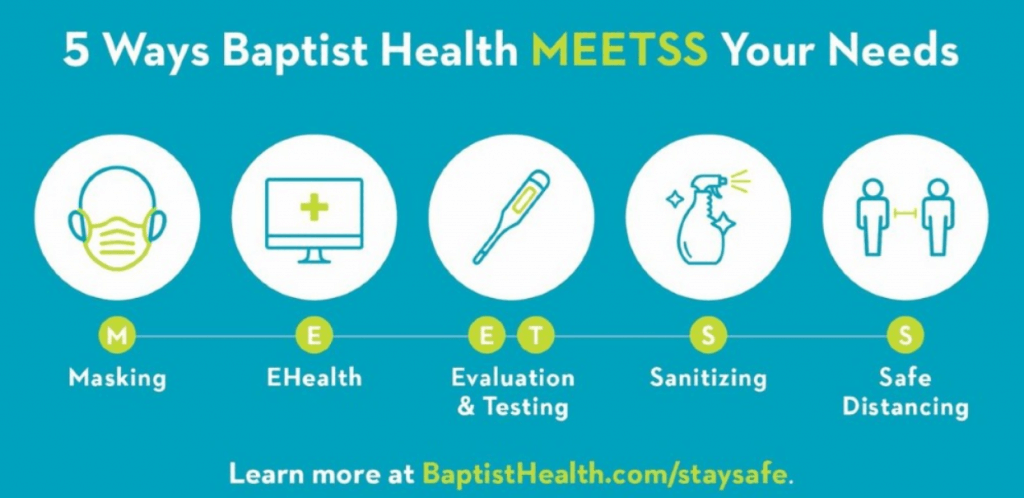 "Safety is and always has been a number one priority for Baptist Health," said Michael Newkirk, MD, Vice President of Physician Services with Baptist Health Medical Group, and a family medicine physician for 26 years.
Dr. Newkirk stressed the importance of seeking timely care and the measures Baptist Health is taking to ensure safety in a video conversation to patients.
"If you've been delaying needed medical care or treatment for an illness, I encourage you to get care. Just like going to the grocery is an essential need during this pandemic, your health should not take a back seat. Delaying treatment, even for common illnesses, can lead to more serious health problems and can even be dangerous."
This is an unprecedented time for healthcare and for our society. But through it all, Baptist Health is working hard to provide care that is centered on meeting the needs of our communities. We look forward to continuing to care for you and your family, safely and proactively.
Don't put your health on hold
Get your healthcare back on schedule. Baptist Health has an option for you.
Get Started